What's IotD?

The interesting, amazing, or mind-boggling images of our days.
xoxoxoBruce Friday Dec 2 08:30 PM

Dec 3rd, 2016: Diego

Howdy partner, Sleazey's the name, I.R. Sleazey, agent for the top porn stars in the world. I understand
you're looking for a male lead for your new porn blockbuster. Well I'm here to tell you look no further, I'm
your savior, I represent the world's best male porn star. Would I lie to you, my oldest and dearest friend?
Just feast your eyes on these stats.

Name: Diego
Home: Santa Cruz Island
Age: 100 years old
Weight: 181 pounds.
Size: 35 inches
Offspring: 800 kids

Impressive, huh? Ain't he? You'll never top that. Just look at that profile…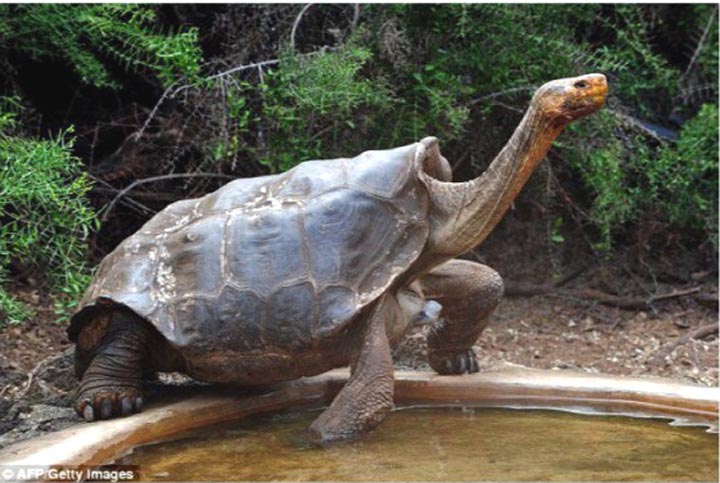 Quote:

A sex-mad tortoise which is over 100 years old has single-handedly saved his species from extinction.
Diego has fathered 800 babies over the years, turning the tide for his species on the island of Espanola
in the Galapagos islands, off the coast of South America.

After being located at the zoo in California, Diego was brought back to the Galapagos in 1976 and put in
the captive breeding program. Little did scientists realize just how effective he was, until six years ago.
'We did a genetic study and we discovered that he was the father of nearly 40 percent of the offspring
released into the wild on Espanola,'.

Defiantly the Alpha Stud Muffin, he is.

link
---

orthodoc Friday Dec 2 08:36 PM

Ummm ... inbreeding problems much? I know, I know - better that the species be saved and all that. Now we need a Diego 2 to deepen/broaden the gene pool.

Gotta love the macho Stud Muffin pose, though.

---

Clodfobble Friday Dec 2 11:18 PM

He probably woos them with bad-boy stories of his time in prison.

---

Snakeadelic Saturday Dec 3 08:20 AM

If Diego is genetically healthy, the other 60% of the offspring on the island should be a decent safeguard against inbreeding for at least 2 generations or so. Those tortoises are probably some of the most heavily-monitored wild reptiles in the world; if he was throwing offspring with genetic defects it's likely the researchers tracking the population would know about it by now. (I'm not going to theorize on whether they'd release that information.) Galapagos researchers are still reeling from the loss of Lonesome George, last of his subspecies known to exist anywhere, so they're probably a little sensitive about extinction.

---

classicman Saturday Dec 3 01:18 PM

From wiki


Quote:

In November 2012, in the journal Biological Conservation, researchers reported identifying 17 tortoises that are partially descended from the same subspecies as Lonesome George, leading them to speculate that related purebred individuals of that subspecies may still be alive.[31]

In December 2015 it was reported that the discovery of another species (Chelonoidis donfaustoi) by Yale researchers had a 90% DNA match to that of the Pinta tortoise and that scientists believe this could possibly be used to resurrect the species.[32] [33]



---

Carruthers Sunday Dec 4 06:11 AMShould have practiced Tortoise Interruptus.

---

Gravdigr Monday Dec 5 10:32 AM

Bravo.

---
Your reply here?

The Cellar Image of the Day is just a section of a larger web community: a bunch of interesting folks talking about everything. Add your two cents to IotD by joining the Cellar.