What's IotD?

The interesting, amazing, or mind-boggling images of our days.
xoxoxoBruce Wednesday Nov 30 08:48 PM

Dec 1st, 2016: You've Got, Some Crust

Hey Earth, I'm talking about you, being all secretive under there. We haven't seen most of the bottom of
the ocean, no less the hanky panky under the land. Now every school kid knows the continents float around.
Slowly, thankfully. We've drilled holes all over and they've figured out subduction causing mountains and
earthquakes. But despite that our knowledge about the earth has grown exponentially a lot of it is speculation
and theory nobody has disproved yet.
You know, pics or it ain't happening.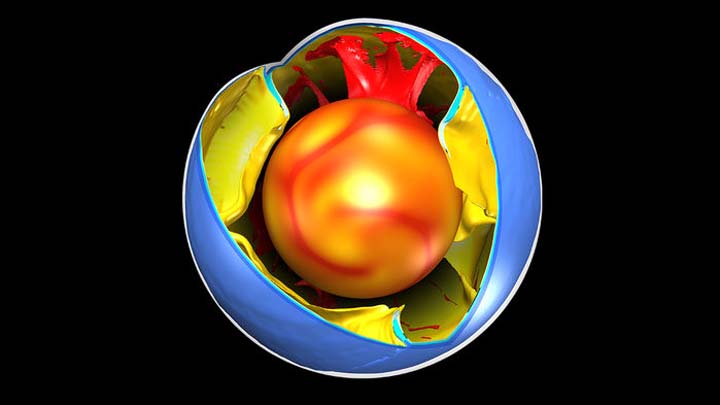 Well, they're working on it.

Quote:
Now, the complete x-ray of Earth's interior is coming into focus. Next month, at a meeting of the American
Geophysical Union in San Francisco, California, a team of Dutch scientists will announce a catalog of 100
subducted plates, with information about their age, size, and related surface rock records, based on their
own tomographic model and cross-checks with other published studies. "Step by step we went deeper and
deeper, older and older," says Douwe van Hinsbergen, a geologist at Utrecht University in the Netherlands,
who led the project along with Utrecht geologists Douwe van der Meer and Wim Spakman.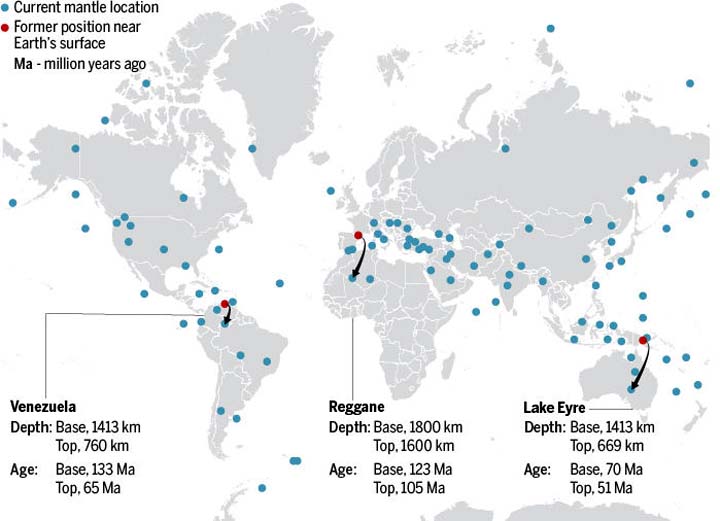 Quote:

That has only recently become possible, as the underlying technique, mantle tomography, is plagued
with uncertainties. It relies on millions of seismic waves received by sensors scattered unevenly around
the world. Waves with faster arrival times are assumed to have passed through the colder rock of subducted
slabs. But seismometer coverage is patchy; earthquakes—the sources of the seismic waves—don't occur
everywhere; and the waves get fuzzier as they pass near the core or travel long distances. "Very often for
regions that have the most interesting structures, you have the most uncertainty," says Ved Lekic, a
tomographer at the University of Maryland in College Park.

Academic groups around the world use more than 20 models to interpret tomographic data, and their
pictures of the mantle and its structures often conflict.

Like I said, that haven't been proven wrong yet, but I guess it's better than driving a bunch of stakes with
little red flags and waiting a million years.

link
---

classicman Thursday Dec 1 12:22 PM

Mind blown.

---

Flint Thursday Dec 1 12:53 PM

I'm sure their using "x-ray" as a metaphor for what they are doing... The term "tomography" is a catch-all, but "x-ray" is a very specific electromagnetic radiation, the amounts of which people are allowed to be exposed to is highly regulated. You can't just aim a giant x-ray tube at every known living organism.

---

Flint Thursday Dec 1 02:58 PM

*they are

---

Gravdigr Thursday Dec 1 03:16 PM

Are they?



---

Carruthers Saturday Dec 3 09:17 AM

And when those Tectonic plates have a disagreement, this is what happens.

Attachment 58709



Quote:

A scar in the landscape

This incredible image shows the 15ft high "wall" created when a 7.8 magnitude earthquake struck New Zealand on Nov 14.
It was taken by scientists who have now been allowed into the affected areas around Kaikoura and Mount Lyford, on the South Island.



---
Your reply here?

The Cellar Image of the Day is just a section of a larger web community: a bunch of interesting folks talking about everything. Add your two cents to IotD by joining the Cellar.