xoxoxoBruce Monday Nov 7 08:20 PM

Nov 8th, 2016: Election

Election day is finally here, thank God. Like the last couple hundred years, half, or more, of the candidates are going to lose.
If your choice for the local or national lesser evil loses, get the fuck over it.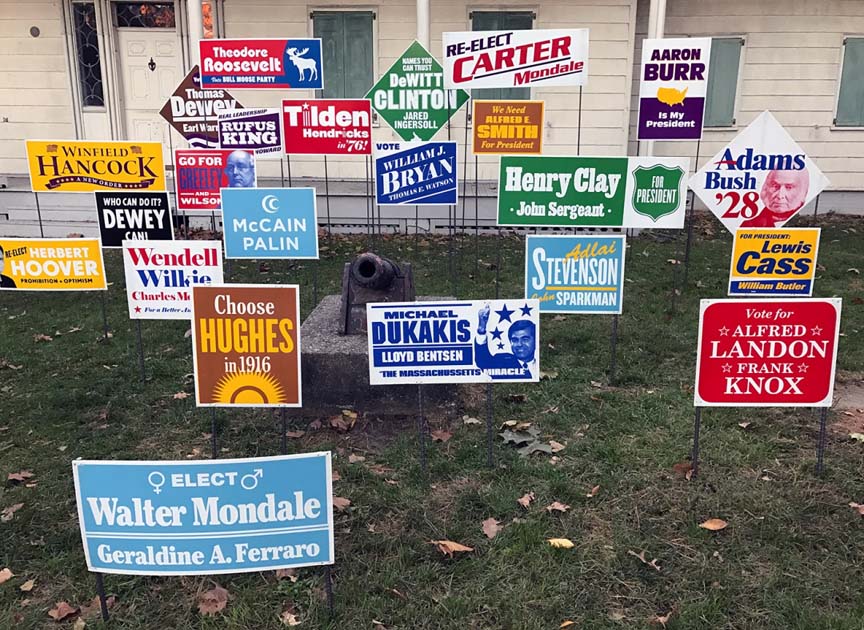 It's not the end of the world, stop the hate, stop the insults, stop the divisiveness.
Make up, or at least form a truce, with old friends and family, even if they are stupid for not agreeing with you.
You'll be much happier.
Trust me... would I lie to you... if it wasn't about money or sex.

---

Gravdigr Monday Nov 7 09:32 PM

Snicker, Hancock...

---

Carruthers Tuesday Nov 8 06:04 AM

What's with the artillery piece in the middle?

Whatever happens today, at least a welcome absence of politicians hurling insults and abuse at one another should follow. For a while.

Attachment 58416



---

Griff Tuesday Nov 8 07:13 AM

My fellow Americans, I have no advice for you other than don't vote out of hate.

---

fargon Tuesday Nov 8 07:28 AM

If you don't vote, then you can't bitch.

---

glatt Tuesday Nov 8 08:22 AM

Whoever wins, we'll muddle through. We always do. It'll be fine.

---

Carruthers Tuesday Nov 8 08:32 AM

---

Spexxvet Tuesday Nov 8 08:33 AM

If Hillary wins, I predict alt-right terrorism. I hope I'm wrong

---

glatt Tuesday Nov 8 09:49 AM

---

Carruthers Tuesday Nov 8 09:57 AM

---

BigV Tuesday Nov 8 11:35 AM

Would be nice, but....

---

Gravdigr Tuesday Nov 8 11:39 AMnot allowed to vote? Can I still bitch?

Pretty please?

---

BigV Tuesday Nov 8 11:40 AM

That's a lot of ballots.

---

footfootfoot Tuesday Nov 8 11:40 AM

I predict more than one black voter shot by police after they are called to intervene when white Trump supporters menace voters at the polls.

---

xoxoxoBruce Tuesday Nov 8 01:44 PM



I didn't want to hit the poll at lunch time because I figured they'd be busy, but my schedule got messed up and got there about 12:45.
Both sides of the sidewalk lined with people handing out literature.
As I walked across the parking lot, they're all looking eagerly at me, I swear they were salivating.
I stopped short and said, "What, do I look like a T-bone steak?"
It took longer for the three women at the table to write my name in their three notebooks, than waiting my turn and voting.
They said it was a very good turnout.

---

classicman Tuesday Nov 8 02:14 PM

-

---

fargon Tuesday Nov 8 02:54 PM

I voted 2 weeks ago, we went by city hall and the parking lot was full and people were parking wherever they could. The city in their infinite wisdom has made all the streets around city hall no parking.

---

DanaC Tuesday Nov 8 05:32 PM

An outsider's take on the election



---

captainhook455 Tuesday Nov 8 07:10 PM

tarheel

---

Gravdigr Wednesday Nov 9 12:43 PM

I don't know what that is.

---

xoxoxoBruce Friday Nov 11 03:43 PM

Update...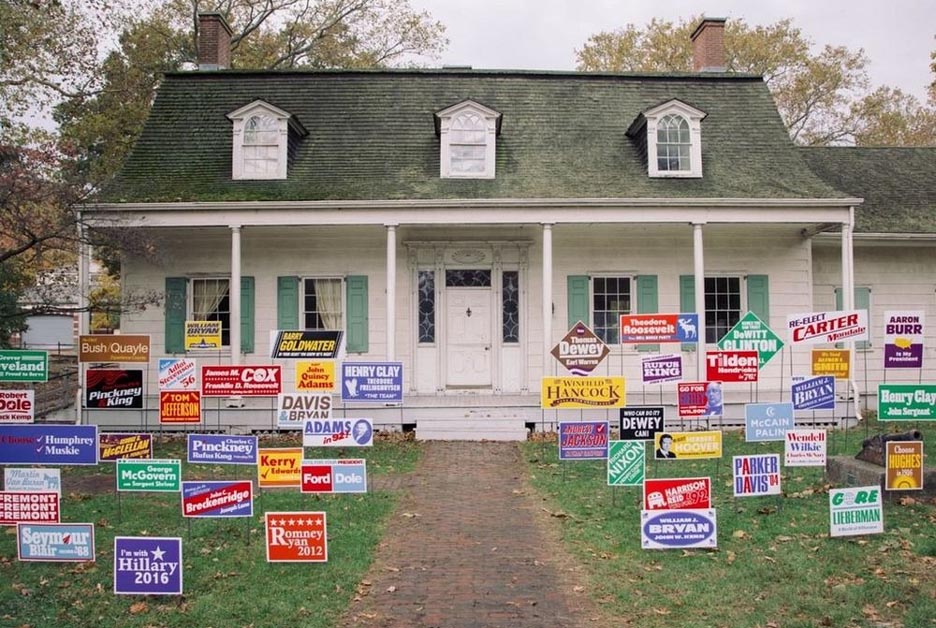 ---

sexobon Friday Nov 11 07:15 PM

The campaign graveyard.

---
Your reply here?

The Cellar Image of the Day is just a section of a larger web community: a bunch of interesting folks talking about everything. Add your two cents to IotD by joining the Cellar.