What's IotD?

The interesting, amazing, or mind-boggling images of our days.
xoxoxoBruce Saturday Nov 5 08:04 PM

Nov 6th, 2016: Ann Arbor Fairies

Ann Arbor Fairies, actually Ann Arbor Fairy Doors.



Quote:

It all started in 1993 when Jonathan Wright was renovating their 100-year-old family home, and on a whim, decided to install a
tiny door in the house to entertain his kids. The door opened into a tiny room with an equally tiny staircase and railing leading up
to a second door. The children's delighted response prompted him to build more.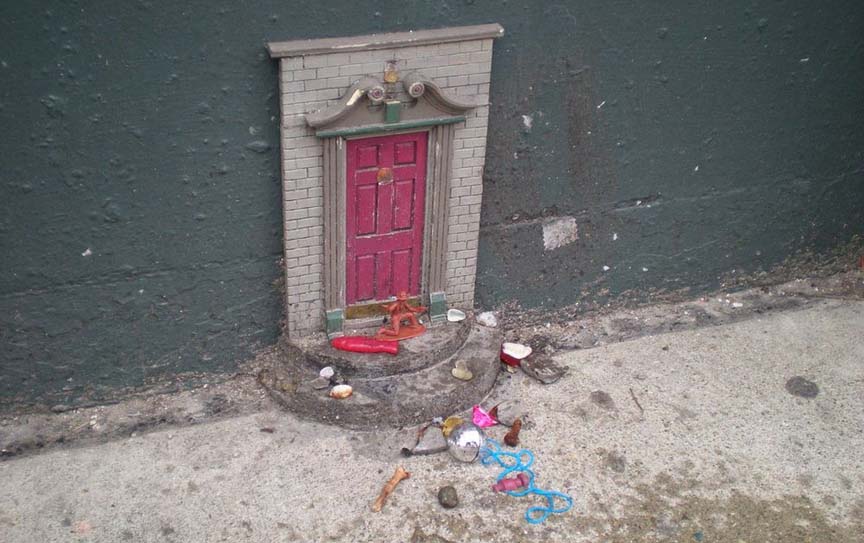 Quote:
Fairies have invaded the city of Ann Arbor, thatís what long-time resident Jonathan B. Wright, a graphic designer, wants you
to believe. He will then point out to tiny doors scattered all around the city as evidence. There is a door hidden inside a
coffee shop, one beside a grocer's steps, and another beneath a toy store window. There is at least a dozen. Of course,
they were installed by Mr. Wright himself.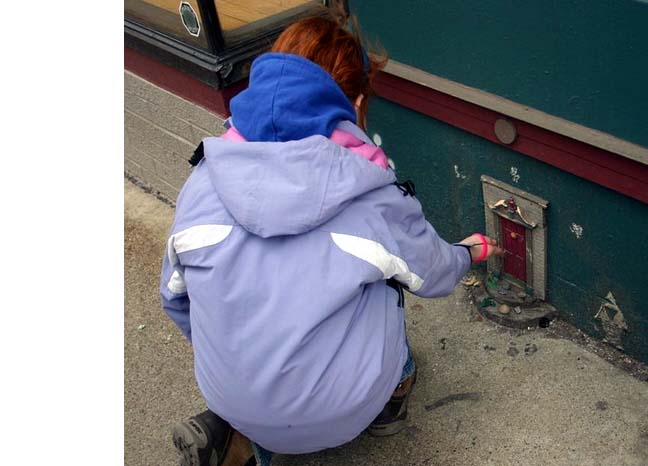 Quote:

In 2005, he installed the first fairy door in public, on the exterior of a coffee shop. Since then, about a dozen more doors
have shown up around Ann Arbor delighting local children and adults alike. Sometimes fairy hunters would leave fairy-sized
gifts for the fairies ócandies, socks, tiny felt hats, letters, pennies. The doors also attract tourists.

Now fairy doors are popping up elsewhere, such as in San Francisco and New York City. In Atlanta City, it has spawned a
new project, Tiny Doors ATL. Itís director and principal artist Karen Anderson, whoís from Ann Arbor herself, says that the
project is a direct inspiration of Ann Arborís fairy doors. Tiny Doors ATL, in turn, has inspired other artists to install fairy
doors in their own places.

Jonathan B. Wright keeps track of all fairy doors on Ann Arbor on his website, and so does Tiny Doors ATL on theirs.

Of course we already know Ann Arbor is a strange place with strange people.

link
---

monster Saturday Nov 5 08:53 PM

I think I've posted about these before..... There is a fairy ticket window at The Ark (entertainment venue) downtown which is pretty neat, and some stores have complete fairy rooms behind the door. Hebe now lives downtown and I just made her a fairy door -Greek tomb style- in ceramic which I'm going to glaze tomorrow

so there'll be one more on the tour. But shhhhh...... it's gonna be a birthday present in a few weeks, if I can hold off.....

---

xoxoxoBruce Saturday Nov 5 09:21 PM

Yes, I vaguely remember something about, it but couldn't find it.

---

sexobon Saturday Nov 5 10:08 PM
---

monster Sunday Nov 6 12:37 AM

here it is, unglazed. It's 6-8" tall, I guess...

---

Carruthers Sunday Nov 6 05:40 AM

They're spreading...

Attachment 58396


... but firm action has been taken.



Quote:

THE Dartington Hall Trust has politely asked the developer responsible for the recent spate of unplanned 'fairy doors' on the estate to cease their activities.

The trust took a gentle approach to the unwelcome additions, explaining on social media: "It's not that fairies aren't welcome on the estate but rather that the veteran trees targeted are already occupied. Plenty of species already live in them and their tenancy is being put in jeopardy by your activities."

Link

---

xoxoxoBruce Sunday Nov 6 05:49 AM

Quote:

Abby Read said: "I'm surprised the fairies can afford the parking charges."

The trust pointed out that all the money raised from parking goes to support the conservation work on the estate and the gardens which are free to visit, and then quipped: "The fairies are cool with it, they can fly so it doesn't really apply to them."

---
Your reply here?

The Cellar Image of the Day is just a section of a larger web community: a bunch of interesting folks talking about everything. Add your two cents to IotD by joining the Cellar.