xoxoxoBruce Sunday Oct 30 12:11 PM

Oct 30th, 2016: Dry Niagara

Quote:

Dry Niagara - American Dry Falls - In June 1969, to prevent erosion and clear debris U.S. engineers diverted the flow of the
Niagara River away from the American side of the falls for several months.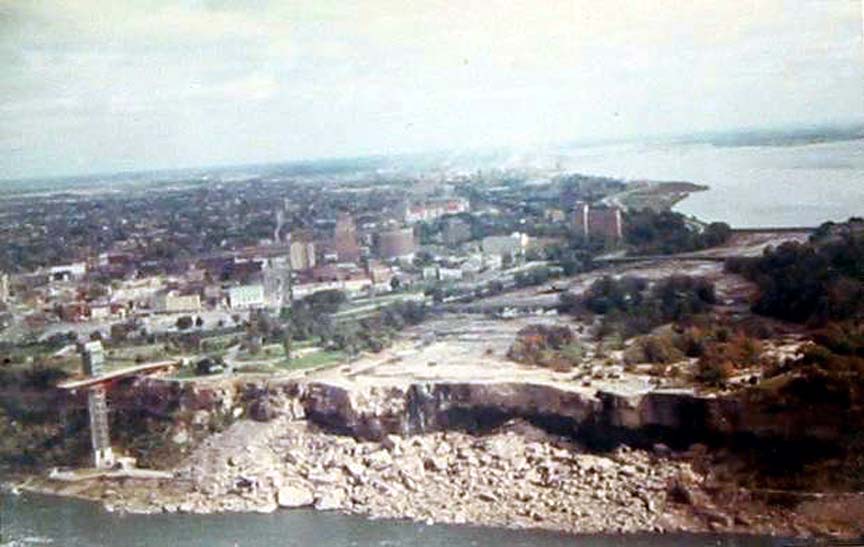 Did you see it, didja, didja? I did.
Walked upstream to see the cofferdam, across the dry(ish) river bed to the island, and over to the Canadian side for this sort of view.
We watch them pour different colored dyes into cracks in the riverbed and watch to see where they emerged in the face of the falls.

They decided there was no way to stop the erosion of the face and clearing debris was not practical.
The final score:
Army Corps of Engineers = 0
Mother Nature = 1

---

captainhook455 Sunday Oct 30 01:04 PM

Yep, I saw it, but I had binoculars.

tarheel

---

Gravdigr Sunday Oct 30 04:46 PM

I didn't see a lot in June of 1969.

I was exactly 1 year old.

You guys were around when Niagara Falls was just a trickle.



---

xoxoxoBruce Sunday Oct 30 06:36 PM

Drop that stick ya whippersnapper. We didn't get old bringing sticks to a gunfight.

---

Gravdigr Sunday Oct 30 07:23 PM

Whoops.

---

captainhook455 Sunday Oct 30 09:29 PM

Dang Gravs I you was old fart too.

tarheel

---

fargon Sunday Oct 30 09:37 PM

I was 12 and I remember seeing that on the News.

---

xoxoxoBruce Sunday Oct 30 09:41 PM

He is, he's faking it.

---

captainhook455 Sunday Oct 30 10:06 PM

[emoji2] that's what his woman says too.

tarheel

---

monster Sunday Oct 30 10:59 PM

I wasn't born.

---

footfootfoot Sunday Oct 30 11:34 PM

I was nine and had my nose buried in a comic book.

---

Snakeadelic Monday Oct 31 09:07 AM

I missed this one by a fair chunk, as I wasn't conceived for about another 8 months after this was taken. The first news story I remember coherently from TV stations was the fall of Skylab.

I used to hang out in a chat room for members of a Magic: the Gathering trading forum, and they tended to forget my age (and gender, but those are other giggles). One day I was knee-deep in noobs in the room heckling me about my outdated pop culture references, so I asked 'em all how old they were when the Berlin Wall came down. One guy said 8, another 5, and another 3, then someone asked me how old I was.

I'd graduated high school 5 months earlier. (Now git offa my lawn.)

---

Diaphone Jim Monday Oct 31 12:22 PM

I visited Niagara Falls in 1966.
I remember this attempt and thinking it took away some of the romance.

---

Gravdigr Monday Oct 31 03:48 PM

---

BigV Monday Oct 31 05:34 PM

*THAT'S* where that gurgling sound is coming from!

---
Your reply here?

The Cellar Image of the Day is just a section of a larger web community: a bunch of interesting folks talking about everything. Add your two cents to IotD by joining the Cellar.