Snakeadelic Saturday Oct 1 08:54 AM

Oct. 1, 2016: Signs, signs everywhere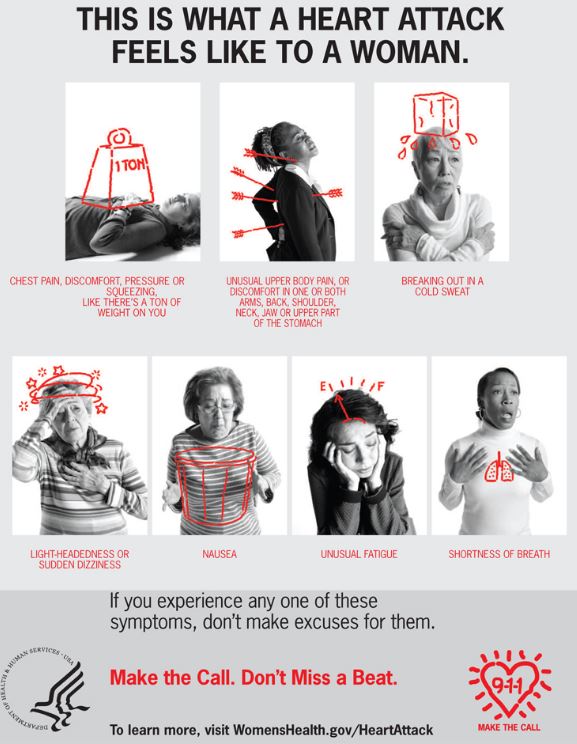 I wonder if I should be worried. According to this chart, I appear to have had about 37 heart attacks this year...

Upper body new/unusual pain? Yep, had that about 4 times lately. Sudden cold sweats? Sometimes a couple days a week, and sometimes a couple times a day. Nausea & fatigue? Every day for the last month. No wonder it's so hard to diagnose heart trouble in women--my doc listens to my heart and lungs EVERY visit and has never said anything about reduced or unusual heart and lung functions.

I do have a stress-activated arrhythmia of ventricular origin, but we've known about it for 20 years because in my case it's due to having had Graves' Disease as a teen and going undiagnosed. One of the permanent side effects of Graves' is ventricular arrhythmia developing in the early 20s; mine started acting up when I was around 22.

Ladies of the Cellar, if you have health coverage and any concerns after checking this chart out, get your heart checked out!

---

Sundae Saturday Oct 1 10:09 AM

I have these symptoms all the time now. But I'm only just out of hospital, where they poked and prodded and tested me to within an inch of my life, so I just have to get by.

I had extreme chest pain in the library once.
Can't even remember which hospital visit it precipitated.
I had someone I knew take me to Minor Injuries because I was really scared. Never had chest pain like it, before or since.
Turns out it wasn't my heart I should be scared about - the symptoms can also apply if you have liver problems (I do) and knock-on gastric issues (I do.)

Given the amount of time I spent in hospital because of it, it was worth being checked out. They worry about my heart more than I do. For someone with a good cholesterol count and blood pressure, I excite professionals enormously.

I agree with Snake - if your finance (or country) permits - HAVE IT CHECKED.

---

xoxoxoBruce Saturday Oct 1 11:13 AM

How do you tell a heart attack from menopause?

---

Gravdigr Saturday Oct 1 02:05 PM

Women don't stab you in the eye during a heart attack?

---

Snakeadelic Monday Oct 3 08:47 AM

Bruce, if you can figure out how to separate the symptoms on that chart from good ol' menopause, I will nominate you for the Nobel Prize AND sainthood.

Gravdigr, I'm enjoying the first symptoms of early-onset menopause and let me tell ya I could stab someone in the eyeballs (or other sensitive locations, at least one featuring paired orbs) for just about anything on just about any day. And I only have to wait 19 more years before they'll even consider removing my ovaries! Yay!!!

---

Snakeadelic Monday Oct 3 08:54 AM

I do have one other recommendation for the Ladies of the Cellar:

If you're suddenly tired all the time, but not every day...
If you suddenly lose all appetite OR start wondering if your roof shingles count as "dietary fiber"...
If you're suddenly more anxious OR depressed than usual and there is no obvious cause...

...get your thyroid levels checked. If my HMO doctors had been smart enough to test my thyroid when I was 15, I would not have hands that have tremored since I was 16 and will continue to do so my entire life. I also would not have that heart arrhythmia. Unless your primary care provider is an endocrinologist, checking for thyroid abnormalities tends to get forgotten. I am SUPER crazy lucky--I had Graves' Disease in my teens and am one of the tiny percentage of self-correcting cases. Took Synthroid for like 5 years, got my thyroid tested after 24 hours without annually, got taken off Synthroid when to everyone's amazement my thyroid gave up and started working normally. My mom was happy too--I will never forget the look on her face that one day. I was SO broke, living at her house, looking for a job in a town of 1700, out of thyroid meds...but the dog took Synthroid, almost twice the dose I did...and then there was the day she caught me breaking the dog's pills in half to swipe a half. She'd forgotten to get my refill, and I had neither cash nor car. We can laugh about it now, but that part took a while.

---

Clodfobble Monday Oct 3 10:08 AM

The "Nausea" woman looks like she's doing that dance where you hold the large bent-over booty in front of you and thrust your pelvis forward, maybe slapping once or twice for good measure.

---

Undertoad Monday Oct 3 10:25 AM

The "Shortness of Breath" woman is the woman with that large bent-over booty.

---

Clodfobble Monday Oct 3 05:19 PM

Ha!

---
Your reply here?

The Cellar Image of the Day is just a section of a larger web community: a bunch of interesting folks talking about everything. Add your two cents to IotD by joining the Cellar.