xoxoxoBruce Tuesday Jul 12 11:53 PM

July 13th, 2016: Batteries

..........♫ Batteries,
............ Corroding in land fills. ♪
..........♫ Brightly colored batteries,
............ Of the way we were. ♪

..........♫ Flashbulb pictures,
............ Of electric toys we left behind. ♪
..........♫ Toys we gave to one another,
............ For the way we were. ♪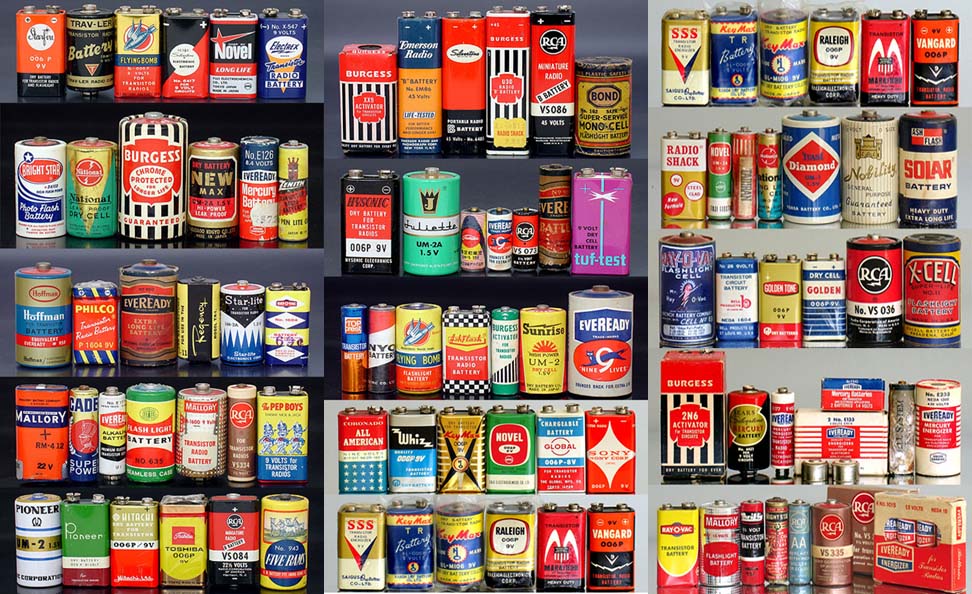 Thank god we've stopped that crazy wasteful fascination for electric toys and gadgets.
For awhile I was afraid we'd have huge batteries in the walls of our houses, maybe even on our airplanes or in our cars.

---

burns334 Wednesday Jul 13 09:10 AM

[IMG]C:\Documents and Settings\user\Desktop\Ebay[/IMG] SPACECRAFT BATTERIES

---

Degrees Wednesday Jul 13 09:26 AM

My car runs on 7.2 KVA of batteries

I can go about 30 miles on electric-only. 23 if the air conditioning is on (which it must, here in summer).

---

Diaphone Jim Wednesday Jul 13 12:32 PM

Finally spotted the Ray-O-Vac.
I had a flashlight with Safeway Stores batteries that leaked and ruined the finish of a nice table.
Safeway denied any culpability since they did not make them.
Turned out they were made by Ray-O-Vac whose products for decades have carried the slogan "Never Leak!"

---

Gravdigr Wednesday Jul 13 01:09 PM

Found it.

---

Carruthers Thursday Jul 14 03:28 PM

A few days ago I was struggling with some electronic piece of kit and thinking how simple life was when almost everything that didn't plug into a wall socket, was powered by a couple of U2 batteries.
Now there is a bewildering number of formats, sizes, useful life and Heaven knows what else. Oh, and prices, of course.
Rechargeables seem to be available as NiCd, NiMH and Li-Ion varieties with LiFePo4 starting to make an appearance.
Each seems to have its own characteristics and has to be handled differently to other rechargeables.
Li-Ion batteries come with dire safety warnings about how they should be used and maintained for fear of them catching fire.
I understand that they are prohibited from being carried as freight on commercial passenger flights due to safety concerns.

Why are things so complicated?

---

sexobon Friday Jul 15 10:42 PM

---

Snakeadelic Monday Jul 18 10:04 AM

I saw a scary kind of battery on my Gallivant Westward! (My neighbor and I go to Portland and a couple other places in Oregon every summer to visit families.) After like six years of sniveling about it, I finally got a chance to go to the "new" Oregon Museum of Science & Industry campus, the one they moved to in 1992. While there I toured the USS Blueback, the last diesel-engine sub in the US fleet until it was decommissioned. The diesel engines could, of course, only be used when the ship was at surface. When underwater, it relied on some downright terrifying batteries! The tour guide described them as lead-acid batteries, and one of the 504 from the belly of the boat had been set up in a little cordoned-off nook. It stood about 3 feet tall and was maybe 12 inches wide and deep. And the note on it says each one of those 504 lead-acid batteries weighs 1200 pounds. I'm astonished the sub could surface at all!

---

Diaphone Jim Tuesday Jul 19 07:22 PM

I hope Bruce is not ill, but just taking a few days off.

---

lumberjim Tuesday Jul 19 07:29 PM



---

SPUCK Tuesday Aug 23 03:42 AM

Snake; Is that museum in Portland? I looked across the river and saw a sub tied up at the dock.

---

BigV Tuesday Aug 23 03:14 PM

---

Griff Wednesday Aug 24 07:16 AM

Speaking of batteries.
https://www.tesla.com/blog/new-tesla...tion-car-world
0-60 in 2.5

---

glatt Wednesday Aug 24 08:34 AM

That car's doing 60 in less time than it took you to finish this sentence.

---

BigV Wednesday Aug 24 11:13 AM

I've driven one, not that model, and the car just GOES. No drama or excitement, just acceleration. No wheelspin, no smoke, no exhaust roar, it's weird. Exhilarating, but weird.

0 to. 60 in 2.5. Holy smokes.

---

SPUCK Thursday Aug 25 03:16 AM

I wonder if it will deliver your face to the side of the semi trailer faster now too?




---

Griff Thursday Aug 25 07:03 AM

.4 sec faster

---
Your reply here?

The Cellar Image of the Day is just a section of a larger web community: a bunch of interesting folks talking about everything. Add your two cents to IotD by joining the Cellar.