xoxoxoBruce Tuesday Jun 28 11:49 PM

June 29th, 2016: Big Stone River

The Big Stone River is a path of huge boulders flowing down the Taganay mountains in the Southern Urals territory of Chelyabinsk
Oblast, Russia. This river of rock is 6km(3.73 miles) long, and up to 700m(2300ft) wide but averaging 200m(656ft) wide.
Unlike Moon River this river is hard rock. These jagged boulders weighing up to 10 tons, piled 6m(20ft) deep, are quartzite with
aventurine inclusions which give it a shimmering effect.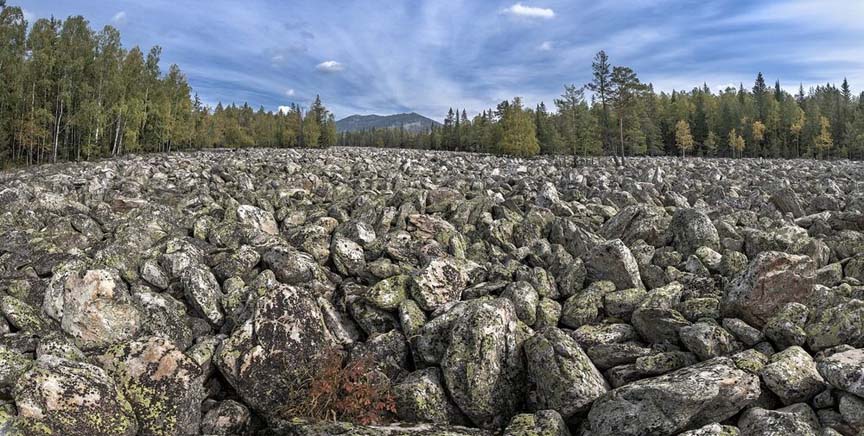 Quote:

The gigantic rock slide is believed to have occurred during the last glaciation some 10,000 years ago(10,000years).
At that time, glaciers covered the top of the ridges of the Taganay mountains reaching heights up to 4,800 meters(14750ft).
Under the immense weight of this ice, the top of the mountain was pulverized into millions of large boulders. When the ice
melted away, these rocks slowly slide down the hill creating the Big Stone River. The geological feature is named "river" only
because it resembles as such, not because it actually flows. The rock slide has been sitting motionless for thousands of years.

Yet there's no vegetation.


Quote:

Interestingly, as one approaches the Big Stone River, the crisp sound of running water can be heard. The sound is produced
by small streams running under the rocks.

So there's water under there, it's strange no trees or even vines have managed to sneak up through the rocks. Can the light be
blocked out completely? Maybe there's critters under there that eat anything that tries.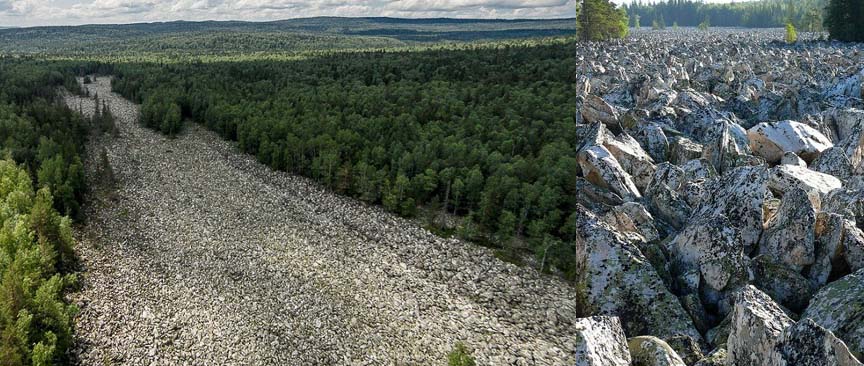 Quote:
Outside of Russia, several stone rivers can be found in the Vitosha Mountain, in Bulgaria. One of the largest extends over
2 km(1.25miles) in length is located on the Subalpine plateaus at the Zlatnite Mostove ('Golden Bridges') site in the upper
course of Vladayska River. Another stone river in Vitoshka Bistritsa River valley is up to 300 m(984 ft) wide, and other stone
run formations sprawl even wider on the mountain slopes.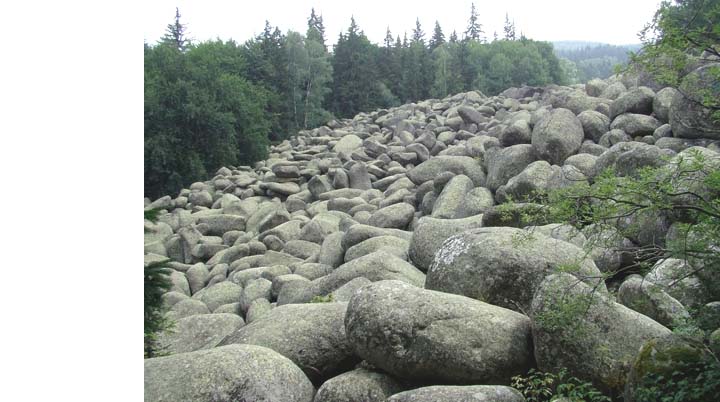 These stones must be softer as they're rounder.

Link

---

lumberjim Wednesday Jun 29 01:24 AM

Looks like a good place to pose for your album cover

---

Snakeadelic Wednesday Jun 29 08:15 AM

The one in Russia might be high enough in altitude to be pika habitat, and if that is the case it explains the lack of overgrowth--those little critters carefully and thoroughly harvest vegetation to tide them over the winter. They even eat toxic plants, because it turns out most of the toxins help preserve the dried plant material and its nutritional value.

The one in Bulgaria might be a totally different stone, or it might just be very, very old. If it's a softer stone and older than the Russian one, that would explain the rounder stones. And the Bulgarian rock river might very well be pika habitat as well--they're found in pretty much every tall mountain range in the world from the North American Rockies to the Himalayas and the Andes (European and South American). Pikas need high altitude, cool summers, access to minimal drinking water, as much piled-up stone for warrens as they can find, and lots of low-growing grass and herbs to harvest. They go into a semi-hibernation state for winter and need little to eat or drink, but they don't go fully under like bears do because they're too small to pack on sufficient fat reserves.

And I agree with lumberjim--if these places were more accessible, I think they'd be all over album covers! I can imagine a black metal band showing up with a photographer and a bucket of blood to be thrown over them as they strike mighty Norwegian poses...



I didn't get enough sleep last night...

---

Gravdigr Wednesday Jun 29 01:16 PM

If you fish in a stone river will you catch rock fish?

What about stone crab?

A stone river? Now, that's what I call hard water!



Thanks, I'm here all week. Try the colourised blackened whitefish.



---
Your reply here?

The Cellar Image of the Day is just a section of a larger web community: a bunch of interesting folks talking about everything. Add your two cents to IotD by joining the Cellar.