xoxoxoBruce Friday Jun 24 12:04 AM

June 24th, 2016: Solar Road

The headline, "Solar paving to make first public US appearance on Route 66"
Wow, that's cool.

Then the heading…
The US state of Missouri has decided to test solar paving technology on America's most famous road, Route 66.
Sounds interesting.

.......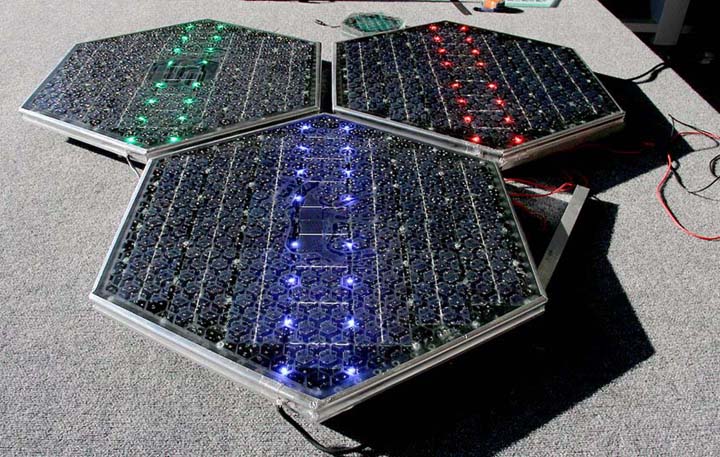 OK, the story…


Quote:

The state's transportation department will use tough, electricity-generating panels developed by the pioneering
husband-and-wife team Scott and Julie Brusaw, founders of the company Solar Roadways, who captivated the
US in 2014 with their plan to pave America with solar panels.

The department hopes that the Historic Route 66 Welcome Center at Conway will get the country's first solar
roadway panels on a public right of way, in a move one official said would bring "the history and the future together".

Welcome center, not the actual road, hmm.
OK, start where it won't totally screw the public if it fails… except in the wallet.


Quote:

It was not revealed how large an area would be paved with the panels. According to the newspaper, to get the
most out of the project the department will seek crowd funding.

Crowd funding? Shake down the people in line for the toilets?




Quote:

In this the department will be hoping to replicate the success of Solar Roadways' 2014 crowd funding campaign,
in which they raised $2.2m in two months, more than double their target of $1m.
"We are going to go out there publicly and on the internet … and ask for money to make our solar roadway pilot
project even bigger and better," Tom Blair said.

I don't know about that?




Quote:

The Brusaws, of Sandpoint, Idaho, have been working on their system for 12 years, and got a boost in 2009 in the
form of a $100,000 grant from the Federal Highway Administration to build a prototype solar road panel.
They have since received two more research grants from the US Department of Transportation, the latest in
November 2015, worth $750,000, to study freeze-thaw cycling, moisture conditioning, shear testing, and advanced
loading on their third-generation panel prototype.

So we've all got skin in this game already.
They're making some mighty big claims that are hard to believe.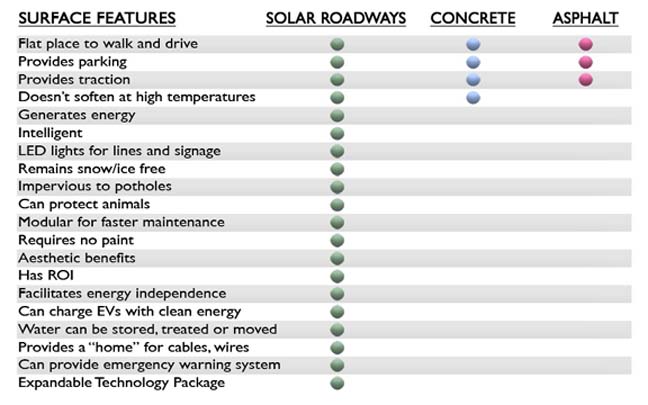 Quote:

They have claimed that paving all of America's roads and parking lots with the panels would generate
13,385 billion kilowatt-hours of electricity, more than three times the amount the whole country consumed in 2009.

It says so right here on my calculator.



Color me skeptical when it comes to glass roads that 80,000 lb trucks use. Look what happens to concrete.
I remember reading that the engineers who do interstate highway planning don't care what the car traffic is predicted
they only want to know how many trucks.

link and link

---

Griff Friday Jun 24 07:26 AM

As long as it's self-replicating we're good to go.

---

Snakeadelic Friday Jun 24 08:27 AM

Hmm...I've probably been watching too many MCU movies, because my brain sees those colors and goes "Are we REALLY building our own Bifrost in freakin' Missouri???"

---

glatt Friday Jun 24 08:33 AM

They forgot the lojack. They need to put a lojack in each one of these things. Just leaving multi-thousand dollar panels sitting there on the ground unattended all night is begging to have them stolen.

---

Undertoad Friday Jun 24 08:39 AM

If it "Has ROI" ...then there is no need for crowd funding, right?

---

SPUCK Monday Jun 27 03:34 AM

glatt; If I recall correctly they each communicate with a server. If someone was molesting one it should be able to 'phone-home' via the "provides a home for cables" raceway that runs below the road.

Glass is hecka-tough too, they paved a bridge across our river in the middle of my town using glass as the aggregate. It's lasted decades.

I think using roads for solar panels beats the heck out of paving over desert (US) or paving over pasture(Germany).

What I have a hard time with is what happens when that eighteen-wheeler locks up his wheels? Does it skid a hundred yards instead of fifty?

---
Your reply here?

The Cellar Image of the Day is just a section of a larger web community: a bunch of interesting folks talking about everything. Add your two cents to IotD by joining the Cellar.