What's IotD?

The interesting, amazing, or mind-boggling images of our days.
xoxoxoBruce Wednesday Jun 22 12:09 AM

June 22nd, 2016: TomTato®

You may remember when Count Dracula traveled to England he sailed on a Russian ship and took 50 boxes
of soil from Transylvania. It all ended badly for poor Drac, crumbling to dust and all. But what happened to
the 50 boxes? What happened to the Transylvania soil?





Is it a mere coincidence that in England Thompson & Morgan have produced TomTato®.
No, not Tomacco, TomTato®, a plant producing tomatoes above ground and simultaneously potatoes below.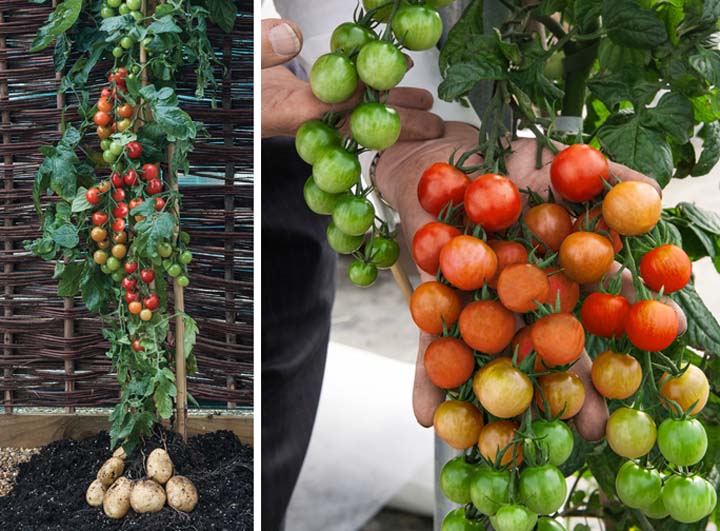 Quote:

Here's another major horticultural breakthrough from Thompson & Morgan! Specially hand-grafted plants
producing potatoes AND tomatoes are now available to UK home gardeners for the first time. Above the
ground harvest harvest over 500 cherry tomatoes with a Brix level of 10.2 - that's sweeter than
supermarket tomatoes. Fruits also have just the right level of acidity that only the tastiest tomatoes have.

BUT THAT'S NOT ALL(Ghost of Billy Mays)... Below the ground harvest heavy yields of up to 2kg of
delicious white potatoes which are incredibly versatile. You can boil them, mash them, roast them or make
chips. That's right! From one plant you can harvest tomatoes AND potatoes. This concept has been
worked on for over 15 years, but this is the first time that plants have been successfully produced
commercially. Tomatoes are members of the potato family and are therefore naturally compatible with
potatoes. Each TomTato® plant is specially grafted by hand to create this unique double cropping feature.
There's no genetic modification - it's an all-natural, and safe process.

The US has strict laws about importing dirt because it might be from Transylvania harbor agricultural pests.

So on their website T & M say...
"The products on this site are only delivered to UK addresses.
If you require delivery to another country please visit one of our other sites below."
OK below that is three links, US, Canada, and rest-of-the-world.

Of course I clicked on US... Nope, No Gots. So I tried Canada next... Nope, No Gots.
OK, click on rest-of-the-world and get the page I'm already on plus a message...

"We have detected which country you are viewing this site from and feel your requirements might be better
suited by viewing one of our other websites below."


The two links... US and Canada.

---

SPUCK Sunday Jun 26 11:30 PM

That is hilarious! I see so many screwed up websites.

Also a pretty neat plant! I never have much luck growing tomatoes in my lake silt/clay but potatoes seem to grow ok. Maybe I could side-step the tomato issue by using these plants?

---

xoxoxoBruce Monday Jun 27 12:05 AM

You could do your own grafting.

---

SPUCK Monday Jun 27 03:47 AM

I want to grow pickled peppers grafted to a lime tree.

---
Your reply here?

The Cellar Image of the Day is just a section of a larger web community: a bunch of interesting folks talking about everything. Add your two cents to IotD by joining the Cellar.