xoxoxoBruce Sunday Jun 19 12:05 AM

June 19th, 2016: Peru's Slingshot Battle

Peru's Chiaraje Highlands is a desolate area far from the costal populations. At 4200 meters(13,800 ft), with very
little rain, it's not very attractive to most Peruvians or tourists. But people live there in small isolated villages, very
tough people, who gather every January 20th for the annual Slingshot Battle.


Quote:

Every January 20th, the villages in Canas province, near Cusco, divide themselves into two camps and fight each
other in two consecutive battles. It takes place in the Chiaraje highland, an expanse of green and rocky pasture
between the mountains of Orccocca, Londoni and Escurrani, at 4,200 meters of altitude. Only about an hour
separates the two battles. Each side tries to push the other back into their camp, using slings and flails made from
rope and metal. And stones, sharp stones, can be found all around the rocky mountain side.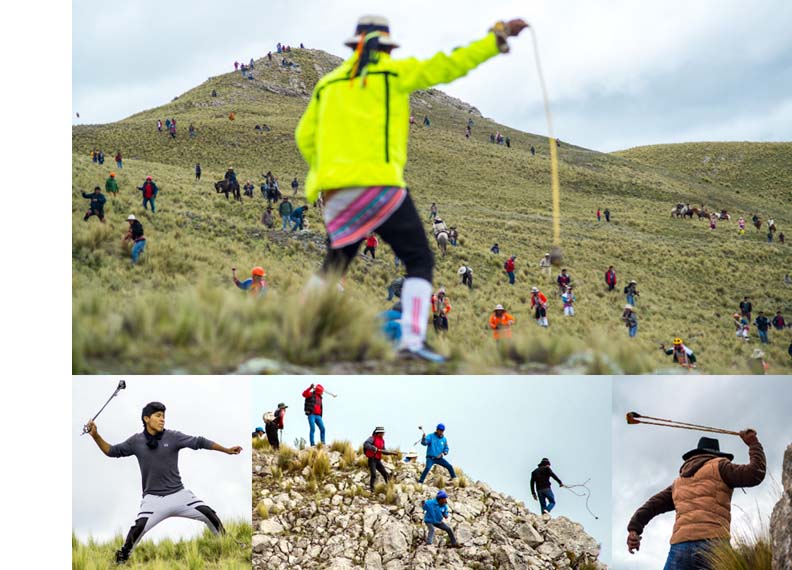 Quote:
Although the media tries to highlight only the violent side, the fact is that there are also laughs and celebration.
The first thing you see as you arrive is a group of tents that make up a fair on the side of each camp. Here people
buy and sell food, beer, alcohol, and coca leaf. There are couples kissing. Whole families with children gather like it
was a picnic to watch the battle from afar. There are musicians, songs, and dancing everywhere.

It all starts with taunting. Small groups of people spontaneously start moving into the field and shout threats and
insults to the other side. Some stones begin to rain, and then more will come. More warriors start marching.
Then the horses will come with the riders screaming harangues, trying to bring order to the headless horde.
But it will be in vain.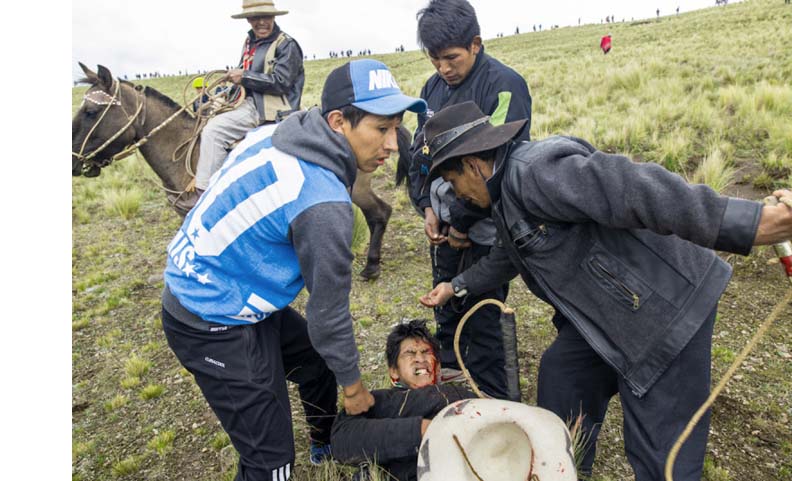 This man died that night.



Quote:

There is no central direction for each strategy. The fight varies according to the emotions of the warriors: if one
advances valiantly then others will watch him and follow, and soon the whole group will be running forward like an
avalanche. In the same way, if someone runs away in fear, that fear might be contagious and could lead to retreat
and defeat. From where I sit I can see the warriors marching. There are elders who look older than sixty, and children
who just seem to exceed fifteen years old.

It's brutal, it's dangerous, it's stupid, but it's tradition where people have little else.

link

---

Griff Sunday Jun 19 08:54 AM

14 years here and it turns out you're a plant from the Peruvian board of tourism.


American kids do the same thing with pistols and the drug of the day.

---

footfootfoot Sunday Jun 19 11:13 AM

I used to frequent this forum:

http://www.slinging.org/

Ballistics article, http://slinging.org/index.php?page=t...hom-richardson

Interesting to note that 85 g lead slingshot and 40 g lead slingshot both have similar velocities (m/s):

85g: min. 29.9 avg. 31.2 max. 32.6

40g: min. 29.3 avg. 30.6 max. 32.5



compare .45 acp: (12g) (373 m/s) (835 J)

vs. slingshot: (85g) (32 m/s) (43.52 J)

momentum = M*V

85*32=2720

12*373=4476

---

xoxoxoBruce Sunday Jun 19 11:37 AM

It was recently deduced the ancients drilled small holes in some of the lead shot so they would whistle as they flew, to terrorize the enemy.

---

Diaphone Jim Sunday Jun 19 12:03 PM

Ritual warfare was (and obviously still is) common around the world.
Although serious wounds and death were possible, the affairs accomplished many of the same things actual warfare did without the carnage.
I love the mutual fairs, sort of like beer parties after rugby games.

The WWII German Junkers Ju 87 dive bomber had propeller driven sirens ("Jericho Trumpets") that accomplished the same inducement of fear on the bombee.

---

Gravdigr Sunday Jun 19 01:29 PM

Not to derail the thread, or anything, but...

Attachment 57071

...is this guy getting pissed on?

---

footfootfoot Sunday Jun 19 04:16 PM

Yeah, you're not supposed to get captured.

---

xoxoxoBruce Sunday Jun 19 04:25 PM

You mean the guy that looks like glatt? I don't think it's a victory piss.
Local custom is to piss on the wound to wash out the dirt and sterilize the wound until he can get to a medical facility. Both water and medical facilities are scarce.
But glattman died anyway.

---

SPUCK Friday Jun 24 04:55 AM

Humans. Easily the dumbest animal on the planet.

---

Gravdigr Friday Jun 24 04:29 PM

---

BigV Friday Jun 24 10:58 PM

no

standing guy on left is holding a large soft sided water container (in the same posture you'd assume if you were taking a piss) the water bladder is grey with a dark stripe (probably the tape over the assembly seam) and tricking the water out and teh other dude on teh right is interrupting the stream and sprinkling it on the pre-dead guy's face

---

xoxoxoBruce Friday Jun 24 11:57 PM

Maybe that's his urinary drainage bag.

---

Gravdigr Monday Jun 27 05:30 PMI approve this phrase.

---
Your reply here?

The Cellar Image of the Day is just a section of a larger web community: a bunch of interesting folks talking about everything. Add your two cents to IotD by joining the Cellar.