What's IotD?

The interesting, amazing, or mind-boggling images of our days.
xoxoxoBruce Saturday Jun 18 12:53 AM

June 18th, 2016: Joe Medicine Crow

Joe Medicine Crow died April 3rd in Billings MT, at 102. Joe was a unique person. Born on the reservation he earned college degrees,
won a Bronze Star, the French Legion d'honneur, and the Presidential Medal of Freedom. He was an accomplished athlete, could play
five instruments and was an avid basketball fan.
But he felt the greatest honor was being named the last of Great War Chiefs of the Crow Nation.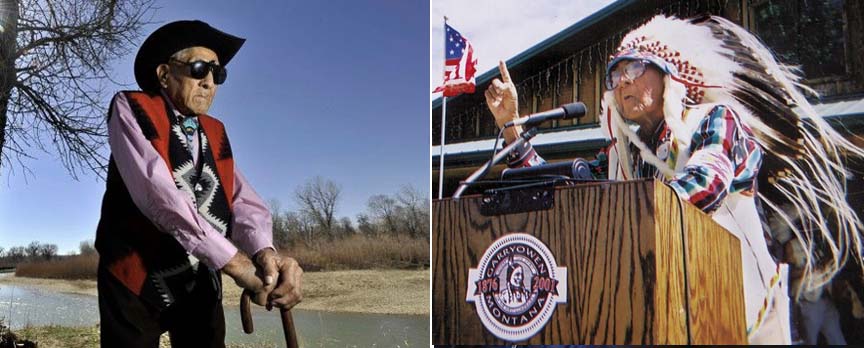 Quote:

According to Crow tradition, a man must fulfill certain requirements to become chief of the tribe:
Command a war party successfully, enter an enemy camp at night and steal a horse, wrestle a weapon away from his enemy and touch the first enemy fallen, without killing him.

Well yeah, Indian stuff in the wild west, ho hum. .......... Nope…



Quote:

Joe Medicine Crow was the last person to meet that code, though far from the windswept plains where his ancestors conceived it. During World War II, when he was a scout for the 103rd Infantry in Europe, he strode into battle wearing war paint beneath his uniform and a yellow eagle feather inside his helmet. So armed, he led a mission through German lines to procure ammunition. He helped capture a German village and disarmed — but didn't kill — an enemy soldier. And, in the minutes before a planned attack, he set off a stampede of 50 horses from a Nazi stable, singing a traditional Crow honor song as he rode away.

When he came home from WW II the tribe told him he had completed requirements to be chief, much to his surprise and delight.



Quote:

For much of his life, Medicine Crow served as an emissary between the Crow community and the white world. As a child, he translated for his great uncle, White Man Runs Him, when white reporters came to interview him about the Battle of Little Bighorn. He lent his voice and his memories to countless exhibits on Native American culture at museums around the country. He spoke at colleges and conferences and a United Nations summit.

He also got fired in 1939 as an advisor for the Errol Flynn movie about the Battle of the Little Big Horn for insisting they had it wrong, and his Grand Uncle had warned Custer it was a trap.



From his memoir, Counting Coup (keeping in mind it was written by an old man who was a historian, and activist, with a masters in
anthropology plus one earned and a bag full of honorary PhDs)…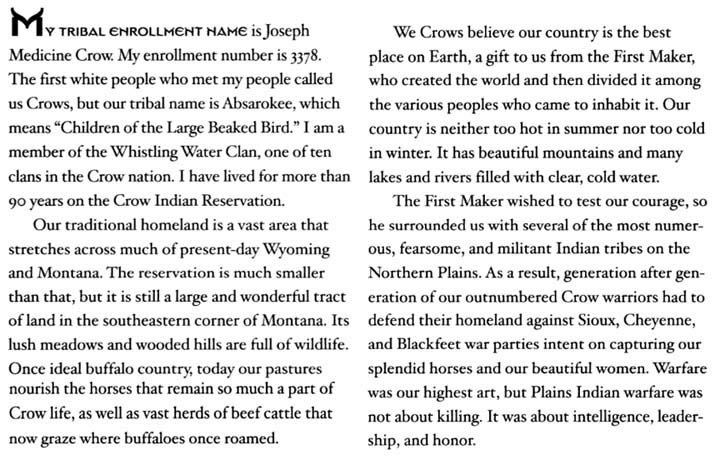 I think it sounds a little too bucolic, but later he did cover the hardships of living there when the tribe dwindled to 1800.

He took a page from Joe the Plumber when Obama was stumping a group in MT. Joe went with a group of veterans and I'm sure
Obama was surprised by this little old WW II Bronze Star winner being a powerful public speaker. Joe called on Obama to raise the
status of vets if he ever made it to the White House. But when he got a chance to talk to Obama one on one, unknown to his
fellow vets, he was asking Obama to raise the status of Indians from the bottom rung of the ladder.
It was some years later Obama presented Joe with the Presidential Medal of Freedom.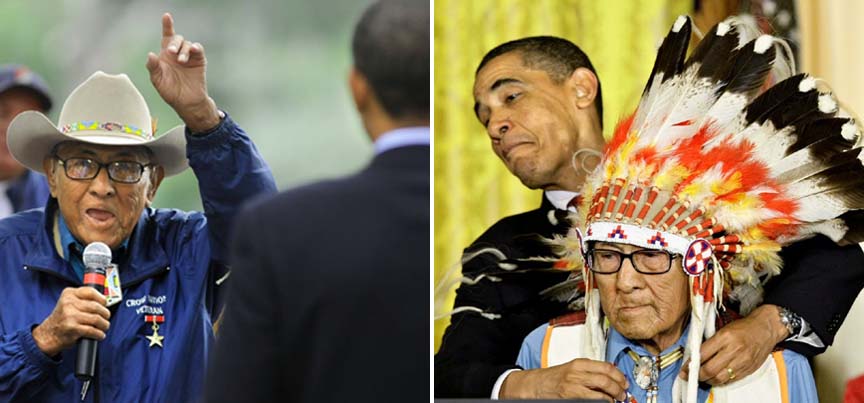 Anyway, he spent his 102 years in two worlds, one foot in each, and successful in both. He had a big impact on a great many people,
many whom he never met but remember him fondly.
I don't see how you can do better than that.

link and link

---

Snakeadelic Saturday Jun 18 08:39 AM

It's always sad to discover the passing of the final icon of a lost culture. I am so glad this fella was well-spoken and well-documented! The mind boggles at how many people like him we lose every year--people who are not well-known, whose cultures and languages and mythologies die with a single individual. One example I can think of was an old woman in a village of about 300 deep in the taiga forest of central Russia. She was mentioned during a Werner Herzog documentary about this (insane) sable trapper; during one of Herzog's visits to the village outside the trapping season (winter, because bears) her alcoholic grandson accidentally burned their house down and was unable to rescue her. She was the last in their culture who knew the old ways, how to make doll-like effigies of those who had died that were considered crucial to a happy afterlife. We should probably all be glad Joe Medicine Crow was not lost to the world as well.

Someone should make a WWII movie with main characters based on Joe and on Audie Murphy, who repeatedly had to insist that Hollywood producers and directors cut "unbelievable" scenes from movies based on his own war experiences because he didn't think the public would believe them.

---

classicman Saturday Jun 18 09:55 AM

Well done sir. RIP.

---

Gravdigr Saturday Jun 18 01:47 PM

That man led a full life.

---
Your reply here?

The Cellar Image of the Day is just a section of a larger web community: a bunch of interesting folks talking about everything. Add your two cents to IotD by joining the Cellar.