xoxoxoBruce Tuesday Jun 14 12:14 AM

June 14th, 2016: Gay Pride

I'm departing from my usual pap today. This photograph is usually labeled NSFW... fuck that, look at it.
Does it shock you, offend your sensibilities? If so, good... that means you're probably a decent person.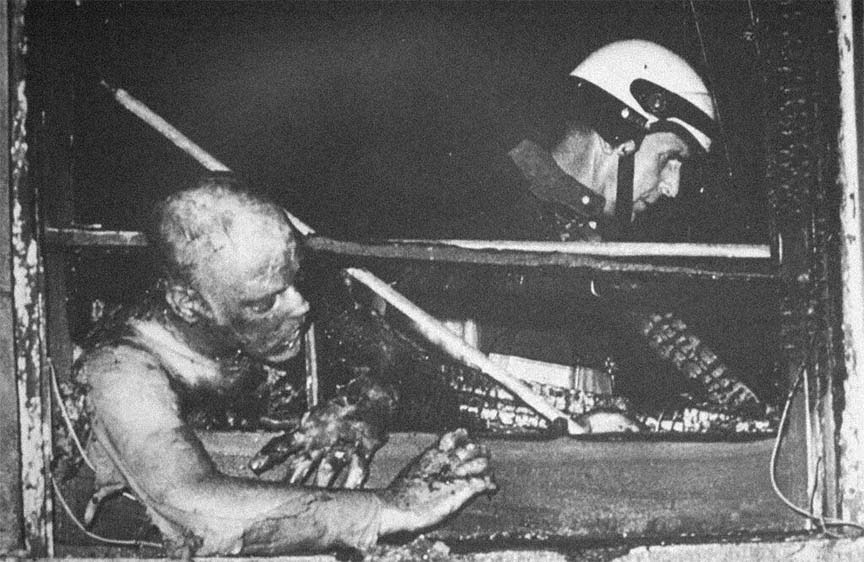 Quote:

The body of Rev. Bill Larson clings to a window of the UpStairs Lounge, a New Orleans gay bar set on fire killing 32 people
on the last day of Pride Weekend. Burial services for the dead were denied by most churches, and families refused to claim
victims' bodies out of shame. 1973

1973. That was 43 years ago, 43 fucking years. I hear second hand stories of friction, of hate, but not being part of the LBGT
community I'm insulated from living it. My Ex said I was dumb because I wouldn't know a gay guy unless he was acting the
Hollywood flaming pansy routine. Or he hit on me which would mean he was so very, very desperate I might say yes out of pity.



That said, I really thought we had moved on, at least to just disapproval and distain. Orlando proves me very wrong.

---

glatt Tuesday Jun 14 08:19 AM

The paper this morning said the shooter was a user of gay dating apps and a regular patron of that bar. I can't even pretend to understand.

---

Snakeadelic Tuesday Jun 14 08:20 AM

Sadly, cultural xenophobia has been a part of humanity since there's been anything we can currently call "humanity". Tribes in the distant past learned to make war long before they invented writing, crop cultivation, or "national" identities. Individual humans, of course, vary widely...but in general, there will ALWAYS be a group of people with something in common who are held in contempt and hatred by those around them.

After thousands of years of this, we need to GET OVER what other people do with their baby-makin' bits when only consenting adults are involved. If we MUST spew hatred and violence, we need a more deserving target--wouldn't it be nice if that level of commitment to horrors and tragedy could be aimed at, say, adults who harm children? Warmongers? Weapons suppliers? There are SO MANY hate-worthy descriptions that do not include skin color, national origin, sexual orientation, or religious beliefs. SO MANY, you guys.

---

Griff Tuesday Jun 14 09:40 AM

There was a gay Muslim man on NPR yesterday talking about the shame his culture put on him. Reddit, of all things, saved his life. He was ready to kill himself, but some folks convinced him that suicide was the greater sin. When we're brainwashed by religion we have the most irrational conversations with ourselves.

I read an article by Jim Wright this morning that gunneys won't like.

http://americannewsx.com/hot-off-the...ners-complete/

He talks about radicalization. We can be radicalized by more things than religion and it makes us sound like crazy people outside our culture. Growing up where I did its natural to accept the pro 2nd Amendment side as we're hunters and farmers out here. A rifle is a necessary tool. Over the last few years two (if I read the echos right) flatlanders who moved up here have acquired full autos. They are a different sort of gun person. They brought their urban paranoia with them when they escaped whatever they were escaping. Now and in the wake of a radicalized Muslim on the FBI watch list legally purchasing an AR-15 from a gunshop, I don't think I'm part of this gun culture.

---

Diaphone Jim Tuesday Jun 14 12:35 PM

I suppose we could decide that, from the list of casualties, hispanics not homosexuals nor enemies of ISIS were the target.
I have to wonder why pictures such as the one from 1973 were published but nothing like them are shown today.
I also wonder if the Orlando police will release detailed information about the incident that might put themselves in a bad light.
Violent deaths such as these happen daily, or more often, around the world. With 7 billion people under increasing stress of all kinds, how could they not?
The fear of being listed as a patron of that bar is just as real in today's Florida as 43 years ago in Louisiana.

http://readersupportednews.org/news-...er-florida-law

---
Your reply here?

The Cellar Image of the Day is just a section of a larger web community: a bunch of interesting folks talking about everything. Add your two cents to IotD by joining the Cellar.