xoxoxoBruce Sunday Jun 12 12:16 AM

June 12th, 2016: Travel Trailer

Actually travel/camping trailer. In the early 1950s more people had the urge to travel around the country for
a number of reasons. They had a little extra money, some vacation time to burn, wanted to hook up with old
Army buddies, or at least see the part of the country those buddies raved about. People became more aware
of National Parks and the scenic wonders on travel posters.
Air travel was prop driven, arduous and very expensive. So travel trailers of all stripes became popular.
Some were barely more than wood and metal tents on wheels. But for the people with a little(read lot)
bigger budget there were the high end rigs.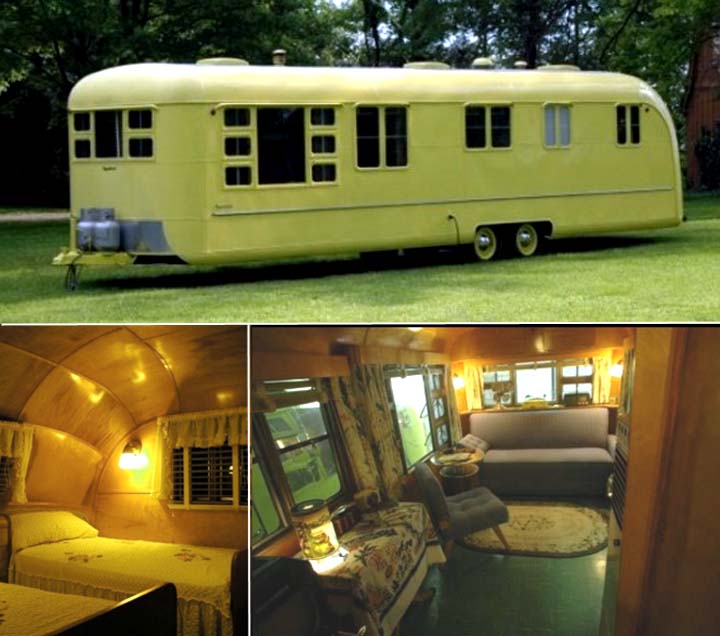 As near as I can figure out, this one is a Vagabond, built in MI, probably 1950 to '53, and 29' or 35' feet long.
But there were a couple of companies making high end units. The bedroom had two full sized beds, Birch
paneling on walls well insulated against noise and weather throughout, furniture and rugs.
The floor was heated by blowing hot air between the top and two lower plys, before it exited to the interior
at each end of the trailer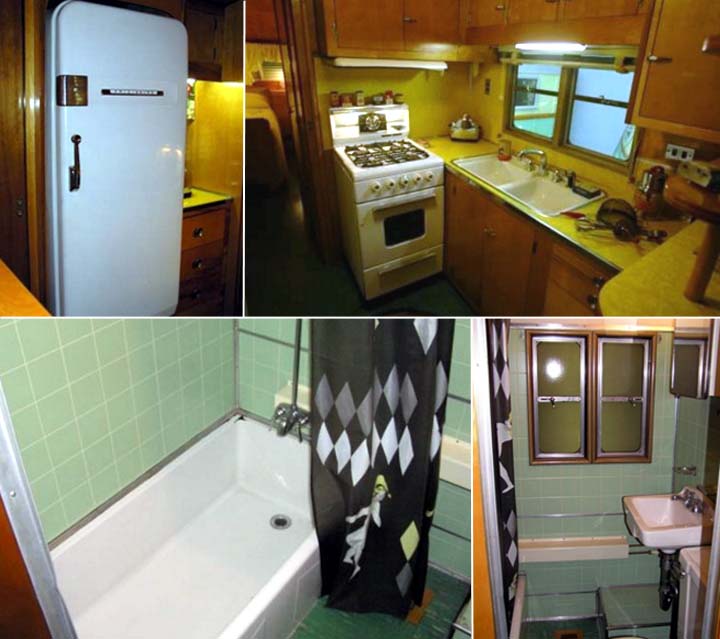 A bathroom with tub and shower. A kitchen with double sink, stove, refrigerator, and a broom closet.
Certainly a far cry from roughing it, but you'd need a big car to haul this baby, it was heavy. That limits your
choice of towing vehicles to big heavy expensive ones, and it will need a lot more maintenance, so that ups
the cost of going first class. Traveling wouldn't be a quick zip cross country either, this is pre-interstates and
a heavy rig, but it sure would be comfortable.


---

fargon Sunday Jun 12 08:20 AM

We lived in a trailer like that until I was 7.

---

Diaphone Jim Sunday Jun 12 01:05 PM

I think I see a full sized range and refrigerator as well as three porcelain appliances, not to mention the furniture and a ten foot overhang.
And they pulled that down the road and over the Rockies with Dad's DeSoto?

---

xoxoxoBruce Sunday Jun 12 01:16 PM

Or Caddy, Chrysler, Buick, but slowly and probably took the southern route around the mountains. Even the smooth I-70 through the Eisenhower tunnel we have, would have been a hell of a challenge. But don't forget Florida up the Eastern Seaboard, up the west coast, and New Orleans to Canada, is pretty manageable.

---

gozar Sunday Jun 12 10:03 PM

That's a long, long trailer

Relavant to this post:
https://www.youtube.com/watch?v=QNC5Dn0Dtnc

---

Pamela Monday Jun 13 07:42 PM

I live in a 37 foot travel trailer. Not quite as high-end as the one shown, but quite nice and comfortable. I would have preferred the arctic package though. It has better insulation.

---

xoxoxoBruce Monday Jun 13 11:42 PM

This one was pretty well insulated with 3/4 inch wood strips between the ribs and the skin for heat and sound. Of course to use onboard water tanks and plumbing that all has to be protected from cold. My folks would take the truck camper to Florida in the winter, but couldn't fill the water system till at least Georgia.

---

SPUCK Friday Jun 24 04:10 AM

Wow it would have to be slow since I'd expect those puny tires to melt at anything over about 45mph for more than an hour. That thing had to weigh sooOOO much. Come on, freaken tiled bath!!

---

xoxoxoBruce Friday Jun 24 12:14 PM

In 1950, 45mph was a pretty good clip for traffic.

---
Your reply here?

The Cellar Image of the Day is just a section of a larger web community: a bunch of interesting folks talking about everything. Add your two cents to IotD by joining the Cellar.