What's IotD?

The interesting, amazing, or mind-boggling images of our days.
xoxoxoBruce Wednesday Jun 8 12:03 AM

June 8th, 2016: Anatomical Venuses

From the very beginnings of modern medicine there was a need to know what was inside and how it worked in order to decipher treatments. Then at some point they decided they knew enough to attempt to fix some things by working inside, but there was pushback from many groups. The biggest problem was people, getting dead people to cut open, and live people royally pissed if you cut up mom, or cousin Sneed. The problem got worse as the doctor in training population grew, so the answer was dummies, crude at first, then evolving into today's high tech almost human models.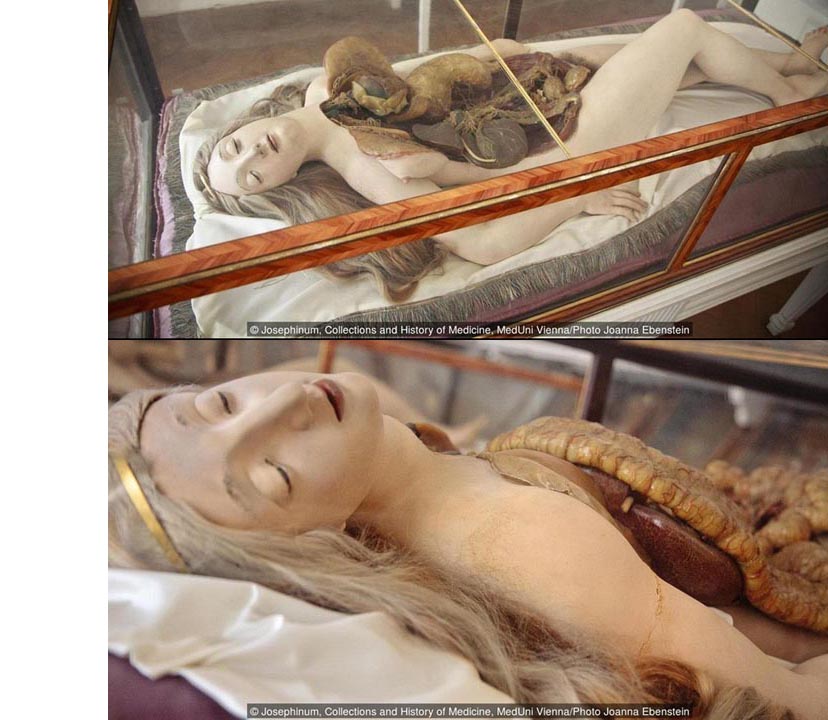 ............. Uh dude…

Cut me, Gut me, Make me cum… really?


Quote:
These bizarre beauties called "Anatomical Venuses" were created by sculptor Clemente Susini in the late eighteenth century, and were conceived as a means to teach human anatomy without the need for dissecting real human bodies which was disgusting and messy. Susini's uncannily lifelike wax models, often adorned with real human hair, were both anatomically accurate and profoundly artistic, drawing praise from both doctors and art historians from all around. During his illustrious career as a medical wax model sculptor spanning several decades, Clemente Susini created and oversaw the production of more than 2,000 models.

"Since their creation in late-18th-Century Florence, these wax women have seduced, intrigued, and instructed. Today, they also confound, troubling the edges of our neat categorical divides: life and death, science and art, body and soul, effigy and pedagogy, spectacle and education, kitsch and art. They are corporeal martyrs, anatomical odalisques, the uncanny incarnate," writes Joanna Ebenstein, the founder of the Morbid Anatomy Museum in New York.
"The Venus and her sisters were intended, from their very conception, not only to instruct, but also to delight and elicit the wonder of a popular audience and, beginning with their public debut in the 1790s, they did just that, attracting throngs of both local Tuscans and visitors on the Grand Tour circuit."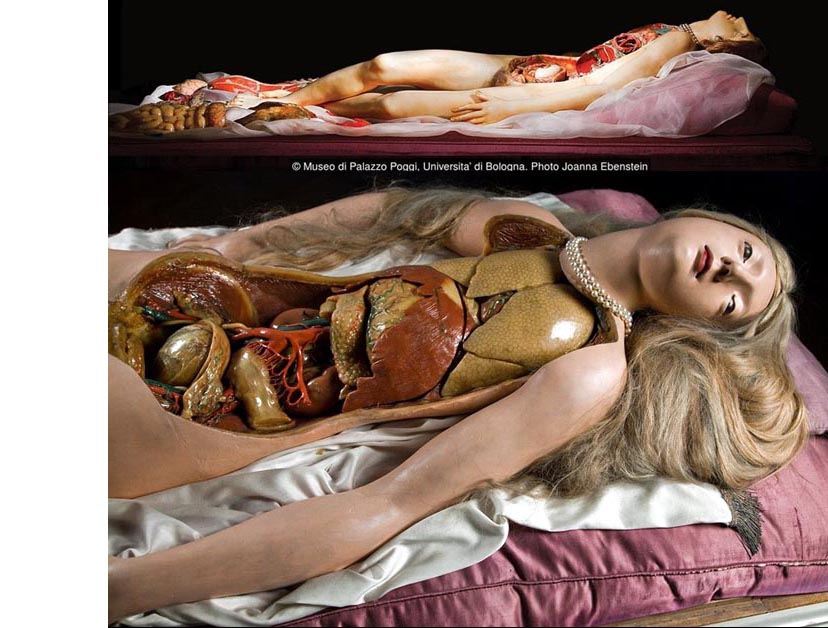 Quote:

"One of the most interesting aspects of the Anatomical Venus was how readily available they were to the public," writes AnatomyWarehouse.com. "Patrons were fascinated by these models, and even Victorian women were permitted to visit the anatomical museums of the time. While they were admitted separately from gentlemen, women in Victorian England were encouraged to visit the museums and learn anatomy both to better take care of themselves and their families. The practice was, however, somewhat scandalous, with some arguing that anatomy was too indelicate for respectable women."

They're a little creepy. I wonder if Susini wanted to sculpt naked ladies but the market wasn't there because they couldn't be displayed in polite company, except maybe snooty art circles. None of the many nudes in museums and public statues have this level of real.
Or maybe he was trying to keep the student doctors attention.

link
---

footfootfoot Wednesday Jun 8 02:13 PM

Quote:

anatomy was too indelicate for respectable women


I wonder at what point notions like this began. When did the disconnect from our bodies begin and what was the cause of it?

Dana, I've found your next PhD subject.

---

SPUCK Friday Jun 24 04:01 AM

I think it's interesting and... confusing that he included a pearl necklace.

---

Griff Friday Jun 24 07:29 AM

Quote:

Originally Posted by

footfootfoot

I wonder at what point notions like this began. When did the disconnect from our bodies begin and what was the cause of it?

Dana, I've found your next PhD subject.

It came with our initial denial of monkeyness. As Spuck pointed out in Peru, we are the dumbest of animals.

---
Your reply here?

The Cellar Image of the Day is just a section of a larger web community: a bunch of interesting folks talking about everything. Add your two cents to IotD by joining the Cellar.