xoxoxoBruce Monday May 30 11:32 PM

May 31st, 2016: Grey-Headed Flying Foxes

Not Foxes.

Don't fall for that, it's just a fancy name for big ass bats. With an average wingspan up to 39 inches(1 m) and
weight up to 2.2 lb(1 kg), these are Megabats. Jap horror movie stuff. Fortunately they don't "vant to suck your blood",
not even a nibble, as a matter of fact they're vegans, just fruit and flowers.

That said, if you know somebody with a Mulberry Tree you know a handful of birds can make a huge mess.
How about 100,000 megabats pooping on your world?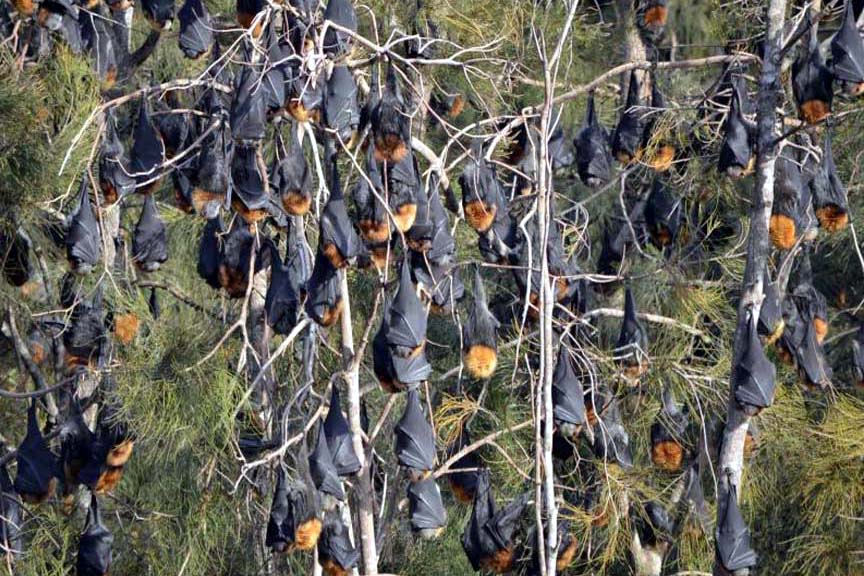 Quote:

Batemans Bay, a coastal town south of Sydney, has been invaded by more than 100,000 bats. The New South Wales state
government said it would commit about $1.8m to help the local council to disperse the animals, according to local media.
The animals, known as grey-headed flying foxes, are considered a vulnerable species, meaning that they must be dispersed
using non-lethal means, like smoke, or noise.

I read that's been upped to $2.8 million, a lot more than picketing with Bats Go Home signs.

Quote:

Animal rights groups have called for residents to remain patient and wait for the bats to move on of their own accord.

That's what they told the Indians about the White Man.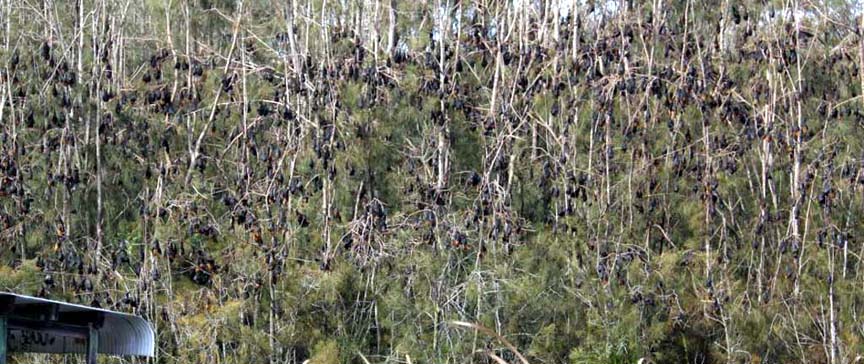 Quote:
Residents cannot open windows and complain of the noise and odour from the animals.
"We've had many residents complain, they feel they're prisoners in their own homes, they can't go out, they have to have
air conditioning on the whole time, windows closed," New South Wales Environment Minister Mark Speakman said.
"[The circumstances] really amount almost to a state of emergency."
Mayor Lindsay Brown said a range of options were being considered.
"The current method that seems to be the one that's working the most ... is extremely loud industrial noise combined with smoke
and combined with bright lights in an effort to make the area where the flying foxes roost to be as uncomfortable as possible,"
broadcaster ABC quoted him as saying.
link
link
---

DanaC Tuesday May 31 01:30 AM

Whilst I'd find that quantity of bats somewhat intimdating ...in general i have a soft spot for bats. They're really kind of cute. I've always liked 'em.

---

Snakeadelic Tuesday May 31 08:18 AM

To the patient go the rewards...if any of 'em are roosting on private property, once they do leave the landowners would be wise to shovel up any guano they find and either compost it for their own gardening or sell it to others for the same purpose. Until Europeans started exploring small, far-flung islands in earnest, many of those islands had a coating of bird-based guano old enough to have composted into soil. Some birds once burrowed in that soil to keep their eggs and chicks safe from weather and predators. Bat guano, especially for those enterprising and iron-stomached enough to figure out a way to filter out wild fruit seeds, is just as good a fertilizer. For those willing to be patient until either the flying foxes move on of their own accord or get rousted, a disgusting bounty awaits!

Side note: not always, but most years around October we get a "stopover" bat under my front porch. It's no flying fox; it's a Myotis species, probably the little brown myotis, with a body no longer than my thumb (2 and 5/16ths inches or 6 cm measured from the base along the side closest to the index finger) and barely any thicker. Wingspan probably 5-6 inches. I guard such bats quite openly, and the management and maintenance staff at the apartments I live in all know to come to me if anyone complains about a bat near their place. I've seen so many nature documentaries about bats and about wildlife rescue that I am actually competent at retrieving small wildlife. The local wildlife rehabber has actually complimented me for remembering to wear gloves on the rare occasions I feel compelled to touch a wild animal of any size.

---

xoxoxoBruce Tuesday May 31 11:12 AM

One day they'll find you, devoid of blood with two tiny puncture wounds on your neck... and a silly grin.

---
Your reply here?

The Cellar Image of the Day is just a section of a larger web community: a bunch of interesting folks talking about everything. Add your two cents to IotD by joining the Cellar.