xoxoxoBruce Tuesday May 17 11:42 PM

May 18th, 2016: Graduation

The University of Northern Iowa scheduled their commencement for 6 PM on Saturday evening at the McCloud Center on campus.
Friends, family, and faculty were all primed to cheer 2,000 students getting their sheepskins.
By 7 PM it was over, and everyone was off to celebrate in the manner of their choosing.

But Carley Johnston of Altoona, PA, who was receiving a Master of Arts in Leisure, Youth, and Human Services,

was job hunting
in Gettysburg, PA, learned her flight had been delayed and wouldn't make it back by 6 PM.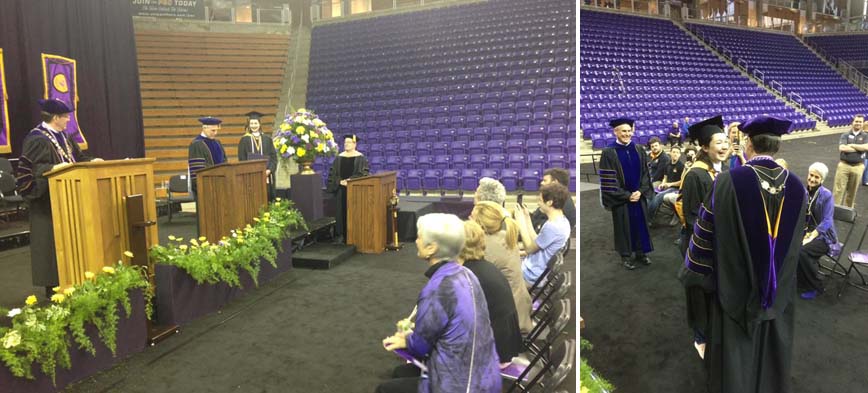 Quote:

When she touched down in Cedar Rapids, the other students had already lined up to walk the stage.
Though the ceremony in Cedar Falls finished around 7 p.m., after hearing about Johnston's plane issues, President Bill Ruud,
along with other administrators and staff, decided to wait nearly an hour for her arrival and to give Johnston her own personal
commencement with her family present.

That was nice of President Ruud to do that for her family.
I suspect once he said he was staying, the rest of the crew fell all over themselves to join in.



It makes me wonder how a person receiving a masters degree, still believes in Santa Claus, the Easter Bunny, and airline schedules.

Link

---

Carruthers Wednesday May 18 09:10 AM

Well, it seems that the possibility of death by flying mortarboard is only taken seriously on this side of the Atlantic.



Quote:

University of East Anglia bans mortarboard throwing

University students have been banned from throwing their mortarboards in the air due to health and safety concerns.

Some graduates at the University of East Anglia (UEA) in Norwich have been hurt by falling hats in recent years, student newspaper The Tab reported.

Students have been urged to mime the throwing action instead, and have hats added digitally to the photo after.

A university spokeswoman said injuries caused by falling mortarboards posed an "unacceptable risk".

"We want to ensure no student's graduation day is ruined by the potential for avoidable injury," she said.

"This has been agreed by our academic dress suppliers who often receive back damaged mortarboards, and our photographers."

The Tab reported third and fourth-year students had been sent instructions from a photography company telling them hats could be added to the photo digitally for £8.

Louisa Baldwin, the Law Society president at UEA, told the newspaper: "If I've paid £45 to hire a bit of cloth and card for the day I should be able to chuck my hat in the air!"

Another student, Alice Cachia, said: "This is health and safety gone mad."

The Health and Safety Executive said the chance of being injured by a flying mortar board is "incredibly small".

"When the concern is actually about the hats being returned in good condition, it's time to stop blaming health and safety," the organisation said.

BBC Link

---

xoxoxoBruce Wednesday May 18 09:51 AM

The shit I read attributed to "health and safety" are just ridiculous.

Each student must pay £8($11.67), to have the photo altered? A photo altered?
UEA has 11,445 undergrads, and 4820 postgrads, so it's safe to say probably 2500 in the graduating class.
Suppose 500 say fuck it, that leaves 2,000 x £8 = £16,000($23,340).
Now with 2500 graduating, I figure 3 guests per grad is reasonable, 2500 + 7500 = 10,000 plus a couple hundred staff. All these people have to travel at least a short distance, and some quite far. Nobody is walking there, which means the chances of some those people being injured, even a couple killed, traveling to the ceremony is quite high.
If "health and safety" was really at play, they would mail the fucking diplomas.

---

glatt Wednesday May 18 10:10 AM

Quote:

Originally Posted by

xoxoxoBruce

The shit I read attributed to "health and safety" are just ridiculous.
...

If "health and safety" was really at play, they would mail the fucking diplomas.

I agree.

It reminds me of DC's Metro woes and how the Feds have assumed safety oversight. The Federal Transit Administration is threatening to shut the system down over safety concerns if Metro doesn't do what the Feds mandate. Sure, Metro has had a handful of deaths in the last decade, so there are problems to fix, but cars are still more dangerous per passenger mile driven, so shutting metro puts the passengers at greater risk. But the FTA gets to move those bad statistics over to NHTSA.

---

xoxoxoBruce Wednesday May 18 10:12 AM

No danger from automobiles, with the subway shut down they wouldn't be moving.

---

Gravdigr Wednesday May 18 11:17 AM

I had to buy my (high school) graduation gown and mortarboard.

I threw that sumbitch, too, and I whooped when I did it.

They told us no throwing, and no whooping. What were they gonna do? Throw us outta school?

---

xoxoxoBruce Wednesday May 18 03:13 PM

My High School had that covered, the diploma they handed you wasn't signed. Oh, and the yearbooks were mailed a couple months after graduation on the excuse they could include graduation pictures.

---
Your reply here?

The Cellar Image of the Day is just a section of a larger web community: a bunch of interesting folks talking about everything. Add your two cents to IotD by joining the Cellar.