xoxoxoBruce Monday May 16 11:27 PM

May 17th, 2016: Emsland Plan

The bog areas of Emsland District, consisting of Ostfriesland Leer, Cloppenburg, Bersenbruck, and
Bentheim Counties, covering the entire North-West of Germany, had been considered uninhabitable
since the 1700s. There was vast peat bogs but they were buried under 5 or 6 feet of sandy soil

These behemoths are Traction Engines(TEs), built in 1953. They have welded boilers making 300 psi
superheated steam to power a 2 cylinder engine, producing 500 horsepower and tons of torque.
Note hanging under the middle is a huge cable reel with a guide arm sticking out the side.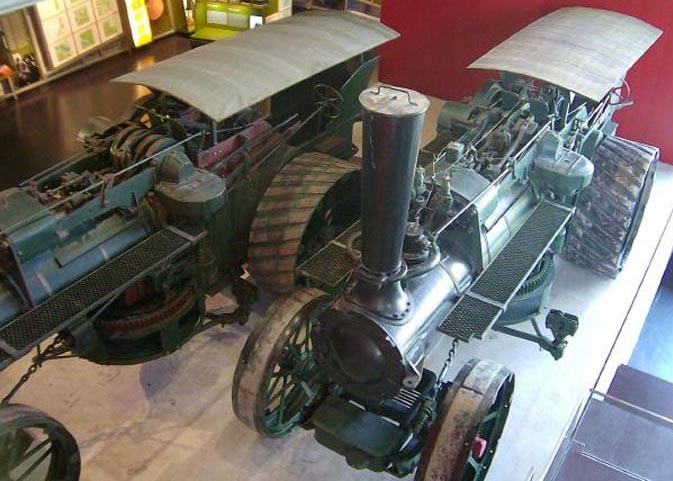 This is a deep plow capable of reaching down 8 feet to bring up peat to mix with the soil on top, providing
nutrients for growing crops. You'd think the bigass wheel was for traveling over the ground, but it's actually
a pivot to rock one side or the other down to the working position. That way they don't have to turn the
plow around. Big deal, you say? Why can't the tractor just make a u-turn like everywhere else?
Because the soil won't permit that heavy tractor to pull the plow.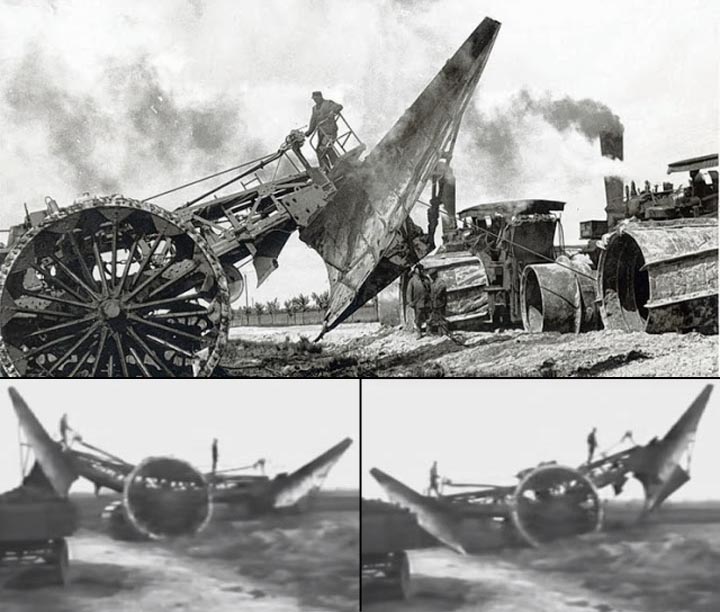 They took 4 of those 500 hp monsters, 2 on each side of the field, and pulled the plow with cables. If they
used 2 tractors, the plow could wander all over, but with 4 tractors forming an X with the cables, they can
control the plow to go where they want.

Starting in 1953, they plowed 12 hours a day, 6 days a week, from Easter to October, for the next 20 years.
Fortunately the German arm of Monsanto and of DuPont didn't move to kill the Emsland Plan.

I won't bother with the links because they were all in German, but Google is your friend.
Originally I was going to put this in the machinery thread, but I spent too goddamn many hours on it.

---

burns334 Tuesday May 17 09:09 AM

Interesting story Bruce, pretty strange I think. I was wondering if you ever found a video link of this machinery in action. Not to mention 500 hp from 2 cylinder engine.

---

footfootfoot Tuesday May 17 12:53 PM

http://moormuseum.de/wp-content/uplo...r-1024x667.jpg

http://www.naturpark-moor.eu/__we_th..._Bckermann.jpg

---

xoxoxoBruce Tuesday May 17 01:28 PM

Nope, no video. I should think there would be some Pathe News footage somewhere. And likely the East Germans were keeping an eye(camera) on this operation.
Steam is powerful stuff, and a 300PSI boiler is a time bomb. Ever see the results of a pressure cooker going off? Regardless of the heat source it's steam that makes most of our electricity.

Thanks 3-foot, nice pictures.

---

Diaphone Jim Tuesday May 17 02:50 PM

Ohhh, the earthworms!!

Some tools and machinery are thoroughly designed and carefully built to specifications. Foots' museum piece may be one of those.
The outdoor machine has been used and tested and reinforced and then rebuilt and then used some more.

---

xoxoxoBruce Tuesday May 17 03:25 PM

30 years of abuse requires some maintenance.

---

Gravdigr Wednesday May 18 12:05 PM

I read about a guy in Canada what made his own plow to get down to like four feet to bring up the clay layer, or something.

But, this monster...sheesh.

---
Your reply here?

The Cellar Image of the Day is just a section of a larger web community: a bunch of interesting folks talking about everything. Add your two cents to IotD by joining the Cellar.