xoxoxoBruce Tuesday May 10 11:57 PM

May 11th, 2016: Barre Gray

Barre, Vermont, rocks. ... No wait, Barre is stoned. ... Uh, Barre is the "Granite Capital of the World"
The City of Barre(barry) is about 10,000 people, surrounded by the town of Barre, with about 8,000 more.
"Barre Gray" granite is one of the most popular worldwide because of its fine grain, even texture, and superior weather resistance.
It is estimated that a third of all gravestones in the US are Barre granite. Barre says that's cool because they have a hunk they
figure is 4 miles long, 2 miles wide and 10 miles deep.


Quote:

The Hope Cemetery was established in 1895, and it immediately became the playground for the artisans of Barre.
These skilled immigrants worked the hard stone and fashioned them into elaborate memorial designs.

Quote:
But working with granite has fatal side effects. Inhaling the granite dust leads to a respiratory disease called silicosis, and many
of the artisans and sculptors succumbed to it and died. When the Spanish flu epidemic swept through the area in 1918-19,
many sculptors knowing that death was just round the corner, started designing their own tombstones to showcase their skill.
The tradition has been carried on since then. It is estimated that 75% of the tombstones in Hope Cemetery were designed by
the occupants of the graves themselves.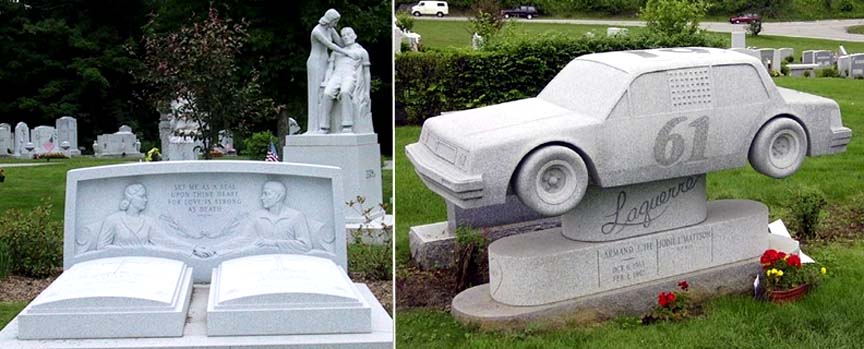 Of course with WW I & II mixing men from the far corners of the US, and in the 50s/60s TV homogenizing America, now the internet
creeping into every nook and cranny of our lives, even little towns in New England are hip. Some people aren't happy with stones
that reflect the hobby or passion on the corpse, especially when a motorcycle gang adopts a cemetery to plant their members.
Even down under in New Zealand and Australia they have that struggle going on.

link

---

Snakeadelic Wednesday May 11 08:26 AM

Beautiful stuff, Barre Gray, at least for that purpose. Most cemeteries, however, don't manage to showcase the astonishing variety of colors found in true granites and their relatives (like hornblende, gneiss, gabbro, and rhyolite). To be dazzled by color, pattern, and variety, check this out: http://wichmanmonuments.com/GraniteColors and then just put "granite colors" into your favorite search engine. So far as I can tell (after about 3 years of intent online study), none of the exemplars at that link are dyed. There are granites that flash blue in their feldspar crystals (often sold as Larvikite or Black Labradorite), and some of the colors coming out of Brazil, Italy, and China are amazing. I routinely find a granite near my home that has coarse peach-colored feldspar with lavender-grey quartz, and tiny skiffles of black biotite mica. Spectacular when wet, just another dull river cobble when dry.

---

xoxoxoBruce Wednesday May 11 12:47 PM

You can see the colors are the result of inclusions, which make it difficult to carve sharp detail and lettering. It also makes the carved stone weather(erode) faster. I noticed a stone in the cemetery up home that was black and gold, very appropriate for the woman beneath it, who was a wild and crazy chick. But in five years it was unreadable, which is maybe a good idea.

---

Gravdigr Wednesday May 11 02:55 PM

I've only seen a couple tombstones I actually wanted. One was the tree stump in granite. They're pretty common. The other one was four foot sphere on a small base. I thought that one was pretty cool, and I've never seen another like it.

---
Your reply here?

The Cellar Image of the Day is just a section of a larger web community: a bunch of interesting folks talking about everything. Add your two cents to IotD by joining the Cellar.