xoxoxoBruce Friday May 6 12:15 AM

May 6th, 2016: Meeses

Meeses. Not the big horny kind

the little cutesy kind

Harvest meeses.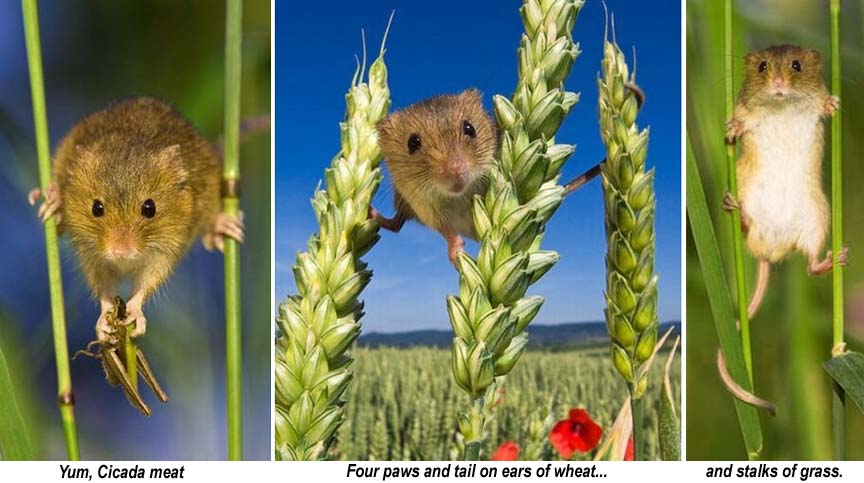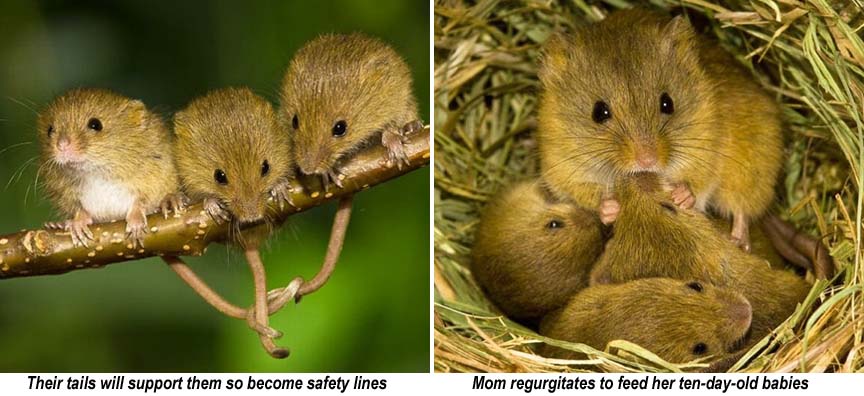 Aren't they adorable?
Hard to believe how much trouble they can be for humans, with disease and famine, not to mention running up your pant leg.
I don't know if these were raised or caught, but it sounds like they were fenced in a limited area for a year, and photographed.
Then they were set free. But that could be a cover story to keep PETA types from harassing them at shows of their pictures.
But that's only a guess, who knows... besides the Shadow.

link
---

Snakeadelic Friday May 6 08:18 AM

If we're still doing "recipes for the Friday cute-and-fuzzy" thing...

Tempura style! They'd be like slightly oversize popcorn shrimp. Harvest mice, which are part of the actual mouse branch of the rodent family tree, are suffering from human encroachment in some places, but since their range is a broad swath including all of Europe and running all the way east to Siberia, they're not likely to run out of room entirely. Unlike house mice, while they may raid grain stores and fields, they're not widely known for spreading pathogens.

---

glatt Friday May 6 09:14 AM

We have a mulberry tree, and one year, there were rats climbing around in it, eating the berries. I don't normally think of the rodents climbing. Instead, I picture them scurrying on the ground. But they love to climb.

---

Gravdigr Friday May 6 10:27 AM

I have a mulberry tree. I hate the damned thing.

---

Happy Monkey Friday May 6 11:46 AM

That is a grasshopper, not a cicada.

---

xoxoxoBruce Friday May 6 03:54 PM

That's what I thought, or a Locust, but at the link they called it a cicada.
Maybe it's a UK thing, they murder English you know.


This was in France and they murder English too.

---

classicman Friday May 6 07:51 PM

Why Grav? I love my mulberry tree. It was actually planted by my sons having a low budget paintball fight in my backyard. When they were little, I used to take them mulberry picking. When we got back I'd let them each wear an old white t-shirt of mine and throw the berries at each other. It was a lot of fun.

---

Symi Friday May 20 03:48 AM

Well really good to see that the image, the images are really nice and tell the efficiency of photographer. Well, I really like this and so sure that other members of this forum will also like this.

---

glatt Friday May 20 09:43 AM

---

Gravdigr Friday May 20 01:53 PM

---

classicman Friday May 20 05:52 PM

Well thats a shitty situation.

---

Gravdigr Sunday May 22 04:47 PM

It certainly is, Stanley, it certainly is.[/Ollie]

---

SPUCK Wednesday Jun 8 03:37 AM

We had a "fruitless" mulberry tree about 2 feet in diameter and 30 feet tall, that was lovely until.... it was pruned once. Then it went absolutely bonkers. Like The Thing (1982) crazy. (remember the dog?) Sending strait suckers in all directions that would reach ten feet in a few months. They crisscrossed and snarled up and after numerous attempts to get back on track I finally got fed up and pruned it short - like 2 inches tall.

---

limey Wednesday Jun 8 07:26 AM

---
Your reply here?

The Cellar Image of the Day is just a section of a larger web community: a bunch of interesting folks talking about everything. Add your two cents to IotD by joining the Cellar.