What's IotD?

The interesting, amazing, or mind-boggling images of our days.
xoxoxoBruce Thursday May 5 12:54 AM

May 5th, 2016: Kintsugi

I see two types of extremes on the Antiques Road show when someone is told what they have is valuable.
One is the type when the show kills the sound but the camera is still on, you see their mouth going a mile a minute asking how
fast they can sell it and where. They would leave with the cash if they could.

The other type brought a family heirloom and their mind is going a mile a minute... I love having this in my living room but now
I'm going to have to insure it and lock it up in the box at the bank plus the three kids are going to fight over it and tear the
family apart after I've cherished it and kept it safe as my mother and her mother did through thick and thin just to have it sold
and the ungrateful brats pissing away the money corrupting there lives and probably won't even visit my grave with a handful of
daisies they cou... You get the picture.

When family heirlooms or the decorative ceramics get broken we have all kind of miracle adhesives to fix them if you care to.
Great grandma didn't have those options and it was a bigger impact on her to lose things. People being people, they break things,
so the Japs figured how to make the best of it, maybe the earthquakes helped.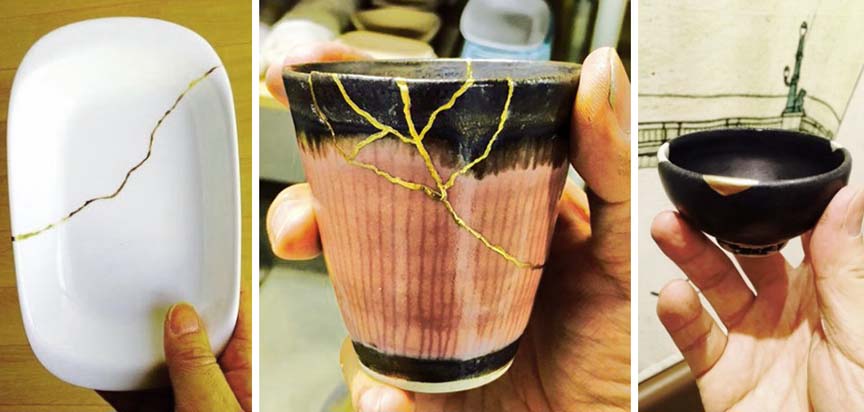 Quote:

To find beauty in broken things is the spirit of wabi sabi, at least according to Muneaki Shimode, a young artisan from Kyoto who
practices kintsugi. The word is written as ___ with kin meaning gold while tsugi means to connect, as in connect to the word or
connect to generations. Itís the Japanese art of repairing broken ceramics using a special lacquer mixed with gold, silver
or platinum. The 400-500 year-old technique seeks to fix broken things not by disguising the break but, instead, accentuating it.

This is a time consuming process with precious metals, plus when they do this in public they do a lot of flourishes and ceremony to
honor the object. Probably behind closed doors a moth eaten undershirt with beer stains and cigar ashes.
Anyway, it can't be cheap to have this done, ya klutz.



They sell a DIY kit online but they don't say or show what's in the box. I'm guessing a real high viscosity superglue tinted silver or gold.

link

---
Your reply here?

The Cellar Image of the Day is just a section of a larger web community: a bunch of interesting folks talking about everything. Add your two cents to IotD by joining the Cellar.