xoxoxoBruce Wednesday May 4 12:47 AM

May 4th, 2016: casa de la moneda

When Spain was pillaging South America, they sent shiploads of silver back to Spain.
The silver ore was refined and silver cast into ingots. Then somebody said we've plenty of slave labor to
convert the ingots into coins, the real de a ocho, or Spanish Dollar, and just ship them. If they'd listened
to the wind they might of heard a hundred pirates chanting do it, do it, do it, as ingots were unknown
quality, but real de a ocho, or more often a piece of the eight, were common currency everywhere.
Actually it was the most common(trusted) currency in the US until the 1790s.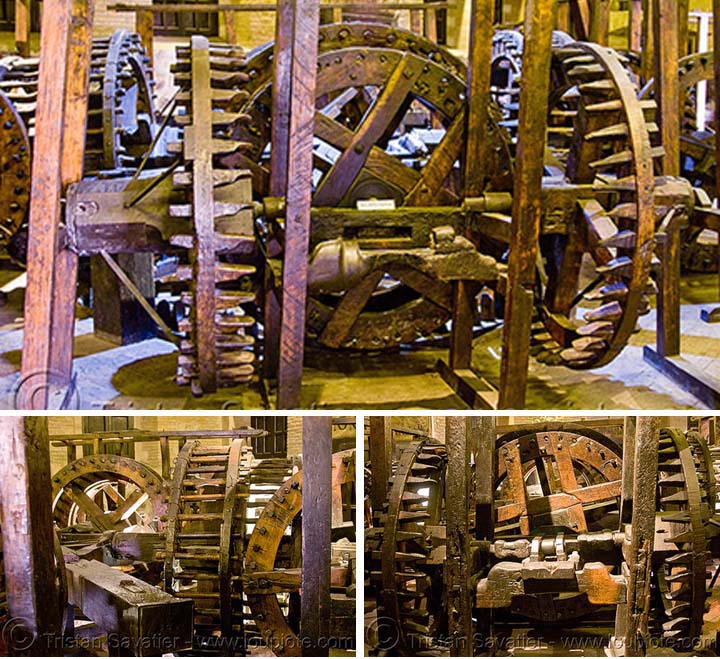 The Dude in charge of the operation from 1569 to 1581 was the King's Viceroy, Francisco de Toledo, Count of Oropesa.
Personally I think the Viceroy was skimming because I stayed in his house for a couple weeks. Not in South America,
his castle in Oropesa, Toledo(Castile-La Mancha), Spain, which is now a 4.4 star Parador(fancy hotel).

This is a slave/animal drive system............................. and a coin stamping machine.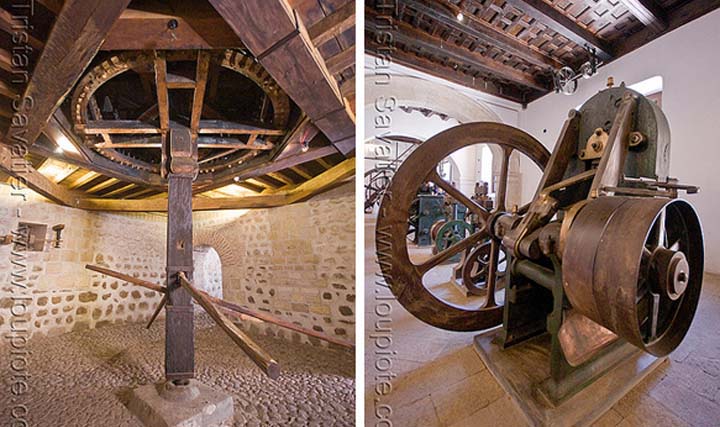 I haven't checked to see how many of these coins were shipped to Spain, or what percentage actually got there
but I know it was many, many shiploads.

---

sexobon Wednesday May 4 01:39 AM

CASA DE LA MONEDA, POTOSÍ is commemorated on the back of the 1945 20 Bolivianos banknote in striking red. I just happen to have one.

Larger than actual size to show detail:

Attachment 56329

---

footfootfoot Wednesday May 4 09:45 AM

---

Mav Wednesday May 4 06:32 PM

This is what I imagine the time traveling / island moving wheel machinery looked behind the rock wall in Lost.

---

BigV Wednesday May 4 07:18 PM

The Professor coulda done it with bamboo and coconuts.

---

xoxoxoBruce Wednesday May 4 09:11 PM

Just look bedazzled and back slowly toward the door.

---

JuancoRocks Wednesday May 4 10:55 PM


---

xoxoxoBruce Thursday May 5 12:06 AM

Do you know who those women are on the bills?

---

JuancoRocks Thursday May 5 05:17 AM
We thought they were babes just long enough to spend them on beer.

That buck represents ten beers. I'm surprised I saved it.

JR

---

Diaphone Jim Thursday May 5 06:53 PM

The whole MPC scam was supposedly to stop the black market. Only Americans could legaly hold them and when a sweeping exchange took place, the Vietnamese got it in the shorts again.
I had one REMF friend who claimed he made profits in five figures every time it happened.
Makes me proud.

---

xoxoxoBruce Thursday May 5 10:24 PM

Did the troops in Iraq get paid in bacon?

---
Your reply here?

The Cellar Image of the Day is just a section of a larger web community: a bunch of interesting folks talking about everything. Add your two cents to IotD by joining the Cellar.