What's IotD?

The interesting, amazing, or mind-boggling images of our days.
xoxoxoBruce Sunday May 1 12:08 AM

May 1st, 2015: Chinese Robots

China likes robots, I wonder if it's because they have a shortage of labor?
Two of there latest creations are Robo-Monk and Robo-Cop.

Robo-Monk(Xian'er) lives at a Buddhist temple on the outskirts of Beijing. He moves around the temple, chanting Buddhist mantras,
and talks to anyone who is eager to engage him in a conversation. Although, visitors have to stoop real low to talk to him, because
he is only two feet tall, and made of metal and plastic.

Robo-Cop lives at the National Defense University, is 1.49 meters(4.89 ft) in height, 78 kilograms(172 lbs) in weight and 0.8 meters
(2.65 ft) in diameter. Its maximum speed is 18 kilometers(11.2 miles) per hour, and its standard patrol speed is 1 kilometer(.62 miles)
per hour. It has sensors that mimic the human brain, eyes and ears. Capable of eight hours of continuous work, Robo-Cop(AnBot)
is able to patrol autonomously and protect against violence or unrest.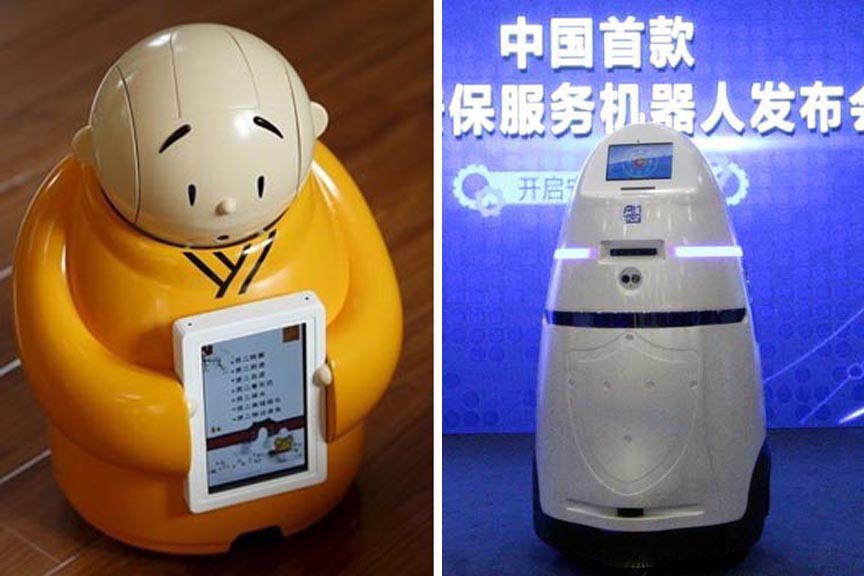 Quote:

Named Xian'er, the robot monk, resembles a cartoon-like novice monk in yellow robes with a shaven head, holding a touch
screen on his chest. Xian'er can hold a conversation by answering about 20 simple questions about Buddhism and daily life,
listed on his screen, and perform seven types of motions on his wheels. Master Xianfan, Xian'er's creator, said the robot monk
was the perfect vessel for spreading the wisdom of Buddhism in China, through the fusion of science and Buddhism.
~snip~
But Xian'er is not necessarily the social butterfly many believe him to be. He has toured several robotics and innovation fairs
across China but rarely makes public appearances at Longquan temple. Xian'er spends most of his days "meditating" on a shelf
in an office, even though curiosity about him has exploded on social media.

Seems his reputation hath preceded him... and is grossly overblown.


Quote:

AnBot represents a series of breakthroughs in key technologies including low-cost autonomous navigation and intelligent video
analysis, which will play an important role in enhancing the country's anti-terrorism and anti-riot measures. When people around
AnBot face security threats, the robot's control personnel can remotely deploy AnBot's electrically charged riot control tool.
Within AnBot's patrol area, people can also call for help or press the SOS button on the robot's body to notify police of a problem.

WTF? "electrically charged riot control tool"? shudder


Surprised China has put much more development and applied much more sophisticated technology in Robo-Cop than in Robo-Monk?
Note that Robo-Cop seems to be an agent of the state, deployed not to protect people from crime, but to protect the state from riots
or civil unrest. Why worry about your tweets when they can look over your shoulder?

Robo-Monk
Robo-Cop

---

fargon Sunday May 1 07:48 AM

Both links are the same.

---

Griff Sunday May 1 10:03 AM

There is a lot going on here.

---

xoxoxoBruce Sunday May 1 04:44 PM

Here ya go.
---

fargon Tuesday May 10 01:06 PM

that security robot is scarey.

---

SPUCK Friday Jun 3 04:07 AM

OMG! That AnBot robot was in my newspaper a few days ago patrolling some campus in Silicon Valley..

---
Your reply here?

The Cellar Image of the Day is just a section of a larger web community: a bunch of interesting folks talking about everything. Add your two cents to IotD by joining the Cellar.