xoxoxoBruce Saturday Apr 30 12:24 AM

Apr 30th, 2016: Vagina Flower

Georgia O'Keeffe, as an artist/painter trained in photography, she not only had an eye for detail, she could recognize what details were important. Being on the cutting edge of modernism, she was a controversial painter, who the art critics hashed ad infinitum. One of the discussions was O'Keeffe's huge close up flowers and their sexual meaning.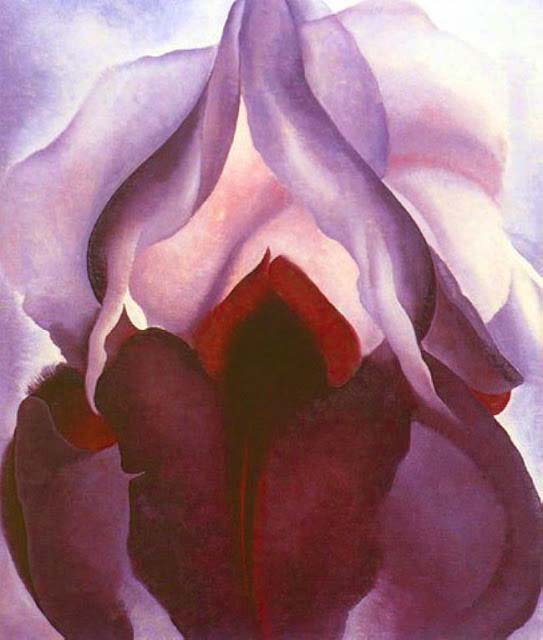 Quote:

In 1943, O'Keeffe finally responded: Well - I made you take time to look at what I saw and when you took time to really notice my flowers you hung all your own associations with flowers on my flower and you write about my flower as if I think and see what you think and see of the flower - and I don't. "

That settled the argument, however that twenty year long argument is, and will remain, part of art history.

Enter Allison Wint, a 24-year-old substitute art teacher, who was fired from Harper Creek Middle School in Battle Creek, Mich., for using the word vagina in the classroom discussion. In this case "substitute" is slightly misleading. The former teacher had retired a couple moths ago and Ms Wint had cleaned, reorganized, and restocked with her own money, the classroom she thought she would take over. But was given one hour to get the fuck out.





Photo on the left, WAPO, and Detroit Free Press. Photo on the right, M(Michigan)Live


Quote:

Allison Wint, a substitute teacher at a middle school in Battle Creek, Mich., told the Detroit Free Press that she was hoping to provoke a thoughtful dialogue about historical interpretations of O'Keeffe's work on Friday when she used the word "vagina" during a discussion with eighth graders.

Now, Wint claims that the verbal reference to female anatomy — a word she freely admits to having used — has cost her a job at Harper Creek Middle School. "Yes, I did say that word; however, I was saying it in the context of art history," she told CBS affiliate WWMT. "I wasn't being vulgar."

What? Vagina is vulgar? The school didn't say she was vulgar, no, it was a catch 22.


Quote:

The school's 44-part online Bylaws and Policies page include sections on controversial issues and on reproductive health.

The controversial issue section states that: "The Board recognizes that a course of study or certain instructional materials may contain content and/or activities that some parents find objectionable. If after careful, personal review of the program lessons and/or materials, a parent indicates to the school that either content or activities conflicts with his/her religious beliefs or value system, the school will honor a written request for his/her child to be excused from particular classes for specified reasons."

It says nothing about the teacher's responsibilities.

Wint acknowledges that she knows now that she was wrong in not advising administrators ahead of time of the potentially controversial nature of the lesson plan, but said that she had never been required to submit lesson plans. In fact, when she was hired on, she said, she was told that they were "looking for someone who could work independently."

Nor was she advised, nor did it occur to her, that use of the word vagina would kick her lesson into the category of reproductive health, which the school's website on policy says "shall be defined as that state of an individual's well-being which involves the reproductive system and its physiological, psychological, and endocrinological functions."

She said that as far as she knows, no parent objected to her lesson, nor did any students approach her to complain of feeling offended.

And as always, the default position of public education is don't give even the morons a reason to howl.

link
Link
Link
---

Snakeadelic Saturday Apr 30 09:09 AM

Many years ago I worked as the part-time receptionist & classifieds clerk for a little newspaper up on Capitol Hill in Seattle. That painting brings back the memory of hoofing it down the hill on my lunch break to have one of the fantastic burritos sold at the Wildrose, a very very lesbian-friendly daytime cafe/nighttime bar/full-time habitat for awesome women and those who loved them and their company. They must've had like 15 O'Keeffe prints on the walls. In case they're not open any more but the description sounds familiar, I think they were just a few doors uphill from Toys In Babeland.

---

Snakeadelic Saturday Apr 30 09:12 AM

Oh, and under no circumstances do I support the firing of the teacher. I learned the word "vagina" WAY before 8th grade, and doing so did not make me a lesbian, an anarchist, a terrorist, a sexual predator, or a serial killer. I'm a little weird, yeah, but not because I knew how not to get knocked up the first time I had sex.

---

xoxoxoBruce Saturday Apr 30 09:52 AM

Quote:

...a lesbian, an anarchist, a terrorist, a sexual predator, or a serial killer.

I'm sure saying vagina didn't make you any or all of those things.

:

---

footfootfoot Saturday Apr 30 02:56 PM

Quote:

Originally Posted by

xoxoxoBruce

I'm sure saying vagina didn't make you any or all of those things.

:

Yes, but hearing vagina possibly could have. We need to see her rap sheet.



---

footfootfoot Saturday Apr 30 04:07 PM

However, You wanna talk about vagina art? This guy is not only The Best Artist but he is a champion of the vagina in art.

When I was about 17 I met him and hung out at his studio from time to time, He was at the time, and I'm sure still is, an exceptional person. When you read about him in art criticism magazines he is almost categorically dismissed. It's easy to look at his work with a cynical eye, and think he, like a lot of other artists was in it for the recognition.

Granted, I was only a teenager but the guy I met was passionate about his beliefs, very emotional about rights and wrongs, and was, in my opinion, trying to open people's minds, get them to engage, and think. Think about sex, religion, art, ideas, life, what is important and what isn't. He railed against hypocrisy in the church and the art world.

Looking at the current incarnation of his website, I can't say I fully understand it, but I recall that he liked to be elusive about meaning; it keeps people thinking and asking, I guess.

You have to hunt around with the links but some of his vagina paintings are there, although small. The thing that is unfortunate is that none of his small pen and ink drawings of vaginas are there. They were astounding small drawings about 2 to 3 inches high, as I remember, of vaginal lips. He used a pointillist technique and the lips became gateways, creatures like butterflies (I am not 100% clear on all of the details, but remember being blown away by them.

All that being said, no one holds a candle to the Catholics when it comes to vagina art. You don't even have to squint to see the unmistakable form.

---

xoxoxoBruce Saturday Apr 30 06:41 PM

Quote:

Originally Posted by

footfootfoot

When I was about 17 I met him and hung out at his studio from time to time,

That explains so much.



It's certainly a subject of interest to the majority. One time I complimented one on it's attractiveness, and It's owner got indignant, called me a liar, declaring they all looked alike. I was appalled by her ignorance, but through sheer will power I resisted telling her to get dressed and leave.

---
Your reply here?

The Cellar Image of the Day is just a section of a larger web community: a bunch of interesting folks talking about everything. Add your two cents to IotD by joining the Cellar.