What's IotD?

The interesting, amazing, or mind-boggling images of our days.
xoxoxoBruce Thursday Apr 28 11:57 PM

Apr 29th, 2016: Sparky

Yeah yeah, I know, it's Friday and you're ravenous as usual.
Sparky, a bison at Neal Smith National Wildlife Refuge in Iowa, was struck by lightning in 2013, But even though Sparky is
half cooked, you can't eat him because he's doing surprisingly well.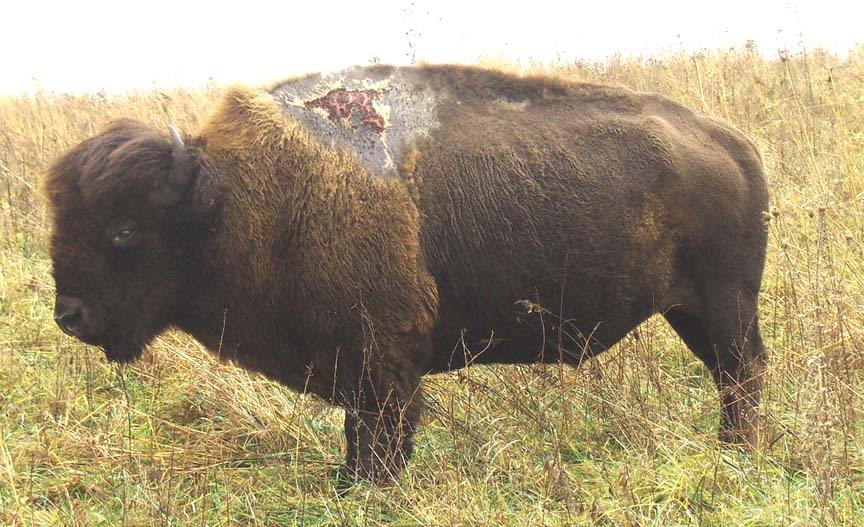 Quote:

Karen does regular checks on the bison to watch for signs of illness and check body condition. During a survey in late July
2013, she noticed a bull standing by himself. When she took a closer look through her binoculars, she noticed that Sparky
looked bloody. This wasn't entirely surprising because bison bulls will often fight during the mating season and July tends to be a prime time for injuries. Upon closer inspection, it was clear that Sparky had been burned over a large area. His hump was missing hair and there was a large lump on his hind leg, which must have been the exit wound, meaning Sparky was lying down at the time of the strike.

I've seen pictures of a lot of domestic livestock who were killed by being just close to a strike.


Quote:

Sparky was thin after the strike and wasn't expected to live long. Since a lightning strike is something that could easily occur in wild bison anywhere, the refuge let nature take its course. There are no natural predators in the bison area, so injured bison are monitored regularly and euthanized if they're unable to eat or walk. Sparky was standing when his injuries were discovered, which was a promising sign. Karen kept checking on Sparky and was able to watch his wounds slowly heal. With a limp, Sparky kept walking.

Wait, let nature take its course, but euthanize if they don't think the animal will make it?
I guess that means no first aid, or medical help, but won't let them suffer too long.


Quote:

At 11 years old and about 1,600 pounds, Sparky is a bit thinner than the rest of the bison, but he still stands strong.
Before being struck, Sparky fathered three calves. Genetic testing will tell us if he successfully reproduced after the strike,
but we're hoping that he does because he's one tough bison!

Oh yeah, three kids who didn't offer help or even a card on Fathers Day. Damn whippersnappers.

link
---

Snakeadelic Friday Apr 29 08:32 AM

He's looking at us like we owe him money.

And since he's already medium-rare, the recipes ought to be easy to find!

---

xoxoxoBruce Friday Apr 29 01:48 PM

It must have been quite a shock.

---

Griff Friday Apr 29 01:50 PM

A little marinade and he'll be fine.

---

BigV Monday May 2 09:43 AM

A new recipe for grounded bison. Mmmmmmmmm.

---

Gravdigr Monday May 2 11:46 AM

He was doing that reddit thing where they say "Roast me.", and God misunderstood.

---
Your reply here?

The Cellar Image of the Day is just a section of a larger web community: a bunch of interesting folks talking about everything. Add your two cents to IotD by joining the Cellar.