What's IotD?

The interesting, amazing, or mind-boggling images of our days.
xoxoxoBruce Sunday Apr 17 11:26 PM

Apr 18th, 2016: Clarion Nightsnake

430 miles from Mexico lies Clarion Island, 7.64 square miles, with no trees, three peaks between 900 and 1100 feet high, and cliffs from 80 to 600 feet high facing the Pacific surf. Not much lives in that hostile spot except some critters and nine Mexican sailors making sure some hippies don't steal it. Use it or lose it doctrine.

Wiki says...

Quote:

As the topography of Clarión lacks any prominent peaks that could induce rains like Cerro Evermann on Socorro Island, the island is semiarid to arid all over. Consequently, the whole of the island is covered in shrubland, grassland and Opuntia cacti. Far away from land, endemic taxa are fewer than on Socorro but like there mainly consist of landbirds and plants. Rabbits and feral sheep are found on the island and have caused serious harm to the local vegetation; pigs introduced in 1979 have caused harm to the local fauna. Native vertebrates – except birds – are limited to two snake species and one iguanid lizard species, both endemic.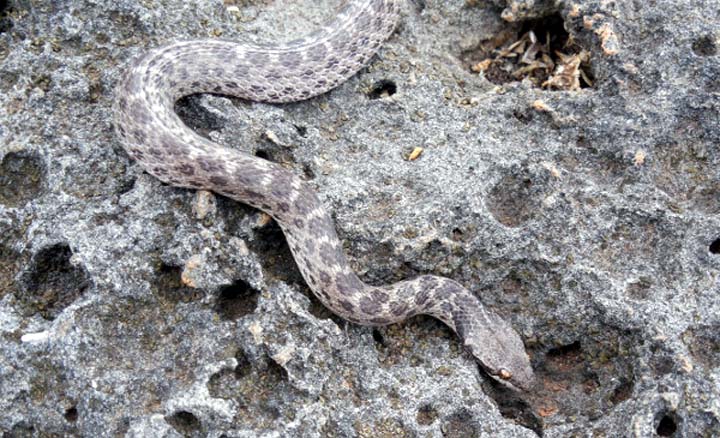 Back in 1936 a naturalist named William Beebe visited the island and wrote about another vertebrate that no one else had seen since. He called it the Clarion Island nightsnake. In a paper published 10 years later he identified it as a subspecies of similar snakes from the genus Hypsiglena that are found up and down the west coast of North America.

But at least one researcher later discounted this discovery. B. H. Brattstrom visited the island several times in the 1950s and never saw the nightsnake. He decided that Beebe must have made a mistake cataloguing the snake. Beebe's expedition had traveled thousands of kilometers and collected hundreds of specimens. Brattstrom argued that Beebe had collected the specimen elsewhere, and he struck the nightsnake from the record. "It's conceivable," acknowledges Daniel Mulcahy, a researcher with the Smithsonian's National Museum of Natural History (NMNH). "But on the other hand Beebe was a very well-known naturalist. He took very good notes. For him to make an error like that, you wouldn't expect it."

To make a long story short, after years of researching and talking to other biologists, Mulcahy went to Clarion and found the Beebe's nightsnake. Turns out it's not a sub-species, but a whole new species, albeit an endangered species. It's a reminder of how little we know about the world, and how much comes and goes without our knowledge.

link

---

sexobon Monday Apr 18 01:17 AM

Wow, I bet canned Clarion Island nightsnake meat is expensive.

---

xoxoxoBruce Monday Apr 18 01:30 PM

Sure, night hunters get a 10% shift bonus.

---

footfootfoot Monday Apr 18 02:11 PM

---
Your reply here?

The Cellar Image of the Day is just a section of a larger web community: a bunch of interesting folks talking about everything. Add your two cents to IotD by joining the Cellar.