xoxoxoBruce Thursday Apr 14 12:19 AM

Apr 14th, 2016: Monomoy Island Sealed

Cape Cod, MA, sticks out into the ocean like a human arm, with Chatham at the elbow. Hanging from the elbow like a turkey wattle,
is an eight mile long spit of sand which has been shaped and reshaped by storms. Since 1710 there have been several fishing villages,
a gunnery range, then Monomoy Wildlife Refuge, primarily for migrating sea birds.
In 1972 the Gray Seals became protected, and they like Monomoy too. Gray Seals were hunted for meat, fur and oil, plus there was
a state bounty on them until 1945 in Maine and 1962 in Massachusetts. When they became federally protected there were 30 on the
whole coast of Maine.

Baby, look at me now.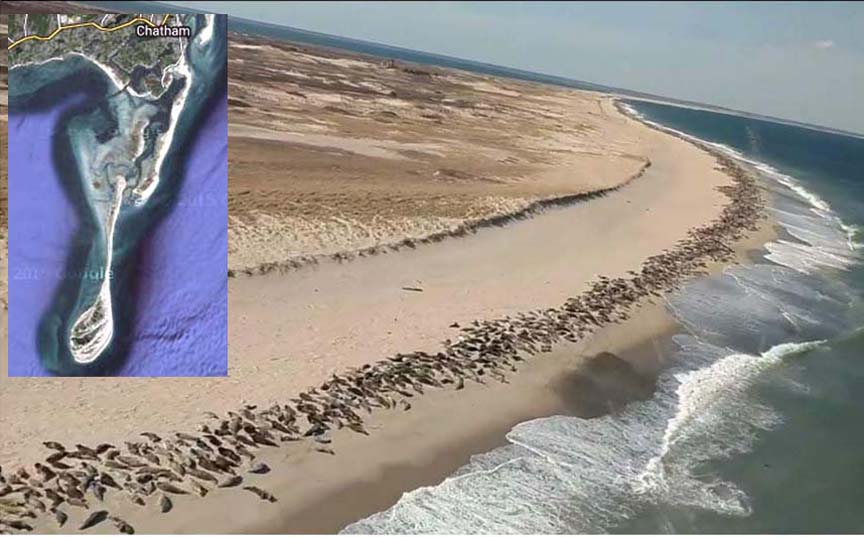 This year a guy named Arron Knight took video flying over Monomoy and posted it online claiming there were "18 Trillion" of them.
Of course that's a slight exaggeration but there are way more than ever.

The gray seal (Halichoerus grypus, meaning "hooked-nosed sea pig"), is big. Bulls = 8 to 11 ft long, and 900 lbs. Cows = 5 to 7 ft long
and 350 to 550 lbs. Across the pond they spell it Grey Seal and they're wimpy smaller.
They eat the same fish we do, to the chagrin of the fishing community, but they'll eat anything including Lobster and Octopus,
more than 10 lbs a day. They've been seen eating seal pups, but we have no way of knowing if it was political or hunger.

Since humans aren't allow to mess with them, their only problem is sharks eating them. Some Great White Shark found the pickings
good and the sumbitch went home and spilled the beans. Now every year there are more of them coming for dinner.

MA has been tagging the great Whites with radio beacons so the towns can tell how many(at least tagged ones) are hanging around
their beach. Spotter planes see them all but don't always fly. Last year the popular beaches had to close 8 out of the last 12 days
before Labor Day. A MA state shark scientist said if the planes had been up every day they would have been closed every day.
Great Whites 10' to 12' and longer routinely cruise 60' offshore.

I figure if we eat the seals, the sharks will go home and won't eat us. That's a figurative us, because I don't like the ocean.
I don't like sand, don't like salt, don't like sun, and do you know what fish do in it? Ewwww!



There is a video and more information at this link.

---

glatt Thursday Apr 14 08:56 AM

Wow. I figured that was going to be some remote island in the Pacific or something. The fact that this is right in the middle of the megalopolis of the East Coast is pretty amazing.

---

xoxoxoBruce Thursday Apr 14 11:11 AM

DNA testing shows they're descended from Canadian stocks. I've seen these in person many times in the last five years, as they might be seen all along the cape, at any water line on any given day. But I never got up close to them, so I was surprised to read how big they are. Perspective is skewed at the shore without anything to reference for size, like humans or cars.

---
Your reply here?

The Cellar Image of the Day is just a section of a larger web community: a bunch of interesting folks talking about everything. Add your two cents to IotD by joining the Cellar.