xoxoxoBruce Monday Apr 11 11:55 PM

Apr 12th, 2016: Yippee Ki Yay, Mother Dear

♫ My home's in Montana .................. ♫ While riding the ranges
... I wear a bandana .......................... My luck never Changes
♪ My spurs are of silver ....................♪ With foot in the stirrup
... My pony is gray ............................ I'll gallop away

I memorized that song when I was about four, out of my sister's songbook.
I guarantee everyone on the road was damn sick and tired of hearing it long before I learned a new one.
Maybe because I wasn't from Montana, nor was I a cowboy, even though I had a horse and Brown Swiss cattle.

Speaking of Brown Swiss cattle, wanna ride one ?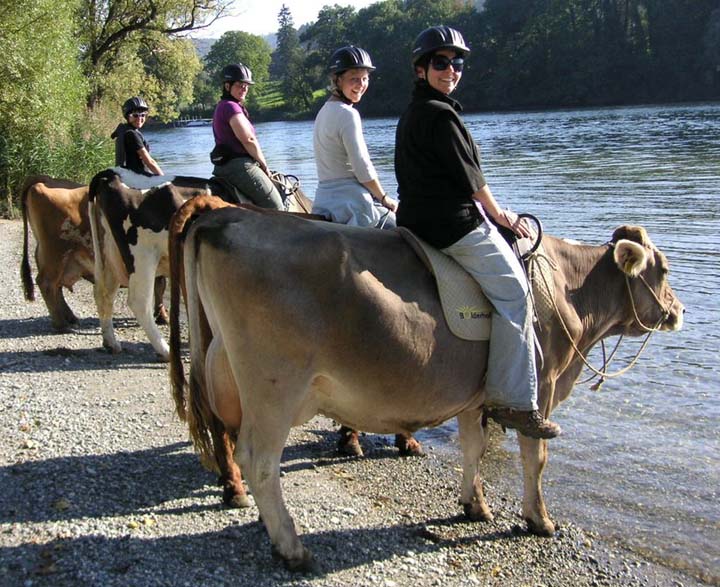 Yes, you have to go to Switzerland.


Quote:

At Bolderhof Farm in Hemishofen, Switzerland, visitors participate in cow trekking, an opportunity to climb
onto a dairy cow and ride through the rivers and woods of the Rhine lowlands. Riders can choose between
an hour-and-a-half ride and a four-hour, half-day excursion through the Alpine landscape.

No speed demons, they won't hurry no matter how badly you have to pee.


Quote:

Don't expect to take off at a trot, though. While a horse (usually) responds to its rider's speed preference,
the cows at Bolderhof pick their own pace, which Rickenbacher says is "between slow and very slow."
The ride is calm and quiet, allowing riders to enjoy stress-free moments in the beauty of the Alps.
There's a benefit to saddling up a cow instead of a horse: Cows don't really care about the kinds of things
that might spook a horse. "If something happens around you, the cow stands still and looks," Rickenbacher says.

You might have to get off and push, but at least they have handles to help.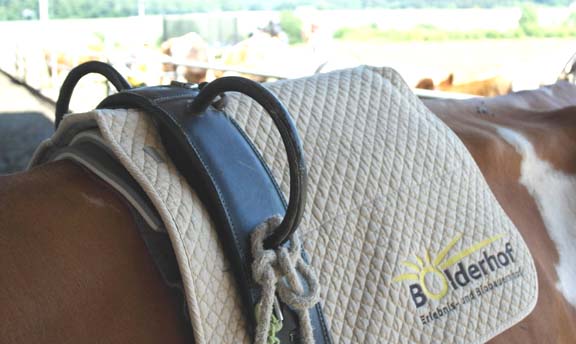 Quote:

The biggest challenge cow trekkers face are stalled rides because of some particularly delicious grass or corn
along the route—a problem that can be fixed with a few pets and nice words to the cow. In the worst-case
scenario, you may need to hop off and lead the heifer away from the distraction.

And you can have some fresh milk at any time.
link

---

Griff Tuesday Apr 12 07:08 AM

So mellow.

---

Snakeadelic Tuesday Apr 12 08:21 AM

http://fineartamerica.com/images-med...ryl-poland.jpg

Just don't try it with beef breeds! The one in the above link is a Hereford, which are usually red, sometimes black, but pretty much always have the high-white face. By far the most popular breed for foundation stock seems to be the Brahma, recognizable by their shoulder hump and drooping ears.

https://s-media-cache-ak0.pinimg.com...4ef7c6f8d0.jpg

...And impressive flexibility & hang time!

---

xoxoxoBruce Tuesday Apr 12 09:36 AM

Both of those bulls are going nuts because of the bucking strap.
Plus they've learned if they get rid of the rider the bucking strap goes away.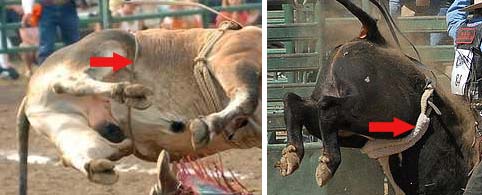 When ridden by a lady of class they are gentle and serene.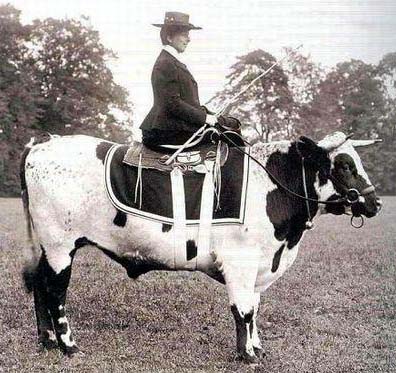 Yeah, sure. They have to be "broken" and trained just like a horse or any other critter.
Why bother when the same effort invested in a horse will yield a much more versatile tool.

---

Diaphone Jim Tuesday Apr 12 12:30 PM

"...lead the heifer away...?"
Thems be mighty udder-ful heifers! We call 'em cows.
There was a guy who used to ride his Brahma bull (steer?) all over Northern California.

---

xoxoxoBruce Tuesday Apr 12 02:55 PM

You're right Jim, once they're milking they're not a heifer anymore. That's what happens when you send a city girl to report on the sticks. They get the terminology screwed up, especially where there's nuance.
But whatever, most people reading it won't know the difference and the ones that do may get a chuckle.

---
Your reply here?

The Cellar Image of the Day is just a section of a larger web community: a bunch of interesting folks talking about everything. Add your two cents to IotD by joining the Cellar.