What's IotD?

The interesting, amazing, or mind-boggling images of our days.
xoxoxoBruce Sunday Apr 3 11:32 PM

April 4th, 2016: Royal Seal

No, keep your fish, not that king of seal. Dana mentioned the other day, in England politics and the church go hand in hand, or hand in glove, taking turns at being the glove. It's been that way forever, changing rulers and religions, sometimes both at the same time, and sometimes one causing the other. In 1315, Robert the Bruce, King of the Scots, said of Dunfermline Abbey, this is my abbey, there are many like it, but this one is mine. He gave it a royal charter to give it street creds.


Quote:

"The Cocquet Seal of the Regality Court of Dunfermline was engraven this year by sanction of King Robert the Bruce, by Chapter, dated at Scone, 10th July, 1322, along with letters patent to all who paid customs at Bruges, in Flanders, or elsewhere, notifying that wherever this Seal was in due form produced, it was to be recognised as the authority for collecting the customs granted to the Abbey by the King, &c."

......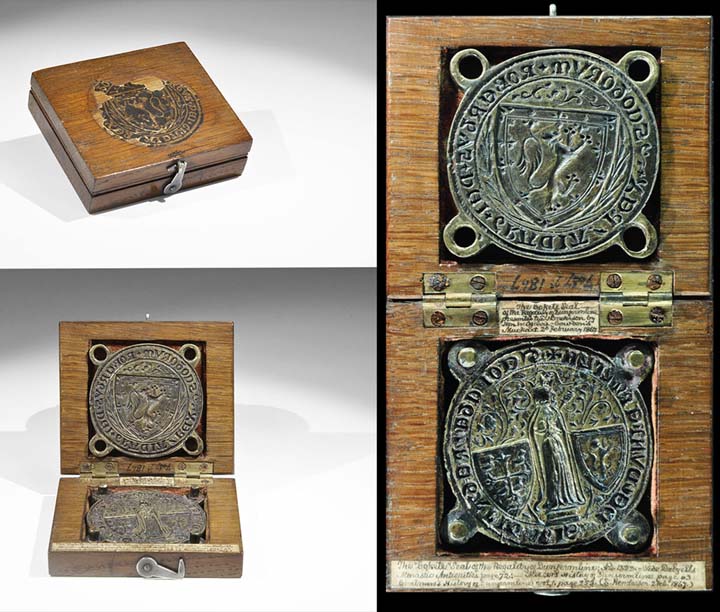 What do you mean I've got to pay a tax, what kind of bullshit is that!
I've got a seal ..... and red wax.
Oh, I'm sorry your grace, I didn't know, please forgive me, wow red wax, honey bring Bob's buddy, I mean his eminence, a chair.

This seal has been in private hands a long time, and can be documented for the last nearly 200 years, but the Abbey is still functioning, as a parish church, by still. Best guess is these seals wear out, especially very big ones of 14th century metallurgy, that squeezes a big hunk of wax from both sides. Replacements are ordered before they break since they didn't have a big Staples button, and this one shows stress cracking starting on the edge.

Yo Boss, the new seal arrived by Donkey Cart Express.
Oh good, take this old one out and destroy it.
Hmm… shiny… mothers day… step-n-fetch-it wage… uh, sure boss, I'm on it.

Since before 1858 it's changed hands by inheritance, bequeathing, or sale, usually to a Sir or Honourable, and often kept at institutions they ran, and nobody seem to give a shit. But that was then and this is the age of greed. It went up for auction along with 15 other lesser seals and sold for £151,250. That's $215,221. Why would anyone care what… OMG, one of the very very few artifacts which can be directly tied to Robert the Bruce going to the colonies! Shriek, moan, wail, we must stop it…and they did.
License to export denied. Well actually delayed until June, and maybe September. hoping somebody will cough up the cash to match the bid of the foreign Devil. Seems to me he should get interest on his money being tied up, maybe even a profit. What if it's of great sentimental value to the buyer? Now that the wealthy have played with it for 700 years and lost interest, will school children have to donate their milk money, have scrap metal drives, and sell cookies to save this national treasure from the heathens?

The Royal Charter, if you're interested in 14th century legalese...


Quote:

"Robert, by the grace of God King of Scots, to all upright men in his whole land, greeting: Know ye that, for the safety of our own soul and that of our predecessors and successors, Kings of Scotland, we have given, granted, and by this our present Charter, have confirmed to God, the Blessed Mary the Virgin, the Church of the Holy Trinity, and St. Margaret, Queen of Dunfermlyn, and to the monks serving and to serve God for ever in the same, the right of patronage of the vicar Church of Inverkeithing, with the pertinents, as freely and quietly, fully, peacefully, and honourably as the predecessors formerly of Roger de Moubray, knight, who had forfeited it to us, have held and possessed the said right of patronage most freely, quietly, and honourably in all things, by rendering to us nothing therefore by only the suffrages of their prayers: Besides, we give and grant, and, by this our present charter, confirm to the foresaid monks, the whole of our new great Customs from all their lands within our kingdom, viz., the land of the burghs of Dunfermlyne, Kirkcaldy, Musselburgh, and Queensferry, and from all their other lands whatsoever; To also let the said monks have and use their own Koketa, according to the liberties of their regality, and our present concession in all their foresaid lands; and let this Koketa be acknowledged and admitted by all burgesses and our people, and foreign merchants throughout our whole kingdom, without obstruction from our chamberlains, or other servants of ours whatsoever for the time being, without petition from any other allocation of liberation, by finding for this our donation and concession of the said Customs for us and our successors, in honour of God and the Blessed Virgin Mary, and the aforesaid Blessed Margaret in the Choir in front of her shrine, one wax candle solemnly lighted, continually and forever. In testimony whereof we have caused our seal to be attached to our present Charter, these fathers being witnesses. William, and William, Bishops of St. Andrews and Dunkeld; Bernard, our Chancellor, the Abbot of Aberborthick; Duncan and Thomas Randolph, of Fife"

link

---
Your reply here?

The Cellar Image of the Day is just a section of a larger web community: a bunch of interesting folks talking about everything. Add your two cents to IotD by joining the Cellar.