xoxoxoBruce Sunday Apr 3 12:23 AM

April 3rd, 2016: Santa Fe Trail

Maestro, a little Aaron Copland please.

The name, Santa Fe Trail, usually stirs the inner cowboy/cowgirl in Americans.
From 1821 through 1866, the Santa Fe Trail connected Franklin, Missouri with Santa Fe, New Mexico.
The Trail had several variations but the shortest route using the Slauson Cimarron cut off, was about 800 miles,
and took 8 weeks with heavy wagons.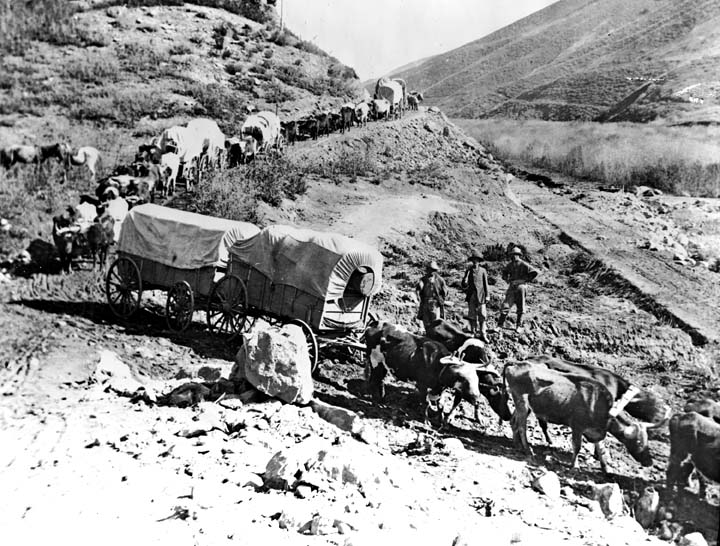 Unlike the Oregon trail and California Trail, the Santa Fe carried more freight than pioneers, although some
went on to California. This was partially because of the unstable political climate of New Mexico.
Texas, Mexico and the Indians, all said mine, mine, mine, with accompanying tantrums.
In 1880 the railroad rolled into Santa Fe and said, No, mine.
As the Buffalo, Indians, Ranchers, and Politicians discovered back in the day, you don't fuck with the railroad.

......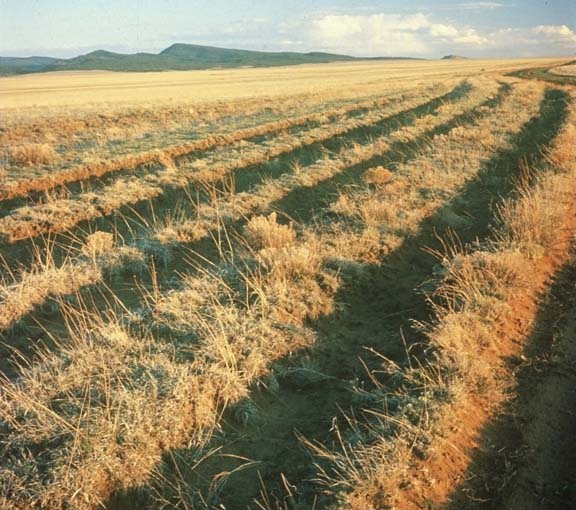 More than 100 years later, King Railroad has had it's day, John Wayne is dead, the Wild West is gone
(although nobody told Cliven Bundy), but the wagon ruts of the old Santa Fe Trail are still there.
Happy Trails Everybody.

---

Snakeadelic Sunday Apr 3 08:32 AM

You'd think railroads might make a comeback as a viable passenger transit system in places like where I live...the county I live in is double the square mileage of the state of Rhode Island, and not all of it is enormous mountains. There are unused tracks everywhere, including a set that cross the street next to the county fairgrounds about 5 blocks from my front door. Instead, if I wanted to catch an Amtrak somewhere, my choices would consist of the Empire Builder (Seattle-Chicago) route with the nearest station 2+ hours north. I used to ride Amtrak a LOT during the summers--so often that, by the time of my last trip in that era, the conductors were so used to me curling up in my lower-level seat (I only rode Superliners, the big silver 2-story cars, because the seats on the Talgo bullet trains were horribly uncomfortable) that they had a betting pool about which stops I'd wake up at. Now that I have a decent camera and some practice, I wouldn't mind another go on the Coast Starlight route (Seattle-Los Angeles) along the Puget Sound! A passenger train from the next town south of me, Darby, up to Missoula and then on to Kalispell/Whitefish/Flathead Lake might make it a lot easier for people to live semi-rural and work urban. Amazing how fast trains went from "this is how EVERYTHING goes EVERYWHERE" to "we're hoping to save fuel costs by stacking semi trailers on railroad flatbeds"...

---

xoxoxoBruce Sunday Apr 3 09:01 AM

Most of the tracks we see are spurs, built to service a factory, mine, produce area, stockyard, or some place that needed freight service. To go from point A to point B, the car you get on at A travels the spur back to the main line. Then you or the car has to switch to a main line train, then down the line to the spur going to B, switch again, finally up the spur to B. That's a lot of time and equipment to get you some place you could easily drive to in far less time

They'll only run passenger service if there's a huge demand and they don't get in the way of the freights. You don't see mixed trains like the old days, with a mix of freight and people cars, except Alaska. The only place passenger trains really work is the main lines between big cities and commuters in and out of cities, where they can count on a certain level of ridership most every day.

I always though that trans Canada would be cool, but like the states, a big hunk is flat and not much to look at, then the mountains send you into sensory overload trying to look in nine directions at once.

---

xoxoxoBruce Sunday Apr 3 10:40 AM

A fatal this morning in Philly, amtrak hit two workers and a backhoe, derailing the train, so the corridor from NYC south is shut down and will be until it's straightened out, which could be a long time. That's a flaw in the system.

---

Diaphone Jim Sunday Apr 3 12:17 PM

The snapshot of the wagon train carries a lot of information and brings up many feelings.
Looks like there are 10 oxen per tandem unit. They never would have gotten by a PETA checkpoint.
15 miles a day wasn't too bad considering.
So they were freighters, not families, a job not migration.
I wonder if the goods were appreciated when they got to Santa Fe.
And if the boots were up to the walk.
I think it will make my Sunday seem pretty comfy.

---

xoxoxoBruce Sunday Apr 3 04:00 PM

Part of the trip was flat like the second picture, some rugged like the first. I dug through quite a few pictures and there's a lot of pictures of single wagons with horses. The oxen double tandem may have been the Cimarron cut off or later when the were hauling bigger loads, much of which was going to Mexico city, through Mexican traders in Santa fe. There were stage coaches also.

I'll bet this picture was leaving Ft Dodge where the trail splits Cimarron left, mountain right.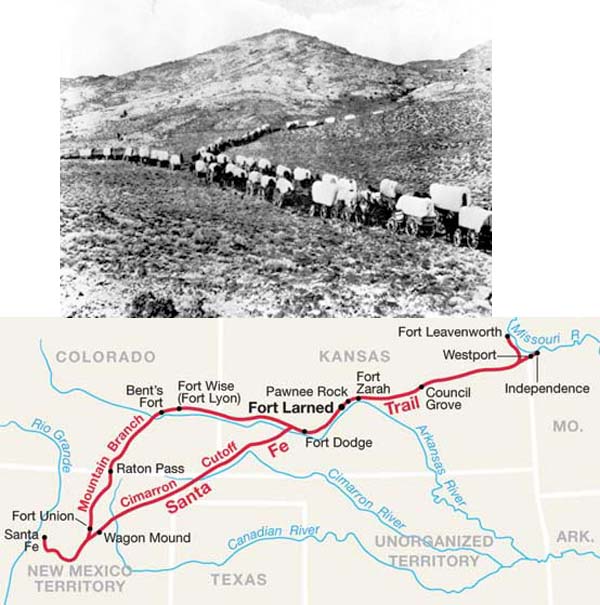 ---

Diaphone Jim Sunday Apr 3 04:48 PM

Right lane must exit.

---
Your reply here?

The Cellar Image of the Day is just a section of a larger web community: a bunch of interesting folks talking about everything. Add your two cents to IotD by joining the Cellar.