xoxoxoBruce Saturday Apr 2 12:44 AM

April 2nd, 2016: Feathers

Nature has evolved(or created 7,000 years ago), a fascinating array of special purpose structures.
I think feathers are one of the most intriguing, as they are a bird's tools for flight, shelter from the elements,
camouflage from enemies, deterrent to aggressors, and the ticket for sex. That's a lot of tasks for feathers
to respond to, so it's not surprising specialized feathers have evolved.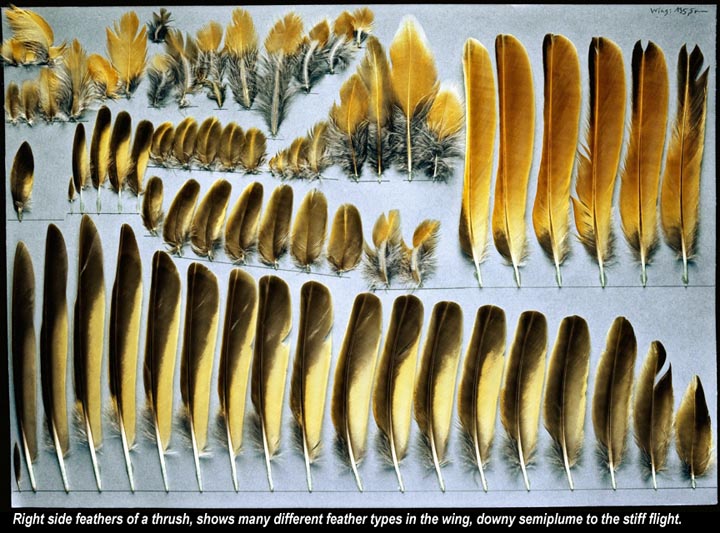 Quote:

If you were to pick up a spotted eagle-owl's feather, you might think it doesn't look like anything special.
It has an uneven, coffee-brown color and white patches. The leading edge is a row of stunted barbs;
on the other side the delicate tendrils wisp away.
But this unassuming tattered edge makes for one of the most fascinating feathers in the world.
Although the design creates drag, it can also muffle the sound of the bird's approach to prey before it
swiftly folds its talons around an unsuspecting mouse or insect.

"Oh Vlad", she breathed, as he wrapped his long, hard, sharp talons around her moist tender ladybird feathers.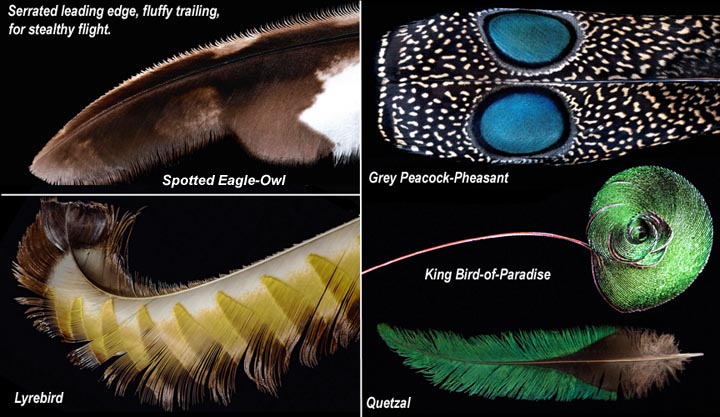 So many variations in coloration, structure, and shape, for function and ornamentation.
Science has discovered many feathers have no color of their own, no pigmentation at all, but use the structure
of the feather to manipulate light so they appear to have color. It's the same principal that give us blue sky.

Here's a good example of that phenomenon.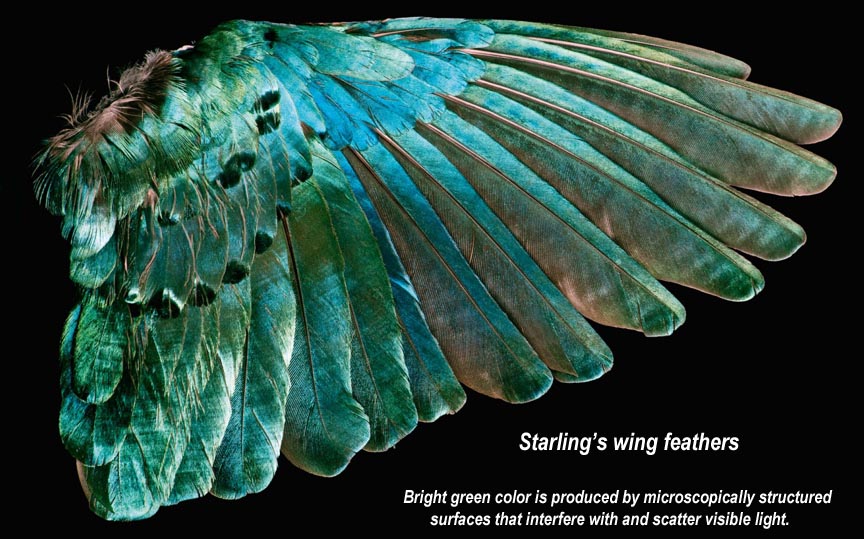 Great as feathers are, they do require maintenance, as they catch dirt and host parasites.
So next time you go to the park to feed the birds, take along your hair brush and give the bird a good brushing.
link

---

Snakeadelic Saturday Apr 2 08:44 AM

The variety of forms feathers have taken to serve their assorted purposes truly is astonishing

Since my inner child is not a child but is in fact half packrat and half magpie, I'm drawn to shiny things and compelled to hoard them, so of course I collect up most of the feathers I find hanging around without a bird attached.

I have magpie wing and tail feathers, including a magnificent magpie center tail feather (the longest) brought to me by a friend who found it while walking their dog. I have two flicker (woodpecker) feathers, which are distinctive because the center shaft of the feathers is bright red-orange and that color appears to spread into the vanes (the individual "fibers" that attach to the center shaft) like watercolor pigment on wet paper. I have feathers from an (invasive) Eurasian collared dove that was taken by a hawk right in front of my mailbox last year.

The only feathers I do NOT pick up are anything I'm sure came from a hawk, owl, or other bird of prey. Not sure how Montana feels about it, but some years back I read the woeful tale of an Alaska artist whose body of work was confiscated by the Feds and who was charged many thousands in financial penalties. The problem? Eagle feathers. Her property had many predator-bird nests, and she was very careful to only collect shed feathers after nestlings had flown. However, because she was not Native American, she was told it is federally illegal to disturb even a shed feather from a hawk, eagle, falcon, or owl.

Only a couple of times have I found feathers I was sure came from a predator; once a red-tailed hawk secondary wing feather and a couple of times I found big flight feathers with the telltale serration on the leading edge that says (around here) barn or great horned owl. I might leave flights from our garbage-sucking invasive vermin (starlings and European house sparrows, which together have driven out everything smaller than a starling) but anything else I yoink right up. One of the prizes of my collection is from western Oregon, a striped tail feather from a Steller's jay--like the starling, a vivid bird largely without pigmentation in the feathers. For those unfamiliar with Steller's jays, they're shaped like blue jays including the jaunty pointed crest, but are much less colorful--black head and neck, sometimes with minor white markings on the face, and vivid blue body with blue-on-blue striping on the wings and tail.

---

xoxoxoBruce Saturday Apr 2 10:46 AM

Wasn't that Alaskan incorporating Eagle feathers in paintings?

---
Your reply here?

The Cellar Image of the Day is just a section of a larger web community: a bunch of interesting folks talking about everything. Add your two cents to IotD by joining the Cellar.