xoxoxoBruce Wednesday Mar 30 11:57 PM

Mar 31st, 2016: The Black Stork

The Black Stork was a 1917 silent movie which played in select theaters, primarily in Indiana and the surrounding Midwest states, well into the 1920s. Written by a Chicago journalist, muckraker and theater critic Jack Lait, the film was produced by a film company owned by Lait's boss, William Randolph Hearst, who loved truth, justice and the American way. No wait, that's Superman, Hearst loved money, power, shit-stirring, and Rosebud. Billed by some as one of the first horror films, it promoted Eugenics.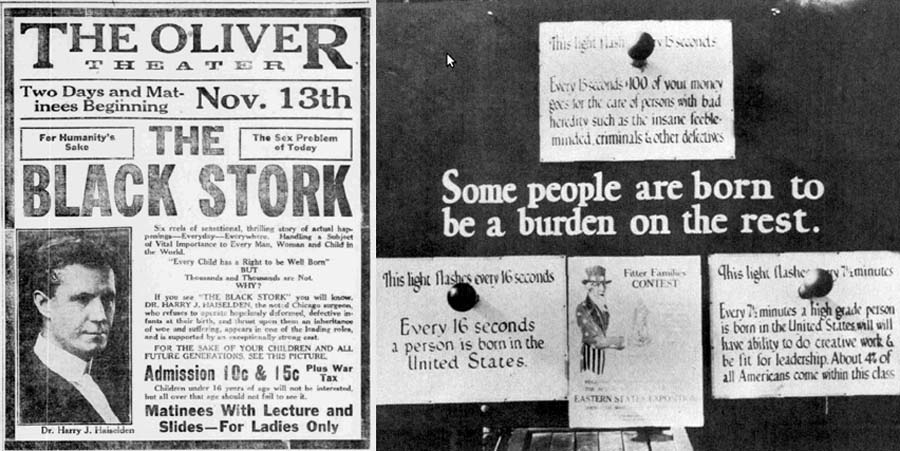 Quote:
That November, Dr. Harry J. Haiselden, chief surgeon at the German-American Hospital in Chicago, was faced with a tough dilemma. A woman named Anna Bollinger had just given birth to a child, John, who suffered from severe birth defects. John had no neck or right ear and suffered from a serious skin ailment, all judged to be the result of syphilis likely passed on by his father. Dr. Haiselden knew that he could save the child's life through a surgical procedure. But since he was familiar with the conditions into which Illinois' "feeble-minded" were thrown after birth, he convinced the child's parents to let John die at the hospital. When the news came out that the doctor wasn't going to perform the necessary surgery, an unknown person tried to kidnap the child and take it to another hospital. The kidnapping attempt failed and John Bollinger died.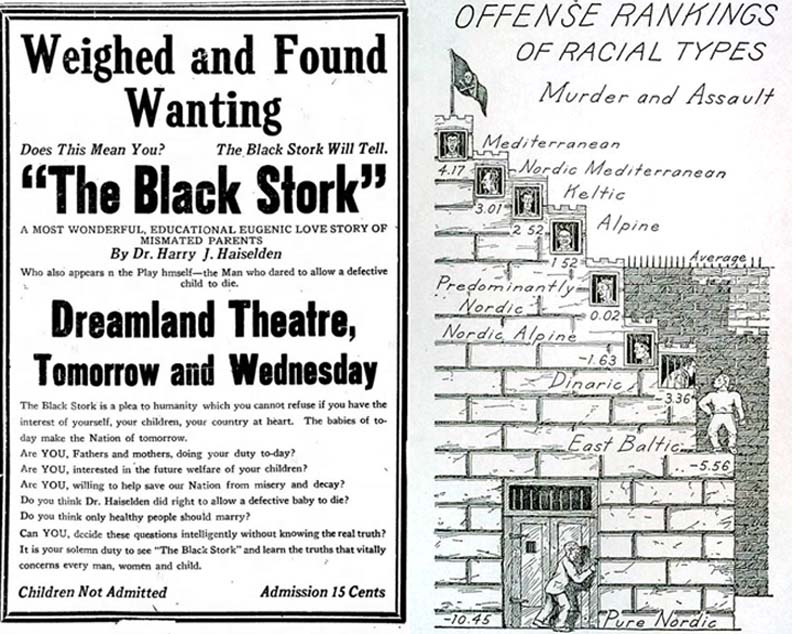 As you might imagine, when the story came to light, the shit hit the fan. Charges were made against Dr Haiselden, he was brought up before the medical board, and almost lost his license, but he had a lot of support…


Quote:

Support for Dr. Haiselden, however, came from many famous social activists. Among them was Helen Keller — advocate for the disabled, a Socialist, and a eugenics supporter (at least in 1915.) Keller, who was blind and deaf since the age of one but thrived against all odds, published her views on the Haiselden case in The New Republic. She thought that children proven to be "idiots" by a "jury of expert physicians" could and perhaps should be put to death. (Keller was an amazing woman, but it's hard not to view her trust in the opinions of "unprejudiced" medical "experts" as naive.) Chicago lawyer and civil liberties crusader Clarence Darrow — who famously went up against eugenics critic William Jennings Bryan at the 1925 Scopes Monkey Trial — made no bones about his support for the surgeon: "Chloroform unfit children," Darrow said. "Show them the same mercy that is shown beasts that are no longer fit to live." Indiana Socialist Eugene V. Debs also supported Haiselden's decision.

Dr. Haiselden had a back up plan if he had lost his license, he starred in The Black Stork.

link
---

Snakeadelic Thursday Mar 31 08:27 AM

Eugenics will always be a massive hot-button issue, even in our medically advanced modern society. Personally, though I know the idea to be completely unworkable, I do favor non-lethal forms of the concept such as license-based breeding. A good example of non-human license-based breeding is found in the European warmblood horse registries, where a stallion may be 7-10 years old before his license to breed is secured for life.

They're evaluated as foals still with their mothers and again as two-year-olds. Those that show potential are further trained and selectively test-bred between the ages of three and five. At five they have to undergo performance and temperament testing, and consideration is given to the foal and two-year-old evaluations of their offspring. If the stallion and his youngsters are all deemed to be of sufficient quality, he's granted a provisional breeding license until his first group of foals are fully mature and then re-evaluated. Performance testing includes the 100-Day Test, which covers dressage, jumping, and a few other things that must all be completed within a single competition season--and temperament still counts. Horses that bite or buck or refuse to listen to their rider do not get to breed on, which is why European warmbloods can be as expensive as luxury sedans.

Due to my belief in "mild" eugenics, I had myself sterilized at the age of 24. If humans were required to pass physical and mental testing a quarter as tough as what those horses face, I would have failed very early on--my family genetics suck, and I'm pretty sure I was born with a total lack of mothering instinct. On paper, species-wide eugenics applied to humanity looks like it could save the planet, but I know full well that the emotional and intellectual issues involved are much too complex to be boiled down to "You didn't pass parenting license qualifications, sorry." No matter how many children might be saved how much misery, the right to live and breed no matter the wisdom of breeding or the agony of living will always win.

---

xoxoxoBruce Thursday Mar 31 12:02 PM

The European warmblood horse registries, at least your synopsis, sounds wonderful, building the perfect machine for the job. The job of course being winning in the show ring because they are the perfect machine. The perfect machine of course is the one winning in the show ring because they are the perfect machine... which is the job... they were built for... winning.

Um, who decided of the final most goodest design... to build for the job... of winning in the ring... because it's closest to the goodest design?

Then the other 99.999% of those horses who deviate from the goodest design, have to be... dog food? French people food? I suppose people could use them for other purposes they weren't designed for, after all, Lamborghini builds tractors as well as high end super cars too.

What could go wrong? I mean look at the wonderful job the dog breeders have done over the last hundred years.



Hmm, maybe that's not the best example. Oh, I know, Monsanto. Wait, apple growers. nevermind

---
Your reply here?

The Cellar Image of the Day is just a section of a larger web community: a bunch of interesting folks talking about everything. Add your two cents to IotD by joining the Cellar.