What's IotD?

The interesting, amazing, or mind-boggling images of our days.
xoxoxoBruce Saturday Mar 26 11:34 PM

Mar 27th, 2106: Tully Monster

If the future scares you, look at the past. The future can't probably won't hold anything scarier than the Tully Monster.

........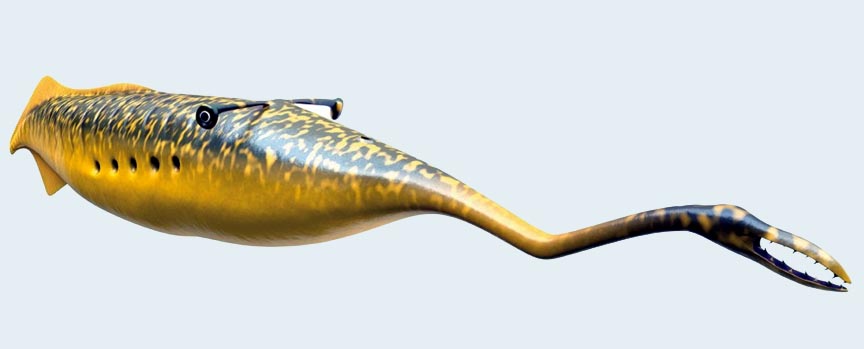 A pipe fitter and amateur fossil hunter from Chicago, Francis Tully, was cracking open shale tailings from an Illinois coal mine in 1955.


Quote:

It looked like … an obese foot-long earthworm with a trunk and a spade-shaped tail? "I knew right away. I'd never seen anything like it," Tully later said. "None of the books had it. I'd never seen it in museums or at rock clubs." He took it to the Field Museum in Chicago, where it came to the attention of Eugene Richardson, curator of fossil invertebrates. He had no idea, either. He couldn't work out what the creature was related to, and he couldn't assign it to any of the major animal groups—a "serious and embarrassing matter," he wrote.

After that, Tully's fellow rock busters found more of them and sent them to the Field Museum in Chicago.
Eventually they named it Tullimonstrum gregarium, because it sounds more scholarly than Tully Monster.


Quote:

Fifty years after Tully's discovery, he and Richardson have both passed away, and the Tully Monster is the official state fossil of Illinois. And finally, a team of scientists led by Victoria McCoy at Yale University have solved the mystery of the strange beast, and assigned it a spot on the tree of life.

It turns out to be a close relative of modern lampreys—those nightmarish, blood-sucking fish that are essentially toothed suction cups propelled by sinuous, eel-like bodies. But although the Tully monster is a lamprey at heart, it looks nothing like one from the outside. Its body is short and stout. Its eyes sit at the end of a rigid bar. And instead of the distinctive sucker, its mouth is a long, triple-jointed claw. It looks like the rejected doodle of a drunk fantasy artist.

If you see one in your bath water... get out.

---

Snakeadelic Sunday Mar 27 08:35 AM

If you see THAT in your bathtub...

Pour all your booze down the sink.

Put your important things in storage.

Sell your land for mineral rights.

BURN DOWN the house and run the (unladylike words here) away!

---

Snakeadelic Sunday Mar 27 08:38 AM

...or, alternately, find something that will pass for a harpoon. Then fire up the grill. Unless it's full of noxious chemicals like the Greenland shark, it's a fish and it'll cook up just fine, provided you can kill it without salt, holy water, and a curse from God.

(An old friend of mine used to say that's what it would take to kill his car...guess he should've given more thought before taking it out on the beach that day...true story.)

---

Diaphone Jim Sunday Mar 27 12:08 PM

Boy, that thing looks very unlikely.
Is there a clue I missed as to its size?

---

Gravdigr Sunday Mar 27 03:34 PM


Quote:

an obese foot-long earthworm with a trunk and a spade-shaped tail



---
Your reply here?

The Cellar Image of the Day is just a section of a larger web community: a bunch of interesting folks talking about everything. Add your two cents to IotD by joining the Cellar.