What's IotD?

The interesting, amazing, or mind-boggling images of our days.
xoxoxoBruce Sunday Mar 20 12:28 AM

Mar 20th, 2016: Matador

Mayhaps you've seen this heart wrenching picture…

Quote:

The photo has been doing the rounds on the internet with claims it is Álvaro Múnera Builes, a Colombian animal rights
activist who worked briefly as a bullfighter in his youth under the name 'El Pilarico' in Colombia and then Spain.

.............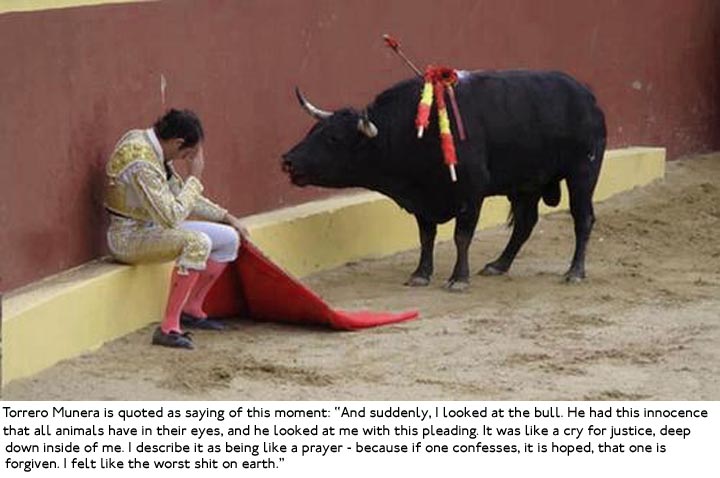 blubber Awwwwww sniffle

Wrong, PETA-breath, in a word, bullshit.
The Matador in the picture is not Múnera, but Francisco Javier Sánchez Vara. The gut twisting "quote" was penned by
the author and melodramatist Antonio Gala Velasco in the Spanish newspaper El País in 1995.
OK, so it was Francisco Javier Sánchez Vara who had the epiphany.
Nope


Quote:

Sitting on the 'strip' around the ring after the sword has been placed in the bull is a known desplante, or act of defiance,
within the part-scripted, part-improvised spectacle that is the corrida de toros. Whatever the corrida is, it is certainly
not a fight. The English word bull-fight derives from the English pastime of baiting bulls with dogs, hence their national
symbol is the bulldog and Spain's is the bull.
The concept of fairness or sport no more enters into the corrida than it does the slaughterhouse.

Well how does Múnera fit in? He was a novillero, a novice and never even became a matador, although he'd killed 150 bulls.
Then that bitch called Payback came around…


Quote:

In 1984 a bull called 'Terciopelo', from the breed of Marqués de Villagodio, caught him in the foot and tossed him
across the ring, fracturing the fifth cervical vertebrae in his neck, along with other injuries, which rendered him
permanently paraplegic. It was only later after he had been transferred from hospital in Spain to a recuperative
facility in Miami to be closer to his relatives in Colombia that he developed a 'moral' problem with bullfighting.
According to his own account, it was the doctors, nurses, other patients and their families treating him with contempt
because of his bullfighting past which caused the change. In his own words, he converted to their point of view because
"there are more of them, they must be right."

Let's call it a medically induced epiphany.



Bullfighting is an old tradition, steeped deep in Spanish culture, of which a lot of people disapprove.
My

is… fine, put on your twinkle suit, grab your cape and step into the ring with…

......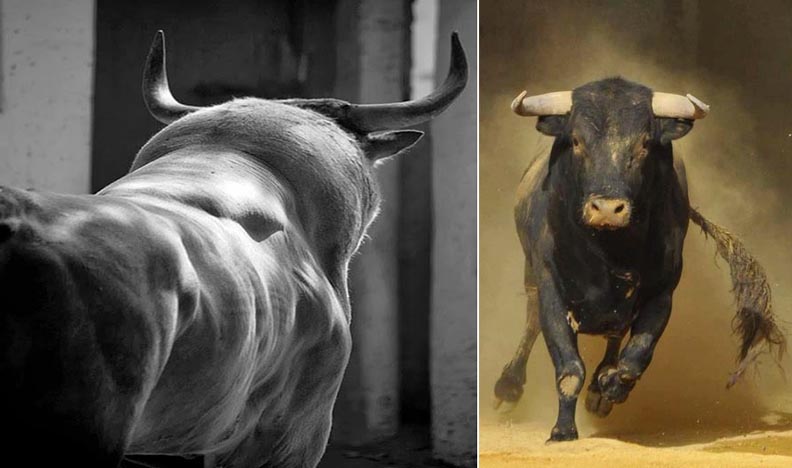 No picados with their lances on horses, no banderilleros with their pointy stick banderillas, just a matador with his cape... and balls.
After 10 or 20 minutes, if the bull hasn't won, the matador is declared a winner, a hero, the senoritas swoon and throw flowers.

Oh, the bull? He had his day in the ring and failed, so will have to suffer the indignity of being sent home in defeat, and spend
the rest of his life forced to provide stud service to 72 bovine bitches. Poor Ferdinand.

---

Snakeadelic Sunday Mar 20 08:46 AM

When I look up "picado" I get references to flamenco guitar and assorted translation websites...

Rejoneador, however, is a different story

. As if Iberian fighting bulls weren't scary enough, and they are scary: http://www.aficionados-international.../files/033.jpg someone had to decide "this would be even MORE awesome if I had to keep my balance on 1200 pounds of bone and muscle capable of making a decision without informing me first!" In Portugal, they use Lusitano horses, very close relations to the more-famous Andalusan (now officially renamed Pura Raza Espanol or PRE for short). Using tiny URLs because half this stuff comes from blogs in languages I don't read or speak, so the fewer chances on copyright hassles the better.

http://tinyurl.com/jtwmhz4 Aiming is not easy when your horse can and will go directly sideways.

http://tinyurl.com/hwk4zjv The horses are trained almost as long as their riders, and yes they will in fact grapple a bull.

http://tinyurl.com/hukool5 Lusitanos are fairly large horses, but with training and the right temperament they are fast and exceptionally graceful.

http://tinyurl.com/z7tgkul Like their Spanish cousins, the Lusitano can do the "airs above the ground" made famous by the Lipizzaner stallions in Vienna. This one, the capriole, is probably the single most spectacular and is based on a war horse maneuver intended to remove a threat from behind horse and rider.

---

Griff Sunday Mar 20 09:11 AM

Bullfighting didn't go well for the Old Duke.

I can't deny the draw of bullfighting, but the level of cruelty is just too much. You could change it to a non-bloodsport where the bull has a better shot at you. Bruce's 20 minute clock has merit.

---

xoxoxoBruce Sunday Mar 20 09:21 AM

Damn, I forgot the LINKS.
Better never than late.

---
Your reply here?

The Cellar Image of the Day is just a section of a larger web community: a bunch of interesting folks talking about everything. Add your two cents to IotD by joining the Cellar.