xoxoxoBruce Friday Mar 18 12:44 AM

Mar 18th, 2016: Stoned with Johnny Clasper

Getting stoned with Johnny Clasper would be something that would stay with you forever.
A head start of that bucket list for when you're rich, and when you wish to spiffy up your estate.
When you get tired of a plain moat. To be fair, I haven't a clue what he charges, I'm just guessing it's a lot.





Mr Clasper's website indicates his company is a large operation, which would mean a lot of people working for him.
Hopefully that means a bunch of people are learning how to do this work. They might not even have the eye to design it, but lots
of people can design what they want. Having the skills to build it is even better.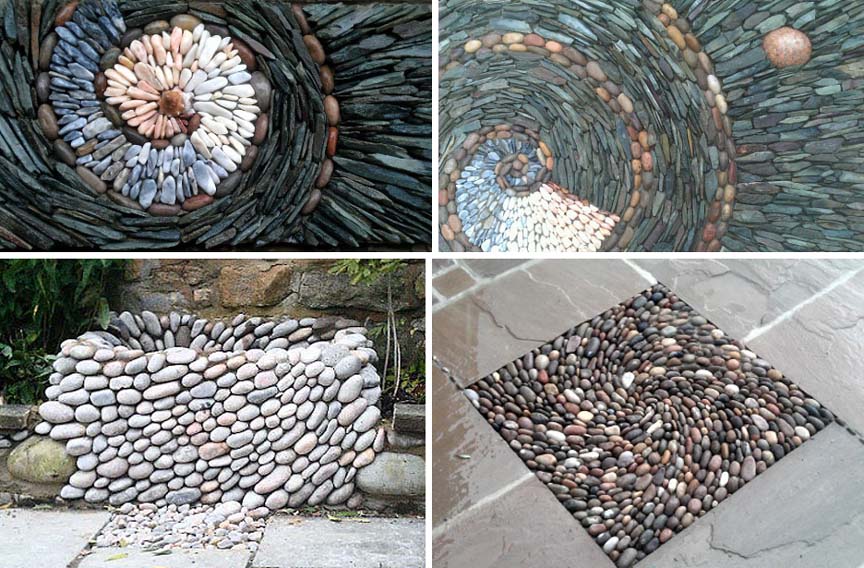 I love this stuff.



Stoneart Blog

---

Snakeadelic Friday Mar 18 09:00 AM

Oh, the temptation...I have so many rocks...if I owned a house there would be stuff like this all over and around it! As it is I'm contemplating investing in some mosaic-making supplies.

The last physical therapist I worked with just moved to the area and one day mentioned that the house she bought was part of the estate of a local geologist well remembered for his puttering about on a little motorcycle to find collecting sites. She said there was field-cobble decoration all over the house, and I told her if she found any old buckets of rocks or closed-up sheds to check them out carefully. She then said there was one thing she'd found she was contemplating getting rid of, a sandwich bag with about half a cup of sand in it.

"Is it black sand?" I asked, and got a surprised yes. "Does it seem heavy for sand?" Again, yes. "Drag a magnet through it, or bring it to my next appointment and I'll dig out my magnetic tool." Last year's gem & mineral club president had JUST given a gold-panning demo, complete with gold-bearing dirt and sand, the previous weekend. The magnet test strongly suggests what she found is "placer sand", which often has gold hidden under a thin coating of hematite, iron oxide, and/or some other metal oxide.

On my last appointment with her, she said she bought the house because the mosaic work was exceptionally charming and she thought it had been done to clear the rocks out of the field it sits on. Now she thinks maybe he bought the land because of the rocks out in the field. If ours wasn't a client-provider relationship, I'd be asking to go take photos!



And if I ever win the lottery, my custom-designed home will feature a retaining wall along the main road, upon which will be a mosaic in stone or ceramic or both...a life-size Sarcosuchus (Supercroc) with the words "Please do not enter unless the crocodile knows you" between its teeth! I can dream, right?

---

xoxoxoBruce Friday Mar 18 09:36 AM

Your bucket list.

---
Your reply here?

The Cellar Image of the Day is just a section of a larger web community: a bunch of interesting folks talking about everything. Add your two cents to IotD by joining the Cellar.