What's IotD?

The interesting, amazing, or mind-boggling images of our days.
xoxoxoBruce Sunday Mar 13 11:33 PM

Mar 14th, 2016: NYC's First Supermodel

Audrey Munson was born in 1891.
Her parents divorced when she was young so she and Mom moved to NYC, where money was tight and life a struggle.
The one thing Audrey had going for her was a perfectly proportioned face and body.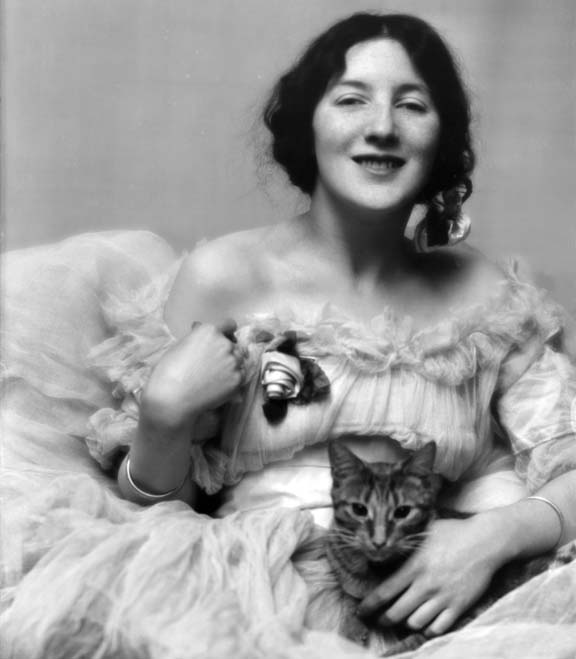 Spotted on the street by a photographer at 15, she was introduced to sculpter Isidore Konti, who proposed she model.
Of course that kind of modeling was nude when showing an ankle was scandalous, but the money was good.
Now you can't sightsee in NYC, any many other places, without seeing Ms Munson.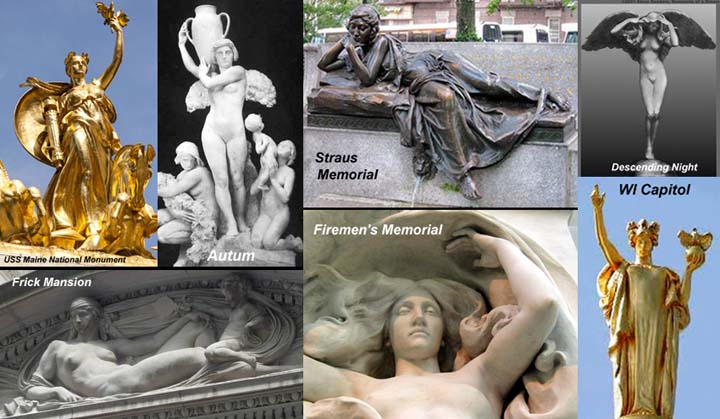 Quote:

Long after she and everyone else of this generation shall have become dust, Audrey Munson, who posed for
three-fifths of all the statuary of the Panama–Pacific exposition, will live in the bronzes and canvasses of the
art centers of the world. — New Oxford Item, April 1, 1915

She made four silent films, in the first, "Inspiration", she played a sculptor's model so not much of a stretch.
But it was the first time in a non-porn American film the leading lady got naked. It was a hit.
You can see... uh, more of her in this NSFW thread.

The sculptors she posed for...
Herbert Adams
Priestess of Culture (1914) – PPIE, now in Fine Arts Museum of San Francisco
Robert Ingersoll Aitken
Earth (1915) – PPIE - Court of the Universe
Panama-Pacific International Exposition medal (1915)
Figure on doors of the Greenhut & John W. Gates Mausoleums
Karl Bitter
Pomona or Abundance (1915) – Pulitzer Fountain in Grand Army Plaza, NYC
Venus de Milo ("Venus with arms") for Queen Wilhelmina of the Netherlands
Alexander Stirling Calder
Star Maiden (1915) – PPIE - Court of the Universe, now in the Oakland Museum
Eastern Hemisphere (1915) – PPIE - Fountain of Energy
Daniel Chester French
Melvin Brothers Memorial (1908) – Sleepy Hollow Cemetery, Concord, Massachusetts
Commerce and Jurisprudence (1910) – Federal Building, Cleveland Ohio
Genius of Creation and Eve (1915) – PPIE, plaster now at Chesterwood in Stockbridge, Massachusetts
Brooklyn and Manhattan – Brooklyn Museum of Art, NYC
Memory – Metropolitan Museum of Art, NYC
Mourning Victory – Metropolitan Museum of Art, NYC
Spirit of Life (1914) – Indianapolis Museum of Art, Indianapolis, Indiana. Newark Museum, Newark, New Jersey
Evangeline, Longfellow Memorial (1912) – Cambridge, Massachusetts
Trask Memorial (1915) – Saratoga Springs, New York
Wisconsin (1912) – figure on top of Wisconsin State Capitol dome
Sherry Edmundson Fry
Torch Bearer (1915) – PPIE
Muse and Pan (1915) – PPIE
Maidenhood – Metropolitan Museum of Art, NYC; Brookgreen Gardens, South Carolina
pediment (1913) – Frick Collection Building, NYC
Albert Jaegers
Rain (1915) – PPIE
Harvest (1915) – PPIE
Carl Augustus Heber
Figures on tablet outside the Little Theatre
Spirit of Commerce – Manhattan Bridge, NYC
Isidore Konti
Mother and Child – private collection of Richard & Lydia Kaeyer
Three Muses – Hudson River Museum
Three Graces Y– lobby of the Hotel Astor, NYC
Pomona – Konti finished the work after Karl Bitter was killed
Figure within the Column of Progress (1915) – PPIE
Widowhood
Genius of Immortality (1911) – Hudson River Museum
Evelyn Beatrice Longman
Fountain of Ceres (1915) – PPIE - Court of Four Seasons
Consecration (1915) – PPIE, now in the Wadsworth Atheneum, Hartford, Connecticut
Augustus Lukeman
Ida Straus and Isidor Straus Memorial – Straus Park, Manhattan, NYC
Frederick MacMonnies
Niche figure – New York Public Library, NYC
Allen Newman
Music of the Waters Fountain – Riverside Drive, NYC
Attilio Piccirilli
Alone (1915) – PPIE
Maine Memorial, figure on top and figure at base – Central Park, NYC
Duty and Sacrifice (1913) – Firemen's Memorial, NYC
Firio Piccirilli
Fountain of Spring (1915) – PPIE
Frederick Ruckstull
South Carolina Women's Monument (1911) – Columbia, South Carolina
Adolph Alexander Weinman
Descending Night – PPIE - Fountain of Setting Sun and various museums
Civic Fame (1913) – figure on top of the Manhattan Municipal Building
US Walking Liberty Half Dollar, and possible model for the Mercury dime (both 1916)
Day and Night (1906) – figures from Pennsylvania Station, NYC
Albert G. Wenzel
Madam Butterfly
Figure over the proscenium (1903) – New Amsterdam Theater, NYC[6]
Gertrude Vanderbilt Whitney
The Fountain of El Dorado (1915) – PPIE
Munson in Inspiration, 1915
Munson in Purity 1916
Others sculptures at Panama-Pacific International Exposition
Fountain of Ceres, Court of Four Seasons
Fountain of Rising Sun, Court of Universe
Pedestal & Friezes, Columns of Human Progress
Air, Court of Universe
Spirit of Creation, Court of Universe
Nature, Feast of Sacrifice, Court of Four Seasons
Pylon Groups, Festival Hall
Conception, Wonderment, and Contemplation, Palace of the Fine Arts

Unfortunately the landlord of the boarding house where she lived with her Mom, was obsessed with her and
after they moved out killed his wife to court Ms Munson. He was caught but the scandal ruined her career.


Quote:

By 1920 Munson, unable to find work anywhere, was living in Syracuse, New York, supported by her
mother who sold kitchen utensils door to door. In February 1921, Perry Plays, Inc. paid Munson
$27,500 to star in Heedless Moths. The 1921 film was based on her life story, which was then being serialized
in dozens of newspapers, and on short stories and other articles she had written for Hearst's Sunday Magazine.

On May 27, 1922, Munson attempted to commit suicide by swallowing a solution of bichloride of mercury.

In 1931, a judge ordered Munson into a psychiatric facility for treatment. She remained in the St. Lawrence
State Hospital for the Insane in Ogdensburg for 65 years, until her death at the age of 104.
Munson died February 20, 1996.

An ugly ending to a meteoric career. 65 years in the insane asylum? I'd go nuts.

link
---

Griff Monday Mar 14 07:18 AM

Sad end.

---
Your reply here?

The Cellar Image of the Day is just a section of a larger web community: a bunch of interesting folks talking about everything. Add your two cents to IotD by joining the Cellar.