xoxoxoBruce Wednesday Mar 9 12:29 AM

Mar 9th, 2016: Truckin'

Mankato Minnesota is no hick town, it's the fourth largest city in MN, with hot spots like the Riverfront park, Sibley Farm,
Rasmussen Woods, and the Kwik Trip out on 169. Well the other day the action was at the Kwik Trip.

A couple people noticed a big red semi rig coming through the Wilson Trailer Sales parking lot, headed right toward the Kwik Trip.
When it took down a tree, one of the guys watching decided he should maybe chat with the driver.
He pulled open the door as the truck hit a car near the gas pumps but all he could get out of the driver was woof.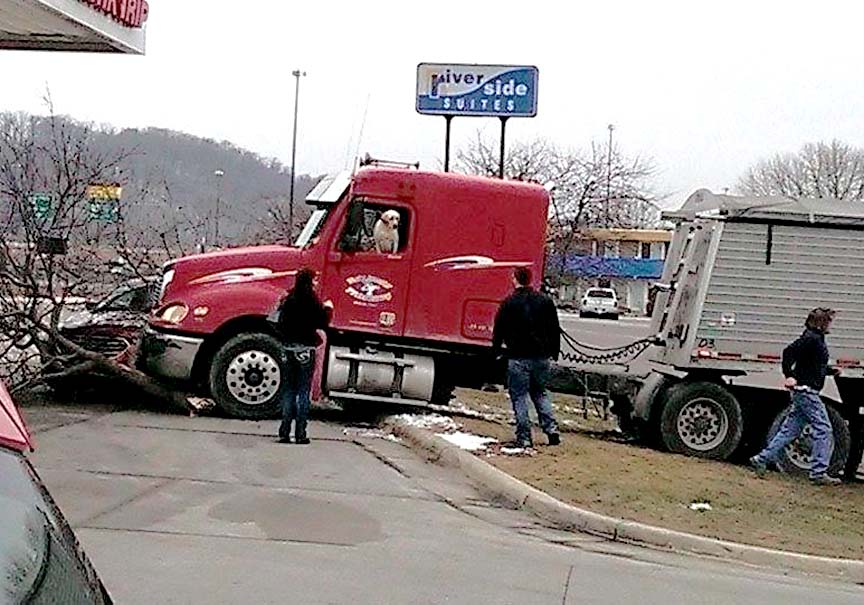 As I recall that part on MN is pretty flat, so I guess the driver didn't feel he needed to set the truck or trailer brakes.
Of course it's a diesel so he wouldn't want to shut it down if he was just grabbing a coffee or taking a leak.
But he really ought to tell his Labrador it requires a commercial license before he/she can drive.


link

PS ~ Free advice. If you open the door to someone else's truck and see a dog, shut that sumbitch fast.
Dogs as a rule, don't pick up hitchhikers, and don't like people getting in their trucks.
Seriously, until the owner gets in first and says it's OK, don't open that door.
It would probably not be wise to even try to pet a dog hanging out the window of a parked truck.
You have no idea how many Milk-Bones the payments on that rig are.

---

Snakeadelic Wednesday Mar 9 09:44 AM

In all my life I have known only one dog I regard as safe to be alone and loose in his owner's vehicle. He's a very, very weird dog--a laid-back, gentle, mellow Jack Russell terrier. Wouldn't have believed it before I met this dog--although his chilled-out temperament is what got him neutered since it does not match people's expectations of the breed, nor is he a good example of the desired drive, energy, and temperament of what started out as a fierce hunting breed. This one has offed a couple of ground squirrels over the years, but by and large is the only dog no one reports for being off-lead around here because he has fantastic recall skills and loves attention.

Most of the time, from what I've seen personally, dogs + vehicles = there go your insurance rates (and credit rating, these days).

SUPER GOOD advice, btw! It's never a good plan to approach or try to handle a vehicle with an unfamiliar dog inside, especially a medium-or-larger breed if your own safety is concerned--although the little ones, in addition to potentially biting, may also have a much easier time escaping. I also do not approach trucks with dogs in the bed whether or not they're tied the way they should be for their own and others' safety. No dog owner wants to think about their companion lost in a world full of predators, maniacs, and highways.

Personally, when I meet a new dog and know its owner is nearby, I always ask if the dog is friendly before extending a hand (relaxed, fingers dangling down, and with the palm facing away from the dog to avoid looking 'grabby') for a sniff. A lot of dogs are not at all okay with me, which I don't mind that much since I'm not a dog person and no one in my immediate family wants one, but understanding that is crucial to avoiding bites and other human-aggressive behavior that could get a perfectly decent dog in a world of trouble its family does not need. Basic guideline: no owner in sight, no touching of the dog!

---

Sundae Wednesday Mar 9 10:50 AM

Quote:

Originally Posted by

Snakeadelic

Personally, when I meet a new dog and know its owner is nearby, I always ask if the dog is friendly before extending a hand (relaxed, fingers dangling down, and with the palm facing away from the dog to avoid looking 'grabby') for a sniff.

I always offer the back of my hand to an unfamiliar dog or cat for sniffing - even when I've checked it's friendly. I never thought about the grabby thing, it was always just self protection. Putting vulnerable digits towards an animal you don't know? No. A savage attack to the back of a hand is still awful, but fingers are so much thinner and more fragile.

Good advice there.

---

gtown Wednesday Mar 9 11:27 AM

Does your dog bite? (at 50 seconds in)


---

Gravdigr Wednesday Mar 9 02:24 PM

♪ ♫Truckin', I'm a goin' home.♪ ♫
♪ ♫Whoa whoa baby,♪ ♫
♪ ♫back where I belong♪ ♫
♪ ♫Back home, sit down and patch my bones,♪ ♫
♪ ♫and get back truckin' on♪ ♫

---

xoxoxoBruce Wednesday Mar 9 02:57 PM

♫ I've been drivin' all night, my hand's wet on the wheel ♪
There's a voice in my head that drives my heel
♪ It's my baby callin', says I need you here ♫
And it's a half past four and I'm shiftin' gear
♫ When she is lonely and the longing gets too much ♪
She sends a cable comin' in from above
♪ Don't need no phone at all ♫

---
Your reply here?

The Cellar Image of the Day is just a section of a larger web community: a bunch of interesting folks talking about everything. Add your two cents to IotD by joining the Cellar.