xoxoxoBruce Sunday Mar 6 11:14 PM

Mar 7th, 2016: Beach Day

Beach day? Already? I haven't even started my crash diet yet?


The sun is shining, the shore is bright white, the air is calm, the water is frozen, the ... wait, frozen?
Yeah, it's February at Lake Baikal, the temperature is minus 20C (minus 4F), and no worries about Jaws.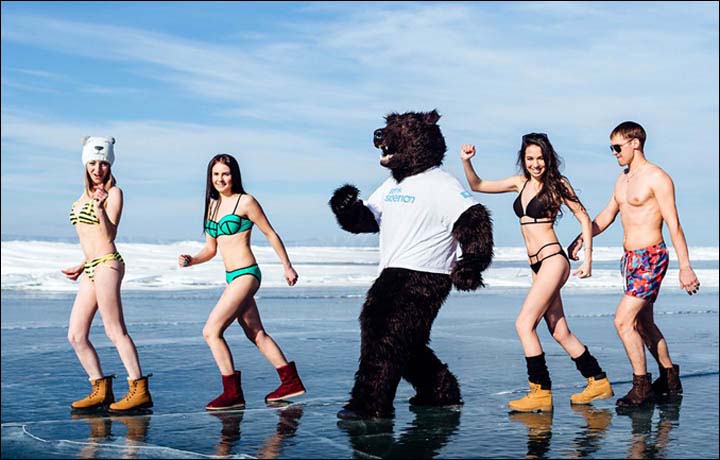 Quote:

Dressed in sturdy boots and not much else, these ten intrepid Siberians spent five hours on Baikal's thick
frozen surface, warmed mainly by cocktails, tea, dancing, and an inevitable bear.

I was pretty sure there was alcohol involved.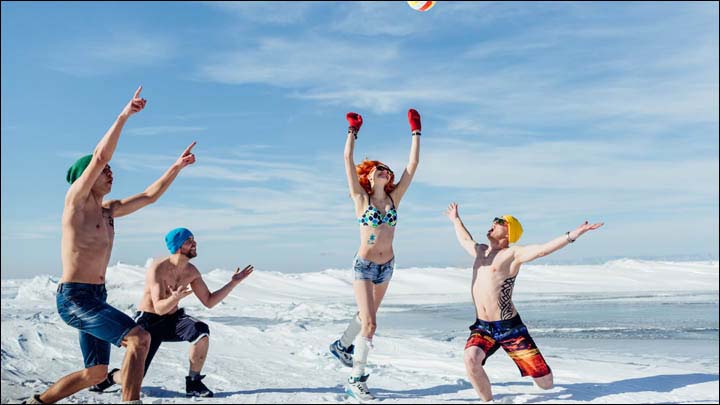 Quote:

These images highlight something often misunderstood about the Siberian winter.
Bright sunny days are frequent even - in fact especially - when the thermometer plunges.
And this is a dry cold, with no wind, conditions which help locals enjoy nature even in the fiercest chill.
Mikhail Gubal, the organiser of this event, said: 'Winter vacations can be much brighter than in the summer.
Dazzling white sand, beautiful blue waves to the horizon - such amazing views that you will hardly find in summer.

OK, so they probably are pro models getting paid to do this, along with the alcohol.
Hmm, frostbitten pointy bits, crystal balls, and world class shrinkage.

link
---

fargon Monday Mar 7 06:31 AM

Brrrrr.

---

Snakeadelic Monday Mar 7 08:21 AM

Now that I live somewhere with a tendency to dry cold, I can say that the subjective difference in humid vs. arid is HUGE. In western Washington, I used to start shivering visibly at around 45-48 F. Here, with much lower average humidity, I often don't visibly shiver until several degrees below freezing. And, as I have a passing book-learnin' familiarity with the area around Lake Baikal, I can think of a couple of advantages to winter vacationing there.

1. No bears. In some parts of Russia and Siberia, brown bears have become so competitive for food resources that they've taken to emptying graveyards of anyone they can still smell, especially in rural areas where embalming is not a common practice.

2. No mosquitoes. They're not as bad as it gets on the tundra, but the taiga (that HUGE band of forest right through central Russia) supports a wealth of small life forms on which those horrid little flying vampiric nightmares feed just fine.

3. No spoiled rotten foreign tourists who want it to warm up, then complain when the temperature goes back up around freezing and the snow comes piling down. Snowflakes only form at two temperature ranges, one right around freezing and the other right around Antarctica in midwinter.

Besides, if you go to YouTube and look up "Russian dash camera", you'll see WAY scarier than bikini babes on ice skates.

---

Happy Monkey Tuesday Mar 8 09:35 PM

---

BigV Tuesday Mar 8 09:40 PM

what kind of cocktails don't have alcohol. which, I might point out, doesn't freeze at those temperatures.

very pretty, and still fucking cold.

---

xoxoxoBruce Tuesday Mar 8 09:42 PM

Probably had it in a thermos.

---
Your reply here?

The Cellar Image of the Day is just a section of a larger web community: a bunch of interesting folks talking about everything. Add your two cents to IotD by joining the Cellar.