What's IotD?

The interesting, amazing, or mind-boggling images of our days.
xoxoxoBruce Sunday Feb 21 11:56 PM

Feb 22nd, 2016: Polar Rare

Happy Birthday George.
Polar Bears are very dangerous to humans and other living things. They're omnivores and their home turf is
particularly devoid nutrition, so interactions between people and Polar Bears rarely goes well for the human.
I've seen this photograph a few times, and figured it must be from a movie or might have been staged in a
museum diorama. When I'd come across it the link, if there was one, took me nowhere.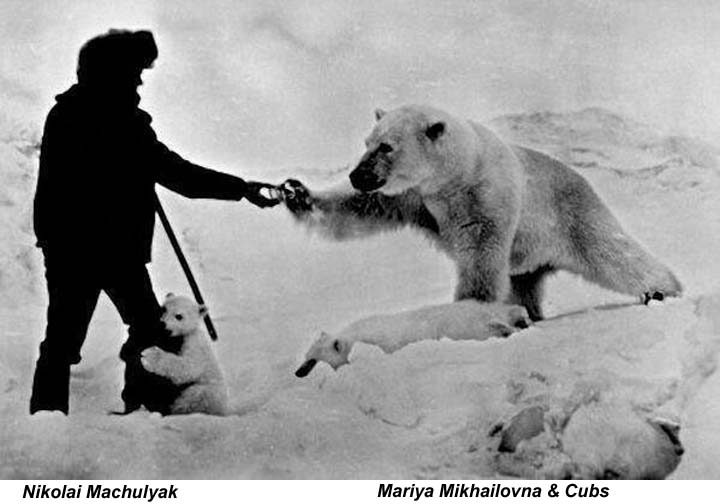 Finally found stuff I could piece together

Short story shorter - In 1974, Chukchi hunter killed a polar bear that destroyed his house, so her yearling cub
was orphaned. Since that cub did not yet learn how to hunt, Nikolai brought her food over the next five months.
He called her Masha.
On March 14, 1976 Nikolai once again carried some meat to her lair, but he was in for a surprise. Instead of his
little Masha (Nikolai recorded her weight as ~150 kg), out of the den came 300-kg "Mariya Mikhailovna" and ran
straight at him. Nikolai was able to drive her away with a stick. It was clear that the bear was going through
hard times: she was thin, and though she took meat and ate it, she kept shaking. Everything indicated that
Mariya Mikhailovna had cubs, and she, being bigger and stronger, kicked Masha out of the den.
Since then, Nikolai brought condensed milk and meat to Mariya Mikhailovna and her cubs
(despite the protests of his human wife, who believed that nothing good would come out of it).


Quote:
From an interview in a Russian publication, translated, and posted on Reddit.

Came to Masha's lair, brought meat. Instead of Masha, a huge bear came out of the den: skinny, shaggy, yellowish, and it ran straight at me. Barely drove it away with a stick. She took meat and ate it, but kept shaking all over."
•
What happened?
•
Probably, Mariya Mikhailovna, as I called the big bear, kicked Masha out of the den; she was older and stronger. Besides, she had more right to the space, as I suspected that she already has cubs.
•
Were you scared?
•
Oddly enough, no. Rather surprised, even offended. I said, I am coming to you in good faith, with meat, though I brought it for Masha, and you do this... crazy eyes, rearing up on hind legs... I looked at her left paw, she was about to swipe. Bears are lefties. Then she backed away, eyes strange. She ate but kept shaking. I went home half-petrified, like a statue. It was at home when I sat down, legs trembling, and finally got afraid.
•
So, the bear is sensitive to nuances of human behavior?
•
In my opinion, yes.


18.III. Brought meat. M.M. did not allow me to come closer than 8 meters.
19.III. Brought walrus meat. She ate it but poorly. Brought seal meat, also ate poorly.
20.III. Came with photographer. She chased us, I barely stopped her with a stick. We parted in this way: I'm backing away, and M.M. is doing the same.
25.III. The authorities observed Mariya Mikhailovna from the local office through a telescope. They were concerned that her den is close. Where is Masha?
26.III. Today, although she was angry, M.M. took meat out of my hands. I went to look for Masha.
28.III. Looks like M.M. fought for her den with some new bear. Tufts of fur and broken ice all around. M.M. looks disheveled.

1.IV. Warm day. M.M. was already waiting near the den. She approached to two meters - quickly but not aggressively. Brought food again, and again she came close."
[Around that time, Nikolai and polar bears became famous (were written about in a newspaper).]
"8.IV. Found M.M. with two cubs. Does not let me close. Left meat over a hundred meters away. Said to her: "M.M., have some meat, it's seal liver, you love it."
9.IV. Was filming Mariya Mikhailovna from afar.
11.IV. Veritable invasion [of visitors]. People come in droves "to see the cubs". However, they still watch from far away.
15.IV. Walked up straight to me. The cubs kept their distance.
16.IV. Wife complains. Says it won't end well.
18.IV. Today, for the first time M.M. allowed to approach her cub. I shook "hands" with him. He wants to play around. The second cub (probably female) keeps clinging to her mother.
19.IV. M.M. ate moss, although she had meat. Also, she generally would not eat any beef or venison, only marine animals.
21.IV. Someone fired a gun around and brought dogs. Cartridge cases, footprints. M.M. is not amused.
22.IV. She dug a new den further out to sea.
24.IV. She returned to the old place. Demands condensed milk and sugar. I crawled into the den, carpeted with white fur. Cub is trying to climb on my back and on my head. M.M. is jealous.
29.IV. All these days a lot of people are coming, and I have to go with them. Many take Mariya Mikhailovna lightly, but she is not a squirrel. If she rushes somebody accidentally, she'll get shot. I almost don't get to come home. The wife is jealous."
link
---
Your reply here?

The Cellar Image of the Day is just a section of a larger web community: a bunch of interesting folks talking about everything. Add your two cents to IotD by joining the Cellar.