xoxoxoBruce Friday Feb 19 01:03 AM

Feb 19th, 2016: Kamchatka Salmon

The Kamchatka Peninsula is a big old 1,250 mile dong, sticking out into the Pacific north of Japan.
100,000 square miles, with about 330,000 people, and all six of the Pacific Salmon species.
Salmon like it there, they voted it number one in a Salmon Gazette poll, probably because that's where the get laid,
hatch, and go back to spawn.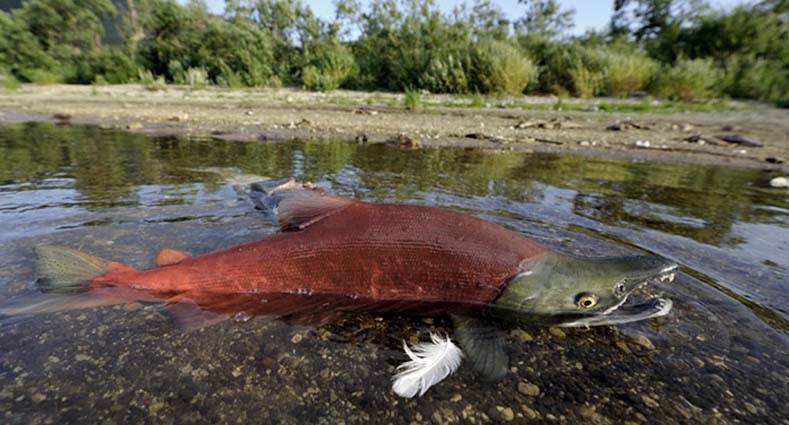 Know why he's red?.................. It's Russia.


Quote:
Kamchatka contains probably the world's greatest diversity of salmonid fish, including all six species of anadromous Pacific salmon (chinook, chum, coho, seema, pink, and sockeye).





Quote:

Biologists estimate that a sixth to a quarter of all Pacific salmon originates in Kamchatka. Kuril Lake is recognized as the biggest spawning-ground for sockeye in Eurasia. In response to pressure from poaching and to worldwide decreases in salmon stocks, some 24,000 square kilometers (9,300 sq mi) along nine of the more productive salmon rivers are in the process of being set aside as a nature preserve.

It's Friday, so eat up, the bear ain't waiting for you.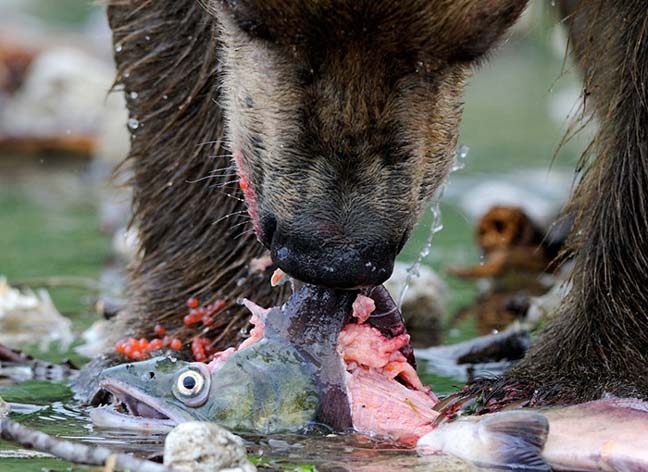 link
---

Snakeadelic Friday Feb 19 09:47 AM

I've watched most of the episodes Netflix has of the show "River Monsters", whose host we refer to as The Mad Angler, and it's got a lot to do with my personal opinion that swimming/playing in 'wild' water is all of the Hell no. A recent episode had him somewhere in far eastern Siberia, can't remember if it was Kamchatka or elsewhere, looking for what turned out to be the only sturgeon with a forward-facing mouth. The rest all have their mouth facing the riverbed, like a ray, but there's one species built like a regular fish and WOW scary.

Just as scary: when he discovered the only way to get anywhere near one without getting arrested because they've been overfished and trying to catch them is very, very illegal, he found a scientific team to catch up with who were allowed to catch & release the things. The river they were fishing in was one of many in the area to have experienced unusually warm temperatures in the water--up to 76 degrees Fahrenheit. The translator went on about how the scientists were saying they kept seeing this problem, because at that temperature most of the salmon trying to mass up to assault the tributaries were dead before they even started changing into their breeding forms.

Siberia's just a scary place. Couple of years ago I read (maybe even on this forum) about a research team in the taiga forests who encountered a vampire moth. Color me NOPE!

---

xoxoxoBruce Friday Feb 19 06:35 PM

Kaluga?

---

Undertoad Friday Feb 19 09:03 PM

But seriously,



Quote:

Salmon flesh is red due to their diet. Salmon gain 99% or more of their body mass in the ocean and the food they eat in the ocean is high in carotenoids (the same pigment that gives carrots color). These pigments are stored in their flesh. As salmon approach their spawning grounds they begin to absorb their scales. The carotenoid pigments in their flesh are transferred to the skin and eggs. By the time they spawn, their flesh is truly white because of all the carotenoids have been moved out of the flesh. The red skin makes them more visible and may signal their readiness to spawn. The pigments may also help the fish absorb oxygen from the water.

I got curious and had to look it up. Here

---

xoxoxoBruce Friday Feb 19 09:42 PM

I can see the change in coloration, many critters do that either with age or for camouflage. But the changes in the shape of the body fascinate me.



Quote:

There is a dramatic sexual dimorphism at maturity.[17] Males go through numerous morphological changes at maturation including, an increase in body depth, hump height, and snout length. Snout size also increases in females, but hump height and adipose fin length do not increase. This could mean that longer snout sizes are sexually selected, but hump height and adipose fin length are not. Females develop large gonads that are about 25% of the body mass.[19]

What? Gonads?

---
Your reply here?

The Cellar Image of the Day is just a section of a larger web community: a bunch of interesting folks talking about everything. Add your two cents to IotD by joining the Cellar.