xoxoxoBruce Saturday Feb 13 11:46 PM

Feb 14th, 2016: Civilized Vigilantes

OK, this is a little wordy and not really the kind of picture IOtD normally does. But the chart, plus it's implications, fascinated me, and I spent hours chasing this, so suck it up. Besides, football is over and it's Valentine's Day, so you have nothing better to do.



In the early days of Britain people were scattered in villages which were microcosms, especially if they weren't on a main highway, pretty much apart from each other in daily doings. Like small towns everywhere, everyone knew everyone in town, and a stranger would be spotted immediately. Everyone also knew what everyone else was up to, so any transgressions were immediately known and handled by the community. Serious offences, murder, manslaughter, or stealing anything worth more than a shilling, were capital crimes, so the Red Queen yelled, off with their heads. Very few jails for temporary holding and even less prisons, for incarceration was expensive. Kill 'em or deport 'em to the colonies, was de rigueur.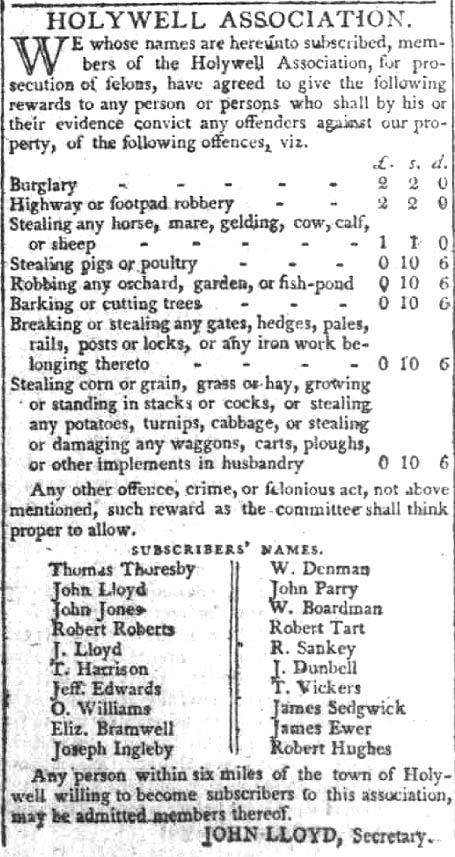 In the late 1700s as the population grew, stealing food became more common, but law enforcement was still scarce and spotty. Wealthy people had the most to lose, but certainly weren't going to be vigilantes hunting thieves. They could, however, best afford to do something about it. So they formed Associations, which I call civilized vigilantes, who posted rewards for anyone catching a thief. This also had a blanket effect protecting neighbors. I'd imagine someone who could afford it and did not join up, would become a social pariah.
See, the rabble have been leaching of their betters for centuries.

Not much money, but to people who had none it was an incentive, forerunner of, if you see something, say something, even spawning professional Thief-takers. When food became scarce in the early 1800s, the problem grew enough that the reward for turning someone stealing a sheep skyrocketed to £50. That would be £3,139 today. For one sheep. You can imagine the railroading that went on.


link
link
link
link
to name a few. We'll now return to normal IOtDs.

---

Carruthers Sunday Feb 14 05:01 AM

I wonder how many innocent souls ended up being convicted?
Those whose faces didn't fit, the 'odd', the slow witted, the gullible, those with grudges held against them, what would it matter?
Which horny handed son of toil with a life expectancy of fifty years is going to pass up the opportunity to turn someone in when there's a couple of quid to be had?

---

Griff Sunday Feb 14 09:34 AM

A stranger in town becomes an opportunity to pin someone foreign with your crime, could get ugly.

---

Carruthers Sunday Feb 14 10:01 AM

Quote:

Originally Posted by

Griff

A stranger in town becomes an opportunity to pin someone foreign with your crime, could get ugly.


From Punch Magazine, 1854.

---

Diaphone Jim Sunday Feb 14 12:49 PM

The American military and the CIA used this system after 9/11 in Afghanistan and elsewhere.
It created a thriving business in collecting huge rewards for turning in people one didn't like as somehow linked to Al-Qaida.
There are still some at Gitmo.

---

BigV Sunday Feb 14 02:01 PM

Neighborhood policing continues today, here's one from my neighborhood.

---

xoxoxoBruce Sunday Feb 14 02:38 PM

Quote:

Meanwhile another busy crime season is approaching...

Damn, V, how do you decorate for crime season?
Knock out every third streetlight and strew some trash on the sidewalk for that noir effect?

---

BigV Wednesday Feb 17 04:51 PM

Ummm, Griff, you want to field xoB's question?

---

xoxoxoBruce Wednesday Feb 17 09:48 PM

How would Griff know how Whittier Heights decorates for crime season?

---

BigV Thursday Feb 18 12:14 AM

well fuck if I know. I had this super vivid hallucination that you'd quoted Griff and attributed it to me. I was trying to politely redirect your question.

Now, awake, I see I was completely fucked up. In the middle of the day.

Taaaake me to the river, washing me down, washing me down... wtf?

---

Griff Thursday Feb 18 07:35 AM

I thought I had a stroke...

---
Your reply here?

The Cellar Image of the Day is just a section of a larger web community: a bunch of interesting folks talking about everything. Add your two cents to IotD by joining the Cellar.