xoxoxoBruce Thursday Feb 11 12:43 AM

Feb 11th, 2016: Liquid Mountains

Of the five Great Lakes, who's total surface area is about the same as the land area of the UK, the next to the smallest is lake Erie.
Erie is the 11th largest in the world by surface area, at 9910 sq miles(25,700 sq kilometers). The big difference in Erie is it's shallow,
with an average depth of only 62 ft (19 m) and the maximum depth is only 210 ft (64 m), which also makes it violent, claiming at
least 1400 and possibly 8,000 ships.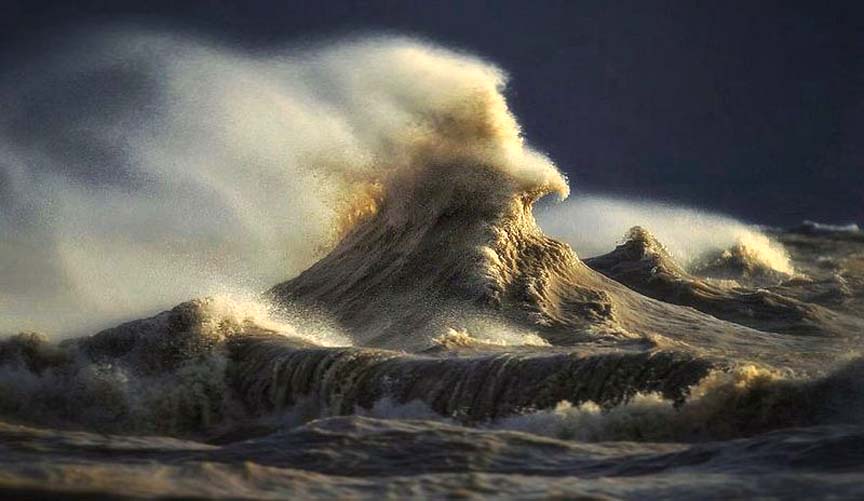 Now on the other side of Erie is home to the Canucks, nice people mostly, but like any country there's a few who are nuts.
One in particular, David Sanborn, is really, really, bonkers.
Why do you say that?
He took these pictures.
Well, taking pictures doesn't make him bonkers.


Quote:

Around this time of the year the lake is at its most violent. The wind lashes at 50 km per hour and temperature plunges below zero. On days like these when most people avoid the lake, Sandford drives out to the lake's shore before sunrise, gets into a wetsuit and wades out into the surf with his photographic gear. If the waves become too rough, he retreats to the shore and shoots with a long lens.

link
I rest my case. (looking all smug and shit)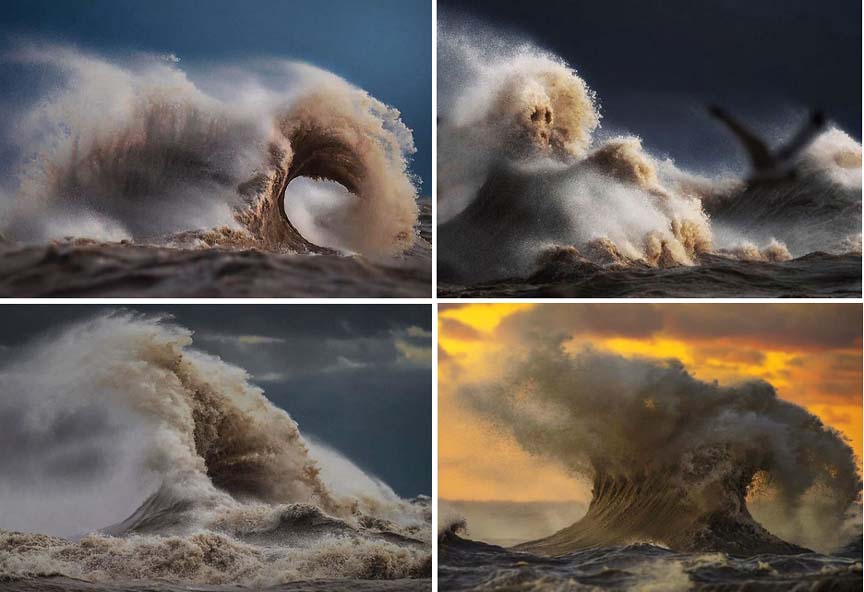 Sanford makes a living as a sports photographer, so of course he gets into risky situations once in awhile.


Quote:

He keeps an eye out for the weather conditions that come together to create the incredible wave formations he captures. Those weather conditions usually coincide with 65 mph winds that send the water of Erie 25 to 35 feet into the air. And that's when Sandford heads to the shores of Erie with his 400mm and 70-200mm lenses, sometimes shooting for six hours at a time in air as cold as -2 to 14 degrees Celsius. His dedication and passion have paid off with incredible, surreal images of the roiling waters that Sandford calls "liquid mountains."

link
Wading in a wet suit? Bonkers!

---

Griff Thursday Feb 11 07:29 AM

Gorgeous.

---

Snakeadelic Thursday Feb 11 08:24 AM

That 4-pic collage...top right photo...left edge of photo...am I the only one who sees eye sockets, a raised robed arm, and a toothless howling mouth in that liquid mountain? Cuz, like, they weren't already scary enough...not sure about the V-shaped shadow on the other side of that pic...

My hat is off to this brave man. I've watched too many episodes of River Monsters and am extremely difficult to persuade that anything is worth going more than half-shin deep in wild fresh water. As for salt water, well, spending 5 years of my misbegotten youth in a beachside tourist trap taught me NEVER turn my back on the Pacific unless I'm above the high tide line! Every summer we'd lose a tourist or two, usually out on the rocky areas, to sneaker waves.

---

glatt Thursday Feb 11 08:39 AM

I didn't see that face initially, but now that you mention it. Yes. It's freaky. It's captioned as "Eerie Erie" at the WashingtonPost link.

This guy has caught some amazing images. Worth clicking through on both of Bruce's links. Good find, Bruce!
Attachment 55193

---

xoxoxoBruce Thursday Feb 11 11:27 AM

Pig nose.

---

Carruthers Thursday Feb 11 03:02 PM

Quote:

...the five Great Lakes, whose total surface area is about the same as the land area of the UK...

That stirs a memory.

On the way home from one of my USA trips, the first leg of the flight was from Denver to Newark.
There had been some delay in departure from Denver because of strong winds at Newark which had reduced the landing rate.
In order to at least get airborne, a new flight plan was filed taking the aircraft into Canadian airspace and approaching Newark from the NW.
The in flight entertainment didn't include a moving map display so I was somewhat puzzled when I 'saw the sea' far below.
On United Airlines you can, or could, select channel 9 on the IFE and listen to the Air Traffic Control exchanges with the aircraft.
Once I had done this, and heard that they were working Toronto Centre, I realised that it was one of the Great Lakes that I was looking at.
A quite astonishing sight and, with luck, I'll perhaps get to see one or more of them from the ground one day.
I live in hope!

---

xoxoxoBruce Thursday Feb 11 07:06 PM

Yes, channel 9! I use to check that out once in a while. One time I had a late night Chicago to Philly flight, the only one in first class on a 747. I checked channel 9 and listened to it the whole way because there were severe thunder storms, so there was constant chatter between the plane and various controllers. They had us constantly changing course to fly around these storms like a slalom through cones.

---

orthodoc Saturday Feb 13 07:02 PM

We drove the entire north shore of Lake Superior early in 1985 when we were deciding where to spend the year we owed the government after graduation. I'd seen Ontario, Erie, and parts of Georgian Bay ... the lakes are incomprehensibly huge, but Superior was beyond huge. One of the days of driving, we could see the Sleeping Giant the entire time. It's nothing relative to the size of the lake.

In school, not one teacher ever emphasized the amazing treasures we had at our doorstep. The attitude toward the Great Lakes was very blasé. I can't understand it; to me they are amazing, fantastic.

---

glatt Saturday Feb 13 09:12 PM

I've only seen bits of them maybe twice and I agree. They are the ocean without the salt water.

---

xoxoxoBruce Saturday Feb 13 10:53 PM

The elevations blow me away...
Superior 600 ft
Michigan 577 ft
Huron 577 ft
Erie 571 ft
Ontario 246 ft
The St Mary river from Superior to Huron must be honking, and the St Clair river between Huron and Erie that runs by Detroit must move pretty good too.

---
Your reply here?

The Cellar Image of the Day is just a section of a larger web community: a bunch of interesting folks talking about everything. Add your two cents to IotD by joining the Cellar.