xoxoxoBruce Monday Feb 8 01:03 AM

Feb 8th, 2016: Serra Pelada (Naked Mountain)

Serra Pelada (Naked Mountain) is in Brazil where giant ants swam over the... naw, just kidding.
Them be people swarming, a 100,000 of them carrying sacks of dirt weighing between 45 and 65 lbs, out of that hole.
Why? For money of course, dig, fill and carry for 20 cents a bag.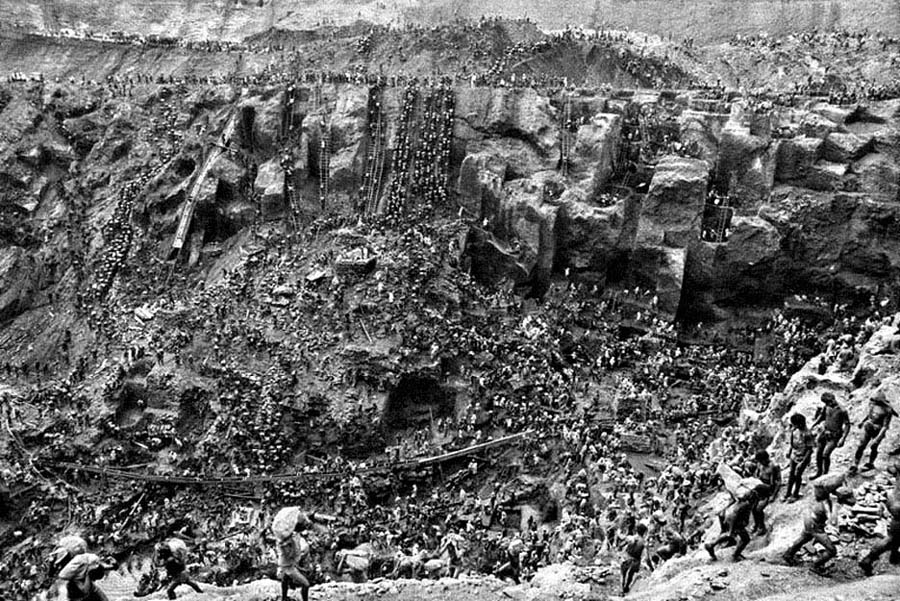 Oh, and the second reason was gold.


Quote:
A local child swimming on the banks of a local river found a 6 grams (0.21 oz) nugget of gold. Soon word leaked out that indeed da Silva was sitting upon one of the largest deposits in the world. By the end of the week a gold rush had started with thousands of people descending on the farm to mine. Five weeks later, there were 10 000 on Ferreira's property and another 12 000 nearby. Huge nuggets were quickly discovered, the biggest weighing nearly 15 lb, $108,000 at the 1980 market price.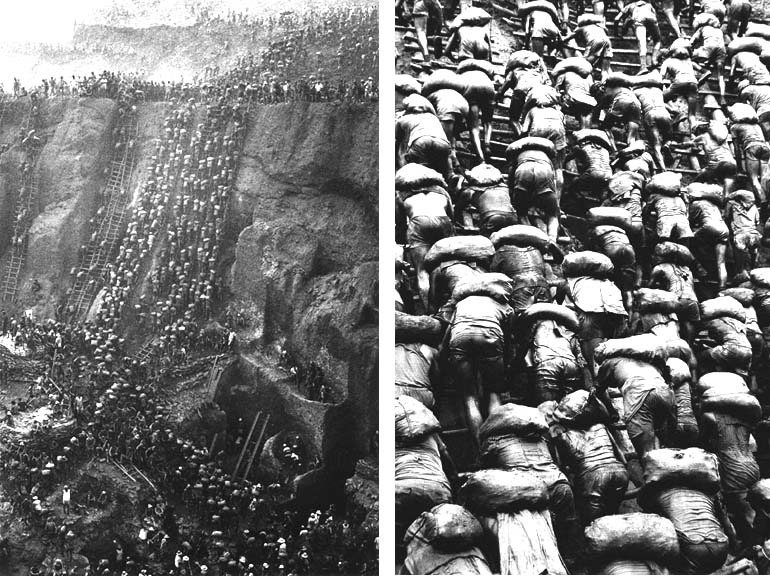 Quote:

Early in the history of the mine, the Brazilian military took over operations to prevent exploitation of the workers and conflict between miners and owners. Before the military takeover basic goods were sold for hugely inflated prices by the mine owners; water cost $3 a litre

While the military government banned women and alcohol at the actual mine, the nearby town became a town of "stores and whores". Thousands of underage girls prostituted themselves for gold flakes while around 60–80 unsolved murders occurred in the town every month.

What a great opportunity, vacation there, come back in great shape, and maybe find enough gold to pay for your whole vacation.
Officially they dug 45 tons of gold out of that hole, but word on the street is 90% was smuggled away uncounted.
Photo credit: Sebastião Salgado
link
link

---

Snakeadelic Monday Feb 8 08:16 AM

I thought that looked REALLY familar, especially the third photo.

http://tinyurl.com/gn4jx3k Front cover

http://tinyurl.com/hf7gnjk Back cover

I might be the only person in my current home state who still has (or ever had) this album. On vinyl.

Scary thought that people are so desperate they will manually disassemble a MOUNTAIN for the sake of a few flecks of the right elemental metal.

---

glatt Monday Feb 8 08:28 AM

The images at the first link are amazing.



Quote:

Later, when talking about the captivating images, [the photographer] had said: "Every hair on my body stood on edge. The Pyramids, the history of mankind unfolded. I had travelled to the dawn of time."

So hard to believe that was the 1980s.

---

glatt Monday Feb 8 08:33 AM

I think the choice to shoot in black and white makes these pictures more powerful and timeless.

---

Undertoad Monday Feb 8 08:34 AM

Quote:

I might be the only person in my current home state who still has (or ever had) this album.

Well hell, what's your current home state? I had it, probably could still find the disc and I saw Jerry Harrison live at the Cabaret back in the day, and he was outstanding. I --

Oh!

---

footfootfoot Monday Feb 8 08:52 AM

Salgado is an amazing photographer. I think Nowhere Man has an anecdote about him.

---

Gravdigr Monday Feb 8 12:46 PM

Second link works.

---

glatt Monday Feb 8 12:53 PM

Bruce's first link, not Snake's first link.

---

Gravdigr Thursday Feb 11 04:04 PM

Ah. Gotchya.

---

Diaphone Jim Friday Feb 12 12:08 PM

For all its beauty and utility, gold has always been drawn forth in cruel and harrowing ways.
I probably couldn't even climb one of those ladders, but to make it worse, the loads were not 45 to 65 pounds but 90 to 150 (30-60 kg).

---

Diaphone Jim Friday Feb 12 12:13 PM

Whoops. 66 to 132 pounds.

---

xoxoxoBruce Friday Feb 12 02:51 PM

You're right, I fucked up my pounds and kilograms.
Looking at the picture, the size of the bags don't look that heavy. Comparing them to 50 lb bag of concrete, that must be awful heavy soil.

---

Gravdigr Friday Feb 12 03:21 PM

Gold is dense.

---

xoxoxoBruce Friday Feb 12 03:32 PM

Not much gold in those bags, maybe coprolite.

---

glatt Friday Feb 12 04:05 PM

They look like bags of mud to me.

---

BigV Friday Feb 12 04:11 PM

---

xoxoxoBruce Friday Feb 12 08:46 PM

---

JuancoRocks Saturday Feb 13 01:45 AM

Amazing photos....at that link..... I just wonder about the load bearing capacity of those stick ladders. How often does somebody lose their grip and fall? What happens to the people underneath and below them? How many are taken out at a time?

On another note, not a fat person to be seen and they all have legs of steel.

JR

---
Your reply here?

The Cellar Image of the Day is just a section of a larger web community: a bunch of interesting folks talking about everything. Add your two cents to IotD by joining the Cellar.