xoxoxoBruce Sunday Feb 7 01:00 AM

Feb 7th, 2016: They're Coming For Your Knobs

Y'all need to hide yo kids, hide yo wife, and hide yo husband, 'cause they comin' fo yo knobs! Join the NDA, the National Doorknob Association!

It started, like most of these socialist movements, in a for corner of the Earth, Vancouver, British Columbia. It's common knowledge, as goes Vancouver, so goes Canada. Then the other peaceniks like Scandinavia, Iceland, the UK and Australia, will be whining to the UN to pass a resolution. First thing you know, we in the land of the free and the home of the brave, will be subjugated by the socialist peaceniks.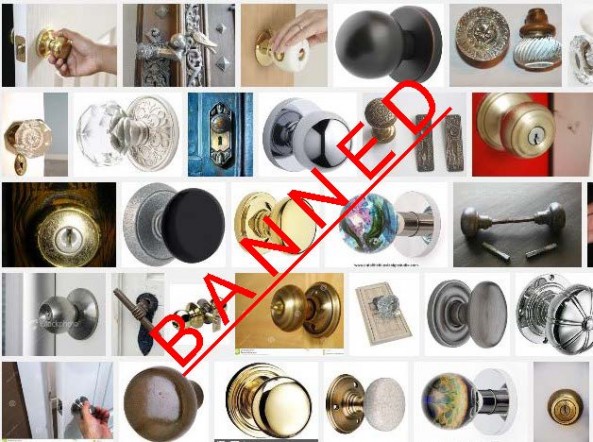 Quote:

For some, the humble round doorknob is unremarkable and utilitarian, a simple tool, a means to an end. For others, it is a piece of art, an object of beauty, an architecturally significant adornment on the welcoming portal to a building. For others, it is so synonymous with ordinariness that a "knob" is a pejorative word for being dull or stupid.
In Vancouver, the doorknob is heading into a setting sun. Its future has been date-marked, legislated out of existence in all future construction, a tip to society's quest for universal design and the easier-to-use lever handle.

link
Of course the damn whippersnapper socialist cells right here, joined in to tell us what's best for us.


Quote:

The idea behind Vancouver's decision is that, despite being of a more vintage grade than levers, doorknobs kind of suck. Ergonomics studies investigating different types of water-dispersing mechanisms have shown that lever-style faucets are far preferable to their knob counterparts. (Yes, there are studies for everything.) Knobs, you see, involve pronating and supinating your wrist, (stretching it, basically) which is less fun for everyone, but probably won't make you run out and immediately switch to levers. Maybe you like your nice art deco knobs.

Unless, that is, you're elderly. You get older, maybe you get arthritis, and this doorknob-to-lever issue stops being academic. Other studies have shown that the type of handle a door has is important to the elderly, and that lever-style knobs function better. One of the most in-depth studies I could dig up, a look at homes for the elderly in Malaysia, went so far as to study the actual measurements of people in homes for the elderly, and apply that to ergonomic door design. A snippet of the team's findings:

link
Even tw's socialist bible joined the enemy.


Quote:

The rules have provoked grumbling about the nanny state, much of it from doorknob manufacturers. The Canadian Home Builders' Association (CHBA) complains that Vancouver, the only city in Canada with the power to determine its own building code (elsewhere it falls to provincial governments), changed the rules on its own, instead of asking for a revision of the national regulations, which would have triggered more detailed cost studies.

These complaints pale in comparison to a more sinister worry. True, elderly and disabled people find it easier to operate doors with handles. But so do bears. In British Columbia, bears have been known to scavenge for food inside cars—whose doors have handles, knob advocates point out. Pitkin County, Colorado, in the United States, has banned door levers on buildings for this very reason. One newspaper columnist in the pro-knob camp has noted that the velociraptors in "Jurassic Park" were able to open doors by their handles.

link
Not just bears, dogs and cats will be sneaking out and stealing cars to hit the burger drive through windows that stay open late.

We installed them for my mother and I put a couple in my house. Yes they are easier to use but both my mother and myself found they catch on clothing and things being carried. So best for closets where you aren't just passing through. Your mileage may vary.

---

Carruthers Sunday Feb 7 05:34 AM

It's the thin end of the wedge, I tell you.

Doorknobs today, bedknobs tomorrow.

Attachment 55152

It's a call to arms, if ever I heard one.

---

Scriveyn Sunday Feb 7 06:05 AM

Along with sash windows, I've always found doorknobs extremely impractical.
You can't open a door with a doorknob when your hands are full.

---

Clodfobble Sunday Feb 7 07:27 AM

Toddlers also open levers easier. When Minifob was 2-ish, we had to replace the lever knob on our front door because the child-proofing things for levers are weak (given the fulcrum physics of levers) and he kept being strong enough to break it and get out.

The only other way to keep him in (which my friend does, and we did consider) would have been installing an interior key lock and requiring a key to leave the house every time. Of course that's against building fire safety codes, too, so if I'm already a criminal I might as well get online and buy some contraband round knobs. Just tell the company to put it in an unmarked package.

---

footfootfoot Sunday Feb 7 11:38 AM

First they came for the incandescent bulbs and I said nothing...

---

DanaC Sunday Feb 7 11:40 AM

i miss my incandscent bulbs.....

---

footfootfoot Sunday Feb 7 11:55 AM

---

xoxoxoBruce Sunday Feb 7 01:00 PM

They'll find your incandescent bulbs with heat scanners in drones, then kick your door in at 3 AM with nut crushing concussion grenades and rabid dogs with stainless steel teeth.

---

Gravdigr Sunday Feb 7 01:18 PM



---

glatt Sunday Feb 7 04:11 PM

This is a sucky time to live in if you don't like change.

---

Gravdigr Sunday Feb 7 04:25 PM

Tell me about it.

---
Your reply here?

The Cellar Image of the Day is just a section of a larger web community: a bunch of interesting folks talking about everything. Add your two cents to IotD by joining the Cellar.