xoxoxoBruce Saturday Feb 6 01:26 AM

Feb 6th, 2016: Classy Spackle

Drywall is heavy, dirty, nasty work, I hate doing it. But it's a lot faster and easier than plaster, plus it's pretty straight forward.
The artist is the taper, he's the guy that hides all the fasteners, smoothes the corners, and makes the surface ready for the finish
of your choice. The choices were pretty much paint, wallpaper, or a kid with a crayon, but now you can chose spackle.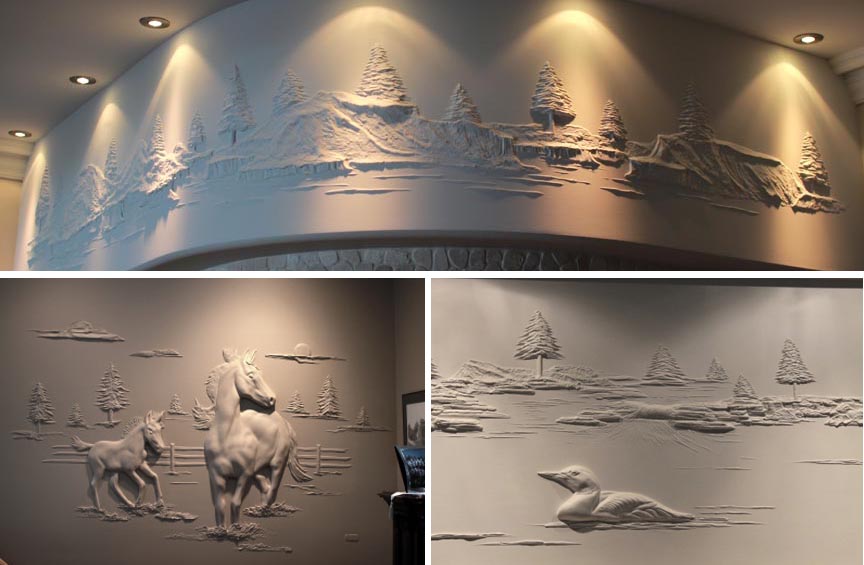 However, if you choose spackle I would recommend letting Bernie Mitchell do it. Bernie's a drywall contractor with an extra skill,
sculpting 3-D murals with spackle. He also has an artist's eye and understanding of how lighting makes things pop. You might be able
to hire him because Sistine Chapels are few and far between. But if you can't, he has a bunch of tutorial videos to show how to do it.
You could have Han Solo on your wall.

I recommend seeing the videos at his site but if you don't want to click here's a sample.

Oh, and if you screw it up, just scrape it off and start over.

---

orthodoc Saturday Feb 6 05:44 AM

Wow. I started out looking up the differences between spackle/Polyfilla and plaster, but that video left me in awe.
Not to be a wet blanket, but I wonder how it cleans (especially since he does fireplace work)? You wouldn't want to paint or coat that surface with anything much, I don't imagine. I can't find anything about that online.

---

xoxoxoBruce Saturday Feb 6 10:13 AM

Yes, I thought about dust also. But I guess if you can afford that stuff, you tell the upstairs maid, to tell the downstairs maid, to tell the butler, to tell the housekeeper to handle it.

---

footfootfoot Tuesday Feb 9 10:55 AM

You could probably just seal it with a clear coat, sprayed on.

---

Gravdigr Tuesday Feb 9 01:57 PM

I think you can even get flat clear. So it don't shine.

---

xoxoxoBruce Tuesday Feb 9 05:35 PM

That would seal the surface against stains and deep dirt, but still be a bitch to keep clean.

---

jeni605 Monday Aug 29 07:09 AM

Tailored Dissertation Writing Services Free from Plagiarism

We provide unsurpassed dissertation writing services to our valuable clients. Our experts are good at preparing your coursework within the deadline.
<a href="http://dissertationproposalwritingservice.com">Thesis Writing Service</a>

---

jeni605 Monday Aug 29 07:18 AM

Thesis Writing Service

We offer help with various work related to Thesis Writing Service editing or writing, custom proposal, coursework etc.

---

jeni606 Tuesday Aug 30 05:13 AM

Essay Writing Service

We are here at your service all the time to help you with the best and suitable Paper Writing Service maintaining the exact format that you require. Essay Writing Service

---

sexobon Tuesday Aug 30 06:28 AM

I wanted an Assay service for my stockpile of gold, not an Essay service!

Reading comprehension jeni606.

---

glatt Tuesday Aug 30 08:40 AM

Cheeky bastard came back the next day as another user and just changed the number at the end of her user name.

---

Gravdigr Tuesday Aug 30 01:55 PM

Waitin' for jeni607...

---

jeni045 Wednesday Aug 31 12:58 AM

Best Academic Writing Service from Expert and Dedicated Writers

Getting Dissertation Writing Services has become easy now because we offer you superior papers crafted by our expert writers. Get unsurpassed assignment help as per your requirements.

---

sexobon Wednesday Aug 31 01:18 AM

Jeni loves gla-at, jeni loves gla-at.

You two should get your own NSFW thread.

---

sexobon Wednesday Aug 31 01:21 AM

Hey glatt, I think jeni wants to service you.

---

sexobon Wednesday Aug 31 01:25 AM

This could be leading up to a jeni69. Oh my!

---

sexobon Wednesday Aug 31 01:27 AM

Ask her if she has a sister named jeni666. I like the bad girls.

---

sexobon Wednesday Aug 31 01:39 AM

Try this line on her - [CaryGrant] jeni, jeni, jeni [/CaryGrant]

---

sexobon Wednesday Aug 31 01:42 AM

Grav is still all by his lonesome waiting for his one true love ... jeni607.

---

sexobon Wednesday Aug 31 01:46 AM

Feel free to try an IP ban if jeni045 turns out to be fickle.

---

sexobon Wednesday Aug 31 01:59 AM

You can delete my posts here and don't forget to lock the thread when you leave.

---

SPUCK Wednesday Aug 31 04:05 AM

Back on track:

You'd have to paint that, you cannot leave Spackle unpainted. Well, unless you're a redneck and don't mind it crumbling off over the next few years. Hey! Then visitors can try to guess what they're seeing!

---

Gravdigr Wednesday Aug 31 01:49 PM

Quote:

Originally Posted by

sexobon

Grav is still all by his lonesome waiting for his one true love ... jeni607.

♪ ♫Jeni Jeni who can I turn to♪ ♫
♪ ♫You give me something I can hold on to♪ ♫
♪ ♫I know you'll think I'm like the others before♪ ♫
♪ ♫Who saw your name and number on the wall♪ ♫

♪ ♫Jeni I've got your number♪ ♫
♪ ♫I need to make you mine♪ ♫
♪ ♫Jeni don't change your number♪ ♫

---
Your reply here?

The Cellar Image of the Day is just a section of a larger web community: a bunch of interesting folks talking about everything. Add your two cents to IotD by joining the Cellar.