xoxoxoBruce Monday Feb 1 11:30 PM

Feb 2nd, 2016: Scot's Stone Balls

During the last 150 years, over 400 carved stone balls have been dug up in northeast Scotland. Each have between 3 and 160 knobs or bumps, but usually 6. There has been tons of speculation about what they were used for, from scale balance weights to hunting weapons, but none have been found damaged or worn.

This most impressive example is named the Towie Ball, after the town where it was found, and is judged to be from 2500 BC.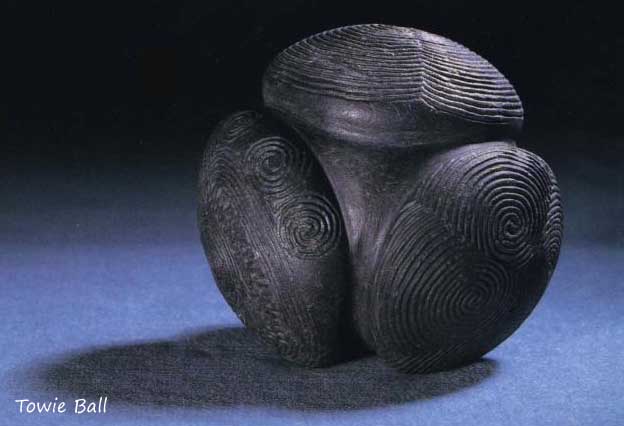 Since practical use as tools seems to be ruled out by condition, speculation has turned to teaching aids. Platonic solids and solid geometry are being bandied about. I suppose since nobody really knows, everyone is allowed their pet theory, but if they've found 400 and they're really that old, there must have been a lot of them. I doubt there was that many math scholars in North East Scotland 4000 years ago.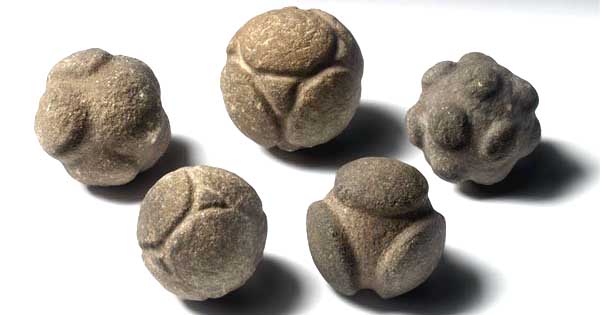 link

---

Griff Tuesday Feb 2 07:19 AM

These are cool, very cool. Art or not art? I kinda like the scale weight theory.

---

Snakeadelic Tuesday Feb 2 08:25 AM

Primitive Druidic ancestor of Rosary beads? The smallest might have been parts of some kind of game, maybe? Divination tools? So many possibilities!

I know two people who'd just about kill to get hold of one...one's a modern Druid and the other is a known descendant of Clan MacGregor and Rob Roy.

---

glatt Tuesday Feb 2 08:34 AM

The running joke when I was a lad visiting National Park visitor centers all over the US where they would often have artifacts on display was that anything that wasn't clearly identified as a knife or arrowhead or something was always labeled as having "religious significance." It's like the Department of the Interior had sent a memo out or something.

So, clearly, these balls have "religious significance."

---

Gravdigr Tuesday Feb 2 10:28 AM

I know mine do.

---

Gravdigr Tuesday Feb 2 10:30 AM

Maybe the were used for hunting. The grooves/knobs were to hold the rope of the sling in place?

---

limey Tuesday Feb 2 11:11 AM

---

glatt Tuesday Feb 2 11:17 AM

---

Happy Monkey Tuesday Feb 2 12:05 PMI noticed that, too.

---

Clodfobble Tuesday Feb 2 12:05 PM

The sneaky bit is that none have ever been found with any wear, and they've found a lot. So they were either used in something careful, or destroyed completely in their use. Or possibly any significant wear was quickly sharpened out by making deeper grooves. That would explain why the smaller ones have smaller (deeper-cut) bumps.

---

Diaphone Jim Tuesday Feb 2 12:34 PM

A top-notch IOTD post, Bruce.
It should come as no surprise that for 4000 years Scotsmen have Pict their noses and played with their balls.
There is alot online about these artifacts, with their intended function always in question and their beauty not.
They may not have been for throwing, but the fact that they are almost exactly the same size as a baseball is interesting.
About half are very close to identical size and often in areas where monoliths have been transported. Ball bearings?
Their possible use as gaming pieces or money can't be discounted.
I think I will spend some more time reading about them.

---

glatt Tuesday Feb 2 12:51 PM

Money is the best answer yet, IMHO.

---

sexobon Tuesday Feb 2 05:18 PMpet rocks. The Scots simply domesticated them with carvings.

---

orthodoc Wednesday Feb 3 12:32 AM

Agree with glatt; these look like units of currency based on weight. Otherwise ... Ben Wa balls to make the highland cattle happy and ready to breed, thus enriching the owner?

Because if they represent currency, there should be more around - but if they represent a rich landowner's experiments in geometry and practical husbandry, (gone regional, say) the number of balls found would make more sense.

It's a theory ...

---
Your reply here?

The Cellar Image of the Day is just a section of a larger web community: a bunch of interesting folks talking about everything. Add your two cents to IotD by joining the Cellar.