xoxoxoBruce Monday Jan 18 01:20 AM

Jan 18th, 2016: Nail Houses

You know how big old houses have a foyer where you could talk to people without them actually coming into the house proper? Well when China decided the path to riches and power was trading with the outside world, they chose certain coastal cities act like foyers, which would keep foreigners from traipsing though the house willy nilly. One of the chosen is Shanghai, and it would take more than hanging nice curtains and a cool rug. Cue severe urban renewal. With Chinese efficiency, knock down the city and build a new modern(western looking) one. But some people didn't want to trade their houses for an apartment in a concrete high rise, they wanted to stay in their "nail house".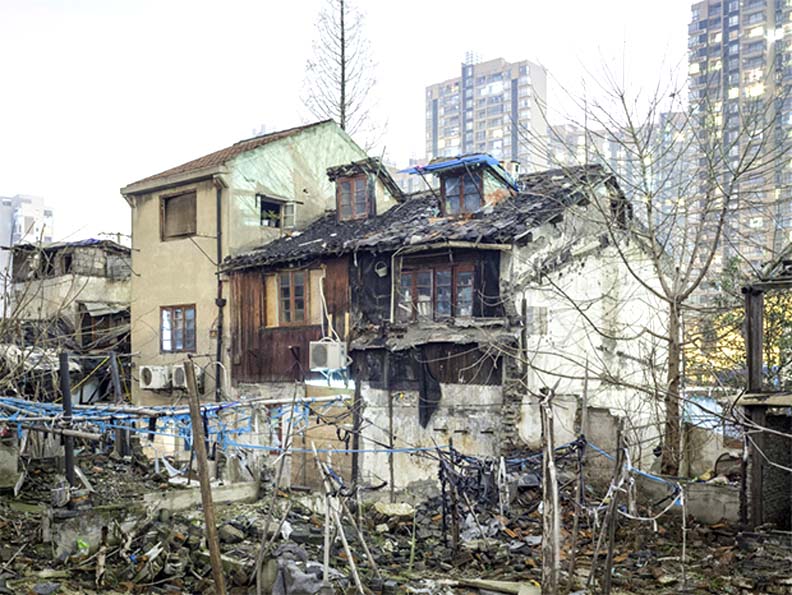 Quote:

The photographer calls these often dilapidated homes Nail Houses because, similar to old nails driven into a slab of wood, they are intractable. Despite pressures from developers, these homeowners have stubbornly and steadfastly held on the their properties, protecting them from certain demolition in the face of rapid urbanization.

When a house is set to be razed, explains the photographer, itís marked by the same white chalk that has announced the leveling of countless homes and historically significant neighborhoods. Shanghai, in its haste to keep up with metropolitan behemoths like Beijing, has replaced time-honored, traditional housing with cosmopolitan high-rise apartments. For the owners of the Nail Houses, their longtime homes are more valuable than whatís offered for their properties, and by standing up, persisting and holding fast to what matters most to them, they risk eviction and forcible removal.

Thanks to the perseverance of these citizens, the government now grants private real estate the same protection under law as public property, meaning that people now have legal means to demand fair compensation for their homes.

Makes me wonder if these people want to stay where the family has lived for generations, or is it about Mo Money?

link
---

Carruthers Monday Jan 18 11:48 AM

Not an exact parallel, I'll admit, but the Nail House reminds me of the farmhouse and buildings between the two carriageways of the M62 near Manchester.



Worth watching if only for the Border Collies.

---

Griff Monday Jan 18 12:32 PM

I love that he's keeping on. It can't be easy.

---

xoxoxoBruce Monday Jan 18 12:56 PM

Bless him, of course they just had to go both sides of him out of engineering concerns, not spite.
Here they would have eminent domained right over him like a steamroller.

---

Diaphone Jim Monday Jan 18 01:15 PM

Since I am still without video service thanks to an AT&T enforced dial-up internet connection, I have to miss the shepherd link.
I do encourage looking through the linked photos of other "nail houses" in Shanghai. Each one has things that makes one ask "what the heck is that."
It is hard to figure out which ones are homes and which, as Bruce asks. just Mo Money hold outs.
The example he picked does seem to show a progression from right to left, from a short original to a livable three-story.
What is the blue, stringy stuff?
And what are the weird hats on some of the high rises?

---

Diaphone Jim Monday Jan 18 04:00 PM

On closer inspection, the blue stuff appears to be leftovers of a tarp.

---

xoxoxoBruce Monday Jan 18 04:52 PM

Some of those high rise hats look link swamp coolers(A/C) and others look like guard towers, but maybe social places, like a roofed patio with low walls. Snipers have a social life too.

---
Your reply here?

The Cellar Image of the Day is just a section of a larger web community: a bunch of interesting folks talking about everything. Add your two cents to IotD by joining the Cellar.