xoxoxoBruce Thursday Jan 14 12:09 AM

Jan 14th, 2016: Movie Props

Besides the big buck people you see on the silver screen, the frame is usually filled with scenery and props. Besides John Wayne there's a ten gallon hat, a couple guns, maybe a saddle, a rope, all the things that complete the feel of the time and place. Some directors have pet props which show up in all their films. Quentin Tarantino's pet is products with the Red Apple label, and Ross MacDonald was called upon to make it happen for the latest film.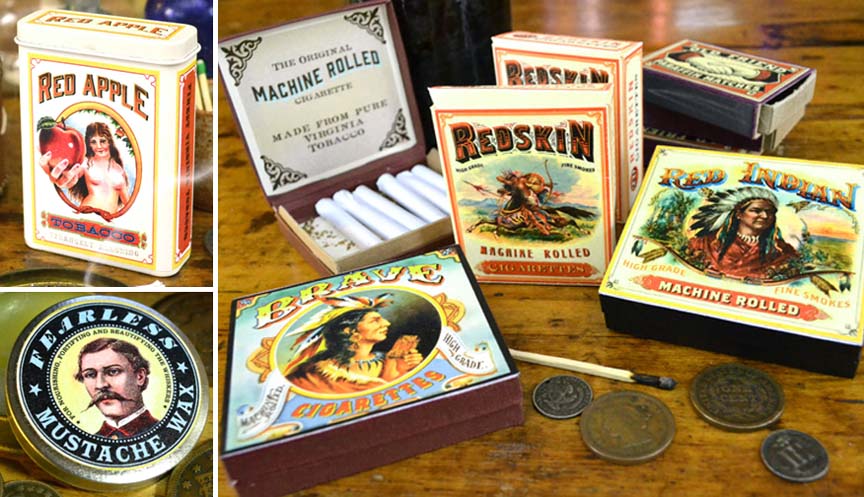 Quote:

One of those was the Red Apple tobacco tin. Red Apple is an iconic Tarantino brand that has appeared in every one of his films since Pulp Fiction. The Red Apple cigarette packages in those other films had an image of an apple with a cartoon worm popping out of it. When propmaster Don Miloyevich commissioned me to redesign the brand for this movie, we talked about doing something different – not just in terms of making it more fitting to the period but reimagining it altogether. I drew inspiration for the illustration from lush late 19th century chromolithographed tobacco packaging. The addition of Eve and the serpent gave it a classical look, and yet somehow a looming hint of something ominous.

Most of the things I made were designed on the fly during production, so sometimes I made different versions so the director and actors could see which they preferred. They knew they wanted the Red Apple brand to be loose tobacco, but weren't sure about the packaging. I made both sacks and tins, and the tins were chosen. I also made a counter display, which shows up in the background on the store shelves.

Loose tobacco needs matches and rolling papers. The matchboxes were each made by hand from thin basswood that was soaked overnight, then scored, cut, folded, and wrapped in the traditional purple tissue paper. The original version of the label said 'safety matches', since those were in common use at the time. But the director wanted to use light-anywhere matches, so I changed the label and made new larger boxes.

MacDonald even sells props used in movies and copies at his site. For example, the ones used it the film are gone, but you can get a replica of the President's Book of Secrets for $5000 + $50 shipping. You know, in case you won the Lotto.

---

busterb Thursday Jan 14 01:29 AM

I guess it sad that I know about some of those.

---

Snakeadelic Thursday Jan 14 08:44 AM

Many, many moons ago I was quite active on the Pacific NorthWet science fiction convention scene, mostly in western Oregon and Washington. Top of my resume from those days is pro-guesting Norwescon for 8 years running.

One year, they had the fantastic fortune to get Dragon Dronet to attend. In addition to doing panels (which all either filled way before I could find the right room or conflicted with panels I was part of) he brought a no-photo, no-touching exhibit for the art show, a great big lighted case full of movie props. I happened to be setting up my miniature animal sculptures on a nearby table and took the chance to sneak over and drool for a moment.

Sadly, he was unable to accept my offer of "I will buy an 8-pound box of Super Sculpey and make anything you want in trade for THAT", because THAT was the Julie Newmar photo Patrick Swayze stole off the restaurant wall in To Wong Foo, Thanks For Everything, Julie Newmar. The photo was on loan from its actual owner, drattit.

A few other things caught my eye...the crossbow from the Sigourney Weaver & Sam Neill Snow White, an open egg from Aliens, and his very first project in Hollywood, a little primitive idol that was unmistakable even without its coat of gold leaf--it's the one from the beginning of Raiders of the Lost Ark! While we were chatting, he was sorting other items, one of which was just a plain piece of blackish plastic in a vaguely triangular general shape. I picked it up and asked what the heck it was.

Instead of ripping my hand off for touching without permission, he just chuckled a little and said "Oh, that's the codpiece from Locutus of Borg."

I wish there existed ANYWHERE a picture of the look on my face.

---

xoxoxoBruce Thursday Jan 14 12:05 PM

Eeewwww, do you handle food with those same hands.

---

Griff Monday Jan 18 01:02 PM

Ha!

---
Your reply here?

The Cellar Image of the Day is just a section of a larger web community: a bunch of interesting folks talking about everything. Add your two cents to IotD by joining the Cellar.