xoxoxoBruce Sunday Dec 27 11:32 PM

December 28th, 2015:Inuksuk or Inukshuk

Limey's discovery of stone piles, along the Ottawa River, and they are called Inukshuk, peaked my curiosity.
Inuksuk (also spelled inukshuk, plural inuksuit) is a figure made of piled stones or boulders constructed to communicate with humans throughout the Arctic.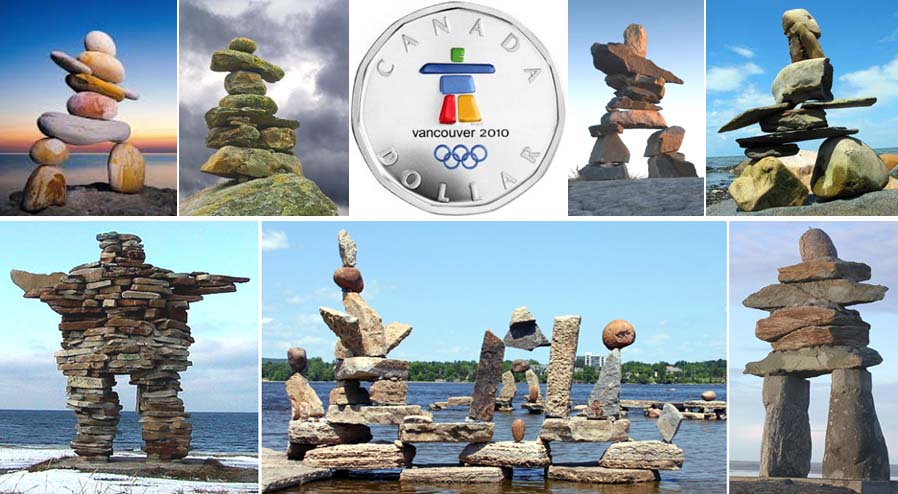 Quote:

Traditionally constructed by the Inuit, inuksuit are integral to Inuit culture and are often intertwined with representations of Canada and the North.
A red inuksuk adorns the flag of Nunavut. In Inuktitut, the term inuksuk means "to act in the capacity of a human."
It is an extension of the word inuk meaning "a human being."
Inuksuit have been found adjacent to archaeological sites dating from 2400 to 1800 BCE (see Prehistory) in the Mingo Lake region of southwest Baffin Island.
While stone figures resembling human forms are often referred to as inuksuk, such figures are actually known as inunnguaq.
Inunnguaq, which means "in the likeness of a human, with head, body, legs and arms, its purpose is more symbolic than functional.
Among their many practical functions, they are used as hunting and navigational aids, coordination points and message centres.
In addition to their earthly functions, certain inuksuk-like figures have spiritual connotations, and are objects of veneration.

But I think the Inukshuk pictured above are the result of that intertwining with Canadian culture. Not exactly for the tourists, although that's part of it, but coopt by the tourist industry and commercial interests, with the urging of the government, as representing Canada. There's even one at the Canadian embassy in Washington, D.C.
This is what they look like in the wild.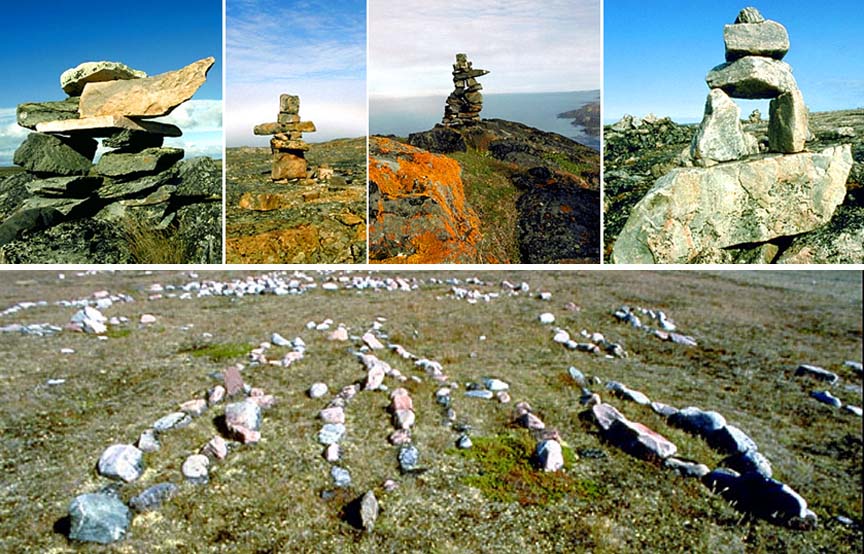 I had a tough time finding these pictures and in the process discovered... well... it's complicated.

There are four general shapes of inuksuit that are easily recognized and that show their surprisingly wide range of expression.
The nalunaikkutaq, which literally means "deconfuser" and is made of a single upright stone placed on its end.
The tikkuuti are pointers of different sizes and shapes. It can be a triangular rock lying flat on the ground or a straight line of rocks, largest rock down to smallest, indicating which way.
The inuksummarik or an inuksukjuaq, is a big boy, larger than average size. Easily seen from a distance, they mark major coordination points.
The inuksuit which have been used as message centres in addition to their original purpose, have an arrangement of stones at their base left by a hunter for a follower.

That just the surface, the natives can tell how deep the water is, where the fish and whales are, and what's happening in the hood.



link and link

---

glatt Monday Dec 28 06:20 AM

There are lots of copy cats in locations far from the original Inuit regions. There are modern builders of these things who go around and make them for fun as they visit different locations. Almost like graffiti.

---

Snakeadelic Monday Dec 28 08:21 AM

I've never seen these in person, but I have encountered a few instances of random rock-stacking sculpture. Mostly I find them on beaches, but I went to some sort of Vocational Rehabilitation conference some years back in Missoula, MT and found two beautiful rock-stacks on the riverbank behind the venue. I was there as a vendor, attempting to sell framed prints of some of my best photos, as were a dozen or so other VR clients from around the state. I found out later that ALL of my caseworker's chain of command were on site; each case manager had been told to bring one of their clients to showcase exactly who they were trying to help out. I only sold like 3 photos...but not long after, my case manager showed up at my apartment with paperwork saying the huge computer they'd furnished for my business attempts had been signed over to me despite my never meeting my case goals. Evidently I made a very good impression on the higher-ups! Still, it's the stacked rocks on the riverbank I remember from that event.

---

Griff Monday Dec 28 09:19 AM

I came upon these at Salt Springs.

---

xoxoxoBruce Monday Dec 28 09:27 AM

That looks like a dorm bulletin board with a bunch of messages but no to or from on them.

---

gozar Monday Dec 28 09:49 PM

Quote:

Originally Posted by

xoxoxoBruce

That looks like a dorm bulletin board with a bunch of messages but no to or from on them.

to: Everyone
from: Someone

---

orthodoc Monday Dec 28 09:55 PM

Interesting that some of the same forms are repeated at such a distance. I have a number of small replicas in my home, but hadn't known of a couple of the variations that Bruce mentioned. Once again you delve into an interesting topic and educate us - thank you!

---

xoxoxoBruce Tuesday Dec 29 12:52 AM

Edumacating is my business, insulting is just an avocation.

---
Your reply here?

The Cellar Image of the Day is just a section of a larger web community: a bunch of interesting folks talking about everything. Add your two cents to IotD by joining the Cellar.