xoxoxoBruce Friday Dec 25 12:44 AM

December 25th, 2015: Wildlife Pictures

George Shiras III was born in 1859 in Allegheny, PA. An avid hunter in his youth, became a lawyer then a politician.
Then got into photography, especially wildlife. Ho hum, another rich dude with an expensive hobby.


But talking to the Ojibwa tribe he learned about jacklighting. They would put a pan of fire in the bow of a canoe and
wait for animals to come to the waters edge to investigate, then shoot them.
Shiras put that together with his camera, and in the 1890s became the father of wildlife photography.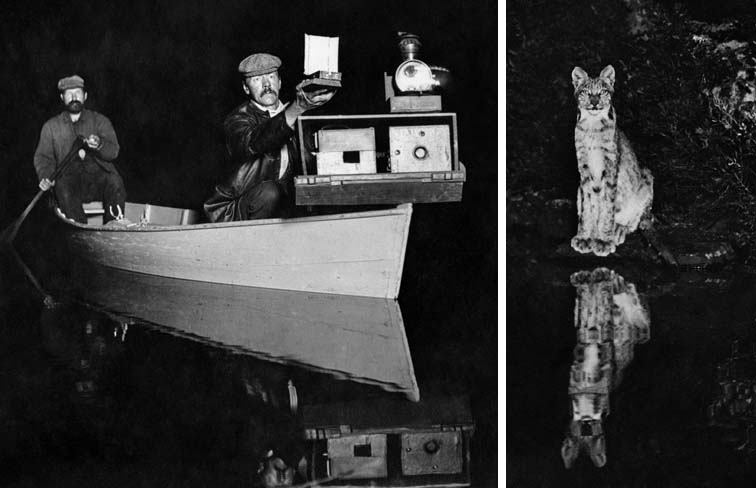 Then he set up a system of wires and pieces of equipment on land to catch wildlife in the forest... the first trailcam.
He was hooked, traded his rifle for traveling all over the country photographing wild life and scenery like Yellowstone.
These were the days of bulky equipment and glass plate photography, no instamatic or smart phone shit.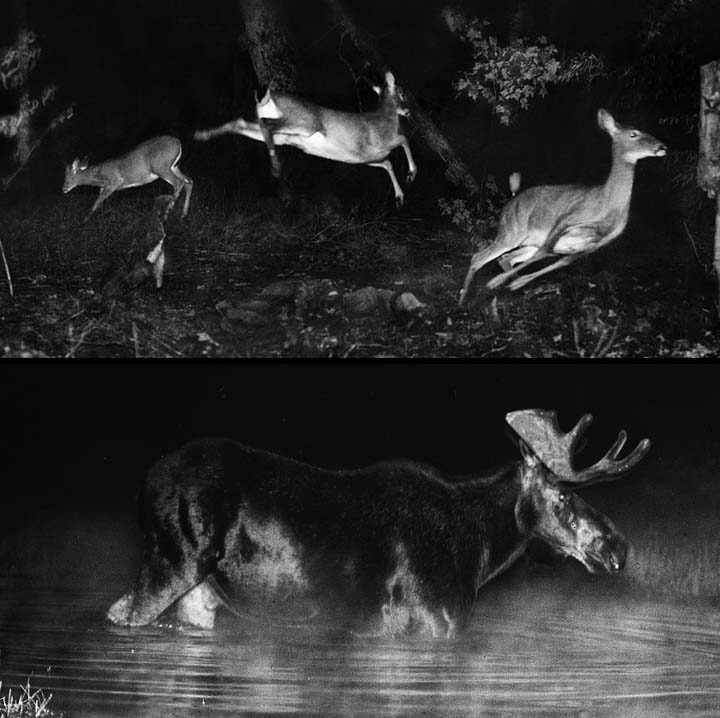 Quote:

A member of the Public Lands Committee, his work eventually led to the establishment of Olympic National Monument and
Petrified Forest National Monument and the extension of Yellowstone National Park. In 1904 he introduced the legislation
that would eventually become the Migratory Bird Bill of 1913.

Shiras became an avid defender of wildlife and people he knew in Washington marveled at his pictures.
Gil Grosvenor invited him to the National Geographic offices to see his pictures and publish almost all of them.


Quote:

True to his word, Grosvenor printed 74 of Shiras's pictures in the July 1906 edition of the magazine, a single-article issue
titled "Hunting Wild Game With Flashlight and Camera." Many years later, Grosvenor recalled it as "one of the pioneering
achievements of the National Geographic. ... It was an extraordinarily educative series: Nobody had ever seen pictures
like that of wild animals. ... I can't exaggerate the enthusiasm with which they were received by our members."
The issue was so popular that it was reprinted two years later, one of only two National Geographic issues to have been
reprinted to this day.

So Shiras turned out OK, for a lawyer and politician

, and we owe him big time for his photography.



Here's two links where you can see more of his work and details of his story.

---

Diaphone Jim Friday Dec 25 12:35 PM

I have an inexpensive sneaky cam that I have put all over my little ranch most nights for several years.
It is always fun to see what I have "caught," especially on busy nights.
Coyotes, raccoons, foxes, rabbits, possums, domestic cats and dogs, birds, skunks, cows (my own), horses (neighbors'), neighbors (!) and the occasional alien.
Hoping for a ring-tail cat and porcupine.
Merry Christmas

---

Gravdigr Friday Dec 25 03:36 PM

Quote:

Originally Posted by

xoxoxoBruce

George Shiras III was born in 1859 in Allegheny, PA. An avid hunter in his youth...

Don't know if you know, but, Mr. Shiras III has a species of moose named after him.

---

xoxoxoBruce Friday Dec 25 05:38 PM

Nope, didn't know that. Thank you. Shiras did so much I couldn't begin to get into it, so I just posted the two of the many links. Judging by the passion he threw at so many things, I think I'd want him for my lawyer. If I needed a lawyer. But I don't. I didn't do anything. You Can't Prove Nothin'!

Shiras Moose - Alces alces shiras



Quote:

The Shiras moose has the smallest body and antlers of any North American moose. The body color is a rusty yellowish-brown, with a pale brownish saddle. The moose is North America's largest deer and grows the largest antlers. It is a huge, awkward-looking animal with a large hump on its shoulders, very long legs and massive, palmate antlers. The antlers grow out from the sides of the head, with the main beam dividing into two principal branches. The smaller branch grows forward and outward and is usually palmate (the brow palm), with points growing from the palm's forward edge. The larger branch extends backward and upward and becomes a large, flattened palm (the main palm), with points growing from the top and outer edges.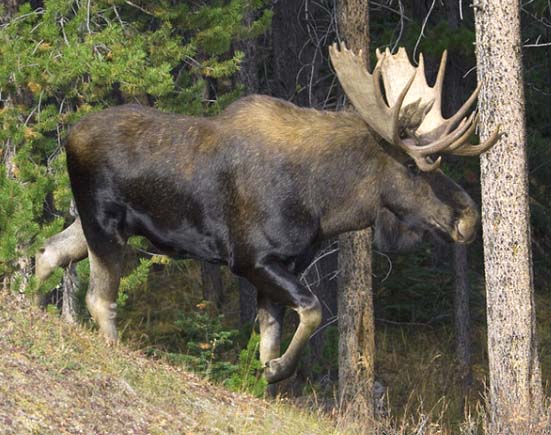 What a handsome beast it is, too. More compact and not as gangly as the bigger boys.
It must be mating season as he's all cleaned up, rack polished, hair brushed, lookin' for love... I can almost smell the AXE.

---

Snakeadelic Saturday Dec 26 08:27 AM

And in the tradition of many Cellar IotD posts...

There are all kinds of ways to cook a moose (although whole will require a LARGE barbecue pit...). Older animals make better stew and sausage meat, though oftentimes fat from other critters must be added to the sausage. Younger animals provide all the same cuts as beef

.

Many people find the taste of wild hoofed animals "gamy"; some like it and some don't. When the hunters I know are successful, buck neck is my favorite Christmas roast and I figured out how to mellow out the gamy taste--cover the roast before baking with a layer of autumn fruits and some of the sweeter veggies. Apples, pears, sweet onions...you season it with things it likes to eat!

Slow-baking a slab of anything from the deer family on a bed of brown rice and baby carrots comes out excellently tasty, and if you're into soups and stews the rice and carrots from under such a roast go very well in broth.

Sadly, the one neighbor of mine who does like to hunt got his rights temporarily revoked because someone gave him the wrong coordinates for using his disabled-hunter tags. All the meat and racks from deer he thought he took legally were seized, though he will get his hunting rights back eventually since he didn't deliberately poach. And he does know I come equipped with a bloodthirsty temperament, an unusual gift for disassembling nature's warm-blooded favorites (other than my fellow man), and my own skinning knife.

---

Gravdigr Monday Jan 4 04:47 AM

Quote:

Originally Posted by

Snakeadelic

...And he does know I come equipped with a bloodthirsty temperament, an unusual gift for disassembling nature's warm-blooded favorites (other than my fellow man), and my own skinning knife.

Meh, they come apart the same way. Open them asshole to appetite, turn 'em to tip the guts out, slice off the best parts. 350 degrees for 25-90 minutes depending on thickness. Oh, and if they're not quite dead on the way to the block, just hold them by their bottom lip, so they don't flop so much.

---
Your reply here?

The Cellar Image of the Day is just a section of a larger web community: a bunch of interesting folks talking about everything. Add your two cents to IotD by joining the Cellar.